Are you looking for Best Web Hosting Providers In Europe, we've got you covered.
In this post, we are going to explore the Best Web Hosting Providers In Europe In 2023. But before going further, let me give you a brief insight into web hosting and the factors that determine who your web host is going to be.
Web Hosting services provide the platform for developing any of your business online. Whether you have a startup business or an established large-scale business, hosting services provide you with the best multi-functional features and the latest technology to host your website online.
Your website is held or stored on specialized processors called servers. When anyone wants to view your webpage, after typing your website name, the servers will connect them to your webpage through the browser.
The Website Name is the domain name that is also purchased from either domain registering companies or web hosting companies.
Best Web Hosting Providers In Europe 2023
123 Reg distinguishes itself by providing superior local assistance, reliable hosting, and competitive pricing. The caveat is that the London-based corporation predominantly sells to customers in the United Kingdom. You'll talk with British customer service representatives, and domain names are provided for free as long as they end in.UK. The "Starter" plan is now on sale for £2.99 ($4.10) per month and includes one free domain for the first year.
Webhosting UK offers fast, dependable, and economical website hosting services backed up by a dedicated 24/7 support team. Webhosting UK is a highly experienced, customer-focused, feature-rich provider that can meet the needs of any small or medium-sized business. The most affordable plan, as well as their most popular, is the Premium Web Hosting plan, which starts at £2.49 ($3.24) a month and includes a free domain with annual or higher subscriptions.
One.com is a capable web hosting provider situated in Denmark that can meet the demands of individuals with simple requirements. Those who do not fall into this category, on the other hand, will have to look elsewhere. The cheapest Beginner plan is $2.49 per month ($4.99 upon renewal), while the most costly Guru plan is $9.99 per month ($19.99 upon renewal). Users will receive a minimum of 50GB of storage, 100 mail accounts, limitless bandwidth, a website builder, and an SSL certificate.
Hostinger is a reliable web hosting service that offers affordable, 24/7 customer support. The company's platform has been designed to make it easy for users of all levels and experience with WordPress websites in mind - they offer automatic 1-click installs along with updated security measures like SSL certificates from Let's Encrypt (which are 100% free!) Geolocation specific servers ensure your site always gets top level performance without any down time due to location switches or migration issues; Hostingers also provide an option between 7 different data centers around the world: USA & Europe , Asia Pacific Region including Japan) South America . 29million people use them every day!
Wix is a website creation platform that enables non-programmers to construct their own website or online store. It is a 'hosted' solution, meaning it runs on its own servers or 'in the cloud.' As a result, there is no software to install and no hosting to purchase. Therefore, as long as you have a web browser and internet connectivity, you may create, manage, and market a Wix website.
liquid web hosting has been around since 1997 and is famous for its high-quality service. All of their servers are tuned to provide fast speeds, secure connections (with data encryption), low latency responses time with heroic support who have won many awards in the field including 'Best Customer Support'. This makes liquid web one choice when looking at Managed VPS Hosting Services or Dedicated Server H Its easy-to support means top companies like Motorola, red bull, ESPN, Audi, FedEx choose them!
GoDaddy is a well-rounded hosting company, offering four distinct hosting options (shared, VPS, dedicated, and WordPress) and a slew of innovative features. While GoDaddy's price levels are not cheap, the frills make it stand out. Along with hosting, it offers a website builder and is the largest domain registrar in the world. GoDaddy's dedicated WordPress hosting for high-traffic blogs starts at $4.99 per month, while the Deluxe and Ultimate plans start at $7.99 and $9.99 per month, respectively.
Bluehost is one of the oldest web hosts, having been founded in 1996. Since then, it has grown to be the largest brand name in WordPress hosting. They are an authorized 'WordPress' hosting service. With Bluehost, you'll never have to worry about your website being slow during peak traffic periods. Their skilled support is available 24/7 by phone, email, or live chat. They are the industry's leading provider of web hosting for small businesses.
Cloudways is a managed hosting service that places a premium on simplicity and performance. Cloudways manages all aspects of server management for you, from simple server and application deployment to continuous server maintenance, so you can continue to focus on expanding your business. When you become a member of Cloudways, you gain access to a range of robust tools and services for managing your ecommerce stores and company websites. Cloudways' primary differentiator is choice - choice of cloud providers, choice of hosting practically any PHP-powered application, choice of paid or free SSL, and choice of developer and agency workflows.
Despite its lack of brand recognition, A2 Hosting provides great web hosting. For nearly two decades, the privately held hosting company has earned a reputation for being a dependable and fast alternative for websites. A2 maintains a high level of uptime and provides exceptional customer service. A2 is unmatched in terms of speed. The Startup option, which costs less than $3 per month, may appeal to those of you who have a small single website.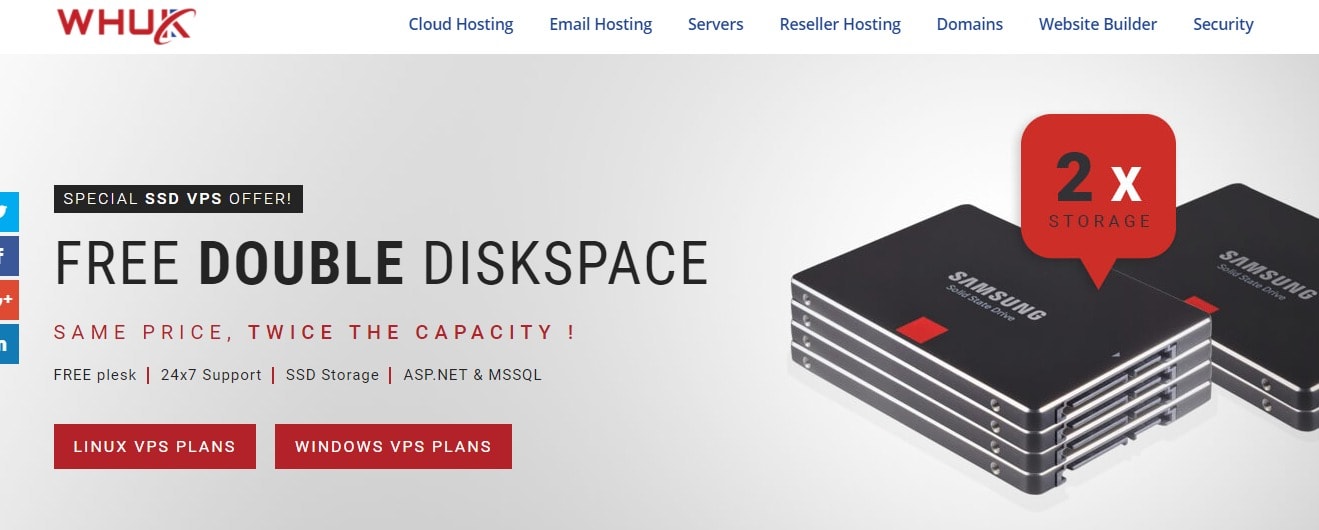 It is the most trusted web hosting service, and more than 35000 clients rely on Webhosting.uk for fulfilling their web requirements. It is rated as a 5-star hosting service by WHUK. It was established in 2001 and is among the best hosting providers in the UK with over 1000000 website hosting. It is a privately owned firm that focuses only on customer satisfaction.
The special SSD VPS offer provided double disk space at the same price. It deals in both servers (Linus and Windows). It provides cPanel control which is an essential feature for creating and maintaining web pages. It is in the top list of the Best Web Hosting Providers In Europe.
Features:
affordable hosting plans
add-ons include –anti-spam malware, SSL certificates, and site scanner
24/7 technical support
Full assistance during migration from another host
Updated technology and applications
30-day money-back guarantee
Web hosting at various levels
Unlimited domains and emails accounts
MySQL and PhpMyAdmin database support
Softaclous integration for accessing open-source scripts
Products offered:
Web Hosting
Reseller Hosting
Dedicated Servers
Cloud Hosting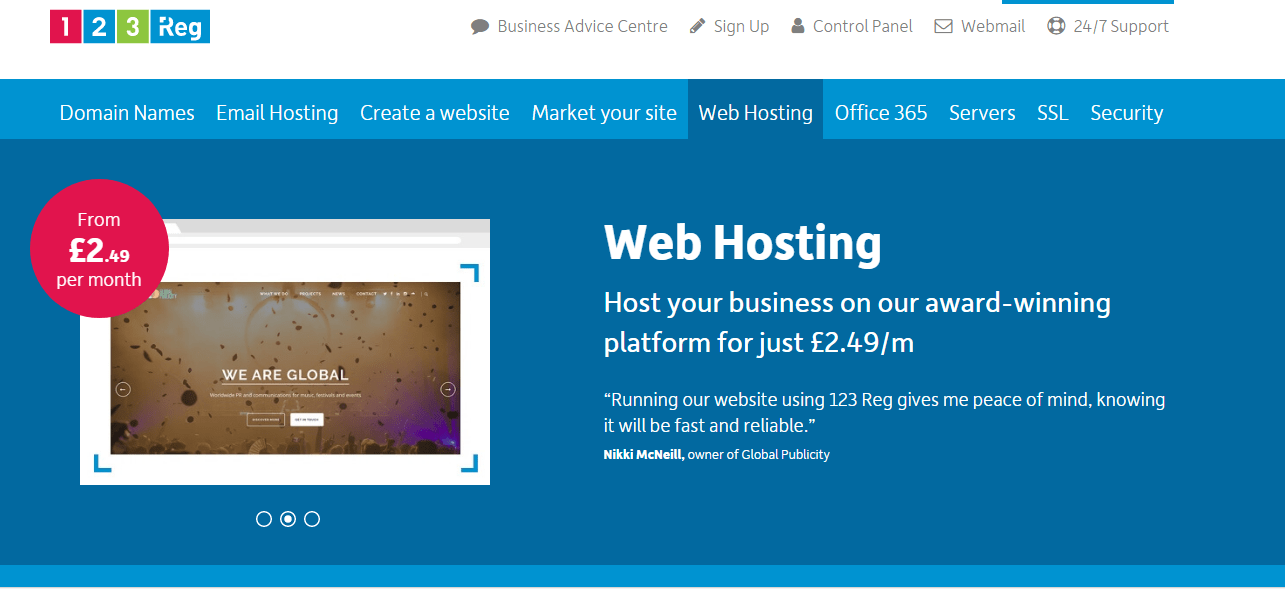 123-reg.co.uk is the UK's largest hosting service provider, domain registrar, and email provider. They have registered more than 3.5 million domains and 1 million websites hosted under their name. They provide fully supported web hosting to make your online journey easy and reliable. They have easy-to-use technology offered at affordable pricing.
Their in-house team of experts always believes in providing on-the-go solutions through chats, emails, and calls. From domain name registration to web designing, web hosting to email hosting, every service is up to the mark with brilliant features.
Features:
Full 24/7 support from a team of experts
UK's no. 1 hosting and domain registrar
Great products at affordable pricing
Intuitive control panel
Multi-lingual support
All-inclusive services like email marketing, SSL, SEO, PPC management, and more
Fast, protected, trustworthy, and performance-based web hosting
Great uptime for page uploads
You can choose either Linux or Windows server for hosting
Products offered:
Domain registrar
Email Hosting
WP Hosting
Cloud hosting
Website creation


One.com provides multiple services at exorbitant prices along with high-tech features.  When you sign up for their web hosting plans, you get a €50 Google Adwords coupon included in the package. It is a pioneering supplier of web hosting services along with unique hosting solutions.
All the services and products offered are secure, reliable, and flexible. The easy-to-understand user interface-id is technically advanced and fully fitted out to the user's demand.
One.com was founded in 2002 and has more than one million customers who trust its high-quality performance-based services.  The complete web hosting assures regular backups, email with webmail, antivirus, spam filter, DNS managing, and free traffic to the domain.
Features:
Risk-free 15 days money-back guarantee
Hosting at competitive prices
Exclusive solutions through state-of-the-art server setup
User-friendly interface with an advanced mechanism
clienteles are free to use website program, a blog system with design originals, and a photo gallery for online photo and video sharing
trustworthy and reliable services at affordable prices
great customer support
PHP & MariaDB database
1-click WP installs
SSL, SSH, and FTP
Products offered:
Domain registrar
Web hosting
Email Hosting
Web Designing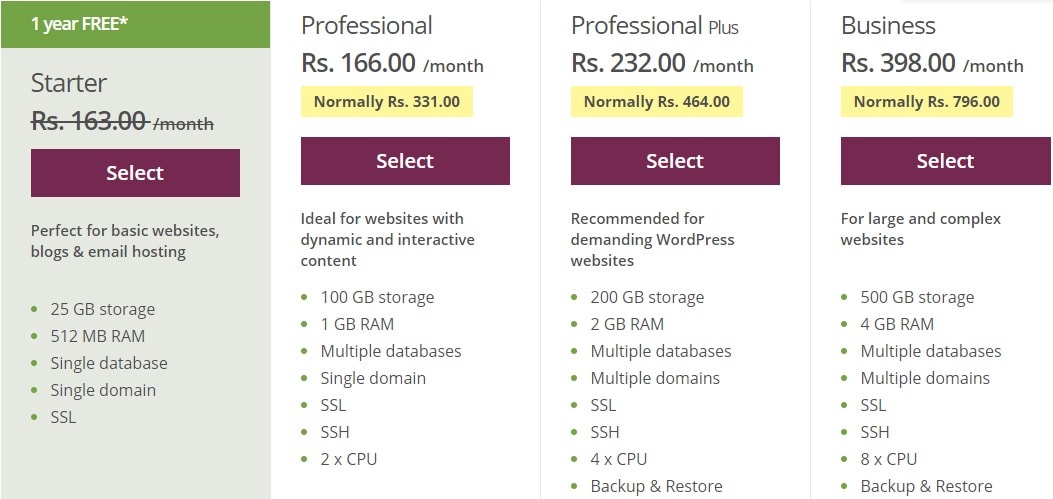 Hostinger provides web hosting solutions that are tailored to your needs, no matter if you're just starting out or have been in business for years. With their flexible plans and top-of-the-line performance tools, they will make sure every aspect of managing a website runs smoothly with little effort on behalf of managers!
Hostinger is a globally-powered company with data centers on four continents to guarantee worldwide speed. They offer an uptime of 99% which has been one of the benchmarks for their success over years and feature reliable servers, low latency service delivery as well super fast website speeds!
Hostinger is a hosting company that provides data centers located around the world. They have facilities in the USA, UK Brazil Netherlands Singapore Indonesia, and Lithuania so you can be sure your site will not suffer when loading too slowly due to their own caching system or any other issues with speediness on our end!
WordPress users, they offer an optimized plan for increased performance levels as well which also helps us work faster by giving more control over how updates are done through this open-source system called Git Support.
Wix is a popular site builder that helps you create professional-looking websites without any coding experience. But is Wix good for hosting your website? In this Wix hosting review, we'll take a look at the pros and cons of using Wix to host your website.
One of the main benefits of using Wix is that it's very easy to use. You don't need any coding experience to create a website with Wix, and there are lots of templates and designs to choose from. Plus, Wix is free to use, which makes it a great option for small businesses and bloggers.
One downside of using Wix is that you're limited in terms of what you can do with your website. If you want to add custom code or use a third-party app, you'll need to upgrade to a paid plan. And while Wix is free to use, you'll need to pay for hosting and domain name registration.
Overall, Wix is a great option for small businesses and bloggers, but if you need more control over your site's appearance and functionality, Wix might not be the best option.
Pros: Free plan available; large library of templates and designs to choose from; easy to use
Cons: No cPanel; limited page customization; hosting is expensive when compared with other providers (see our cost comparison below)
Who Is Wix Good For?
Wix is a great option for small businesses and bloggers who want an easy-to-use site builder with a large library of templates and designs to choose from. It's also free to use, which makes it a great option for budget-conscious businesses. However, if you need more control over your site's appearance and functionality, Wix might not be the best option.
[/alert-note]
Liquid Web is a web hosting company that has been in business since 1997. The company has a wide range of web hosting services, including shared hosting, VPS hosting, and dedicated servers. Liquid Web also offers a wide range of features, including unlimited storage space, unlimited bandwidth, and a free domain name.
One of the biggest advantages of using Liquid Web is the company's customer service. Liquid Web has a team of experts who are available 24/7 to help you with any problems you may have. The company also has a wide range of tutorials and videos that can help you get started with your website.
If you're looking for a reliable and affordable web hosting company to build your website, check out Liquid Web.
Liquid Web Hosting Services:
Shared hosting – Shared web hosting is the most affordable option to get started with a website. With shared hosting, you share resources (for example bandwidth and storage) with other users on the same server. This means that if someone else uses up all of the resources on your server, your website may not be able to load.
VPS hosting – VPS hosting is a step up from shared hosting. With VPS hosting, you get your own virtual server that is separate from other users on the server. This means that you have more resources available to you, and your website will be less likely to experience problems if another user on the server uses up all of the resources.
Dedicated servers – Dedicated servers are the most expensive option, but they offer the most resources and the best performance. With a dedicated server, you have your own server that is completely dedicated to your website. This means that you can install any software or run any scripts you want on your website without having to worry about the resources being used up.
Liquid Web Features:
Unlimited disk space – With Liquid Web, your website's storage is unlimited. You can upload as many files as you want and have as much data as you need for your site. This is a big advantage over many other web hosts, who often have limits on the amount of storage space you can use.
Unlimited bandwidth – Bandwidth is the amount of data that can be transferred between your website and your visitors' computers. With Liquid Web, your bandwidth is unlimited, which means you can have as many visitors as you want without having to worry about your website being slow or going down.
Free domain name – When you sign up for a hosting account with Liquid Web, you get a free domain name. This is a great way to get started with your website without having to spend extra money on a domain name.
Hosting a website with GoDaddy is a great option for small businesses or bloggers who are just starting out. GoDaddy offers reliable and affordable hosting plans that include a free domain name, unlimited storage, and bandwidth, and a wide range of features and tools to help you get your website online quickly and easily.
One of the best things about GoDaddy is that they offer a wide range of hosting plans to suit any budget or need. Whether you are just starting out and need a basic plan, or you are looking for a more advanced plan with features like unlimited storage and bandwidth, GoDaddy has something to fit your needs.
In addition to their affordable hosting plans, GoDaddy offers domain registrations, website transfers, SSL certificates, dedicated IP addresses, under-construction page options, and more.
GoDaddy Hosting Plans Overview:
All of their hosting plans come with unlimited storage and bandwidth so that you don't have to worry about paying more if your site becomes very popular. All GoDaddy hosting plans include these features:
Unlimited Disk Space: GoDaddy hosts unlimited storage for your website. If you're a blogger or a small business owner, this is really a lifesaver. You'll never have to worry about running out of storage space!
A Free Domain Name: When you sign up for a hosting plan with GoDaddy, you'll get a free domain name. This is a great way to get started quickly and easily – you don't have to worry about finding a domain name or paying for one.
If you are looking for a web hosting provider, Bluehost is a great option. They are one of the largest providers in the world and they offer a wide range of services. In this Bluehost review, we will discuss their features, pricing, and customer service.
Bluehost offers a wide range of services, including shared web hosting, VPS hosting, dedicated hosting, and WordPress hosting. They also offer a wide range of features, including unlimited storage, bandwidth, and email accounts. They also have a 99.9% uptime guarantee.
Bluehost has three pricing tiers: Basic, Plus, and Prime. The Basic plan starts at $2.95 per month and it includes 50GB of storage, unmetered bandwidth, and a free domain name. The Plus plan starts at $5.95 per month and it includes unlimited storage, bandwidth, and email accounts. The Prime plan starts at $11.95 per month and it includes unlimited storage, bandwidth, email accounts, and a free SSL certificate.
Bluehost has a very good reputation for customer service. They offer 24/7 support and they have a wide range of support options, including email, phone, and live chat. They also have a large knowledge base with articles and tutorials.
Overall, Bluehost is a great web hosting provider. They offer a wide range of services and features and their customer service is excellent. If you are looking for a reliable and affordable web hosting provider, Bluehost is a great option.
How To Decide Best Web Hosting Providers In Europe & Hosting Plan Suitable For You?
Before going for any web hosting plan, make sure that you have in-depth knowledge about all the types of hustings' conducted through these service providers. It entirely depends on what kind of scaling your business needs and what elements must be added at the initial stage.
The type of servers required to run your website also plays a major role. The last but not least part is your budget because at times you have to compromise on a few points due to affordability concerns.
For newbies, budget is the first thing which they think about before buying any services. For large enterprises, the budget is not so important as they first focus on safety features and other multimedia operations.
So, keeping in mind all these aspects, web hosting service providers design their plans as per the need of the clients. You can start with the budgeted plan and slowly move on to the higher plans with more exclusive features. There are many hosting options accessible to you and I will talk about the basic ones:
Other factors which determine the cost of the plan are the web servers- Linux or Windows. Windows is a little costly whereas Linux is affordable. Both are used for different purposes:
Linux is for processing scripts created in PHP, Perl, Python, and other Unix-devised languages. It commonly backs MySQL and PostgreSQL databases.
Windows is for handling ASP scripts and applying .NET and other Microsoft expertise. It assists Microsoft SQL Server and Access database.
Also know the essential features of every web hosting service that it offers with a particular plan like- FTTP access, Email accounts, disk space, bandwidth, and uptime.
Quick Links:
Conclusion: Best Web Hosting Providers In Europe 
I have tried to name the Best Web Hosting Providers In Europe 2023 and in case you still know better names, please suggest them.
While picking a hosting service for your website, you need to be very careful in selecting the right partner for your firm. Getting involved in the wrong one will waste your time and financial resources too.
Go through the reviews and check for the features they offer in the inexpensive plans. If it suits your requirement, then only go for it, otherwise going for something without any purpose is a total baseless decision.