In this post, we have featured an in-depth DataHawk review that includes detailed insights of its features & benefits, pricing, customer support, and so on. 
With all that being said, let's get started here.
DataHawk Review 2023: Is It Best amazon analytics tools?
Details About DataHawk Review
DataHawk is a tool for tracking provided by Amazon. They provide many unique data insights into your business. You can track keywords, product rankings, performance, run product research, analyze market and competition data with the help of this tool.
The SEO listing optimization helps you focus on your business and you don't have to worry about all the hassle for doing all these things.
With the help of DataHawk, millions of Amazon marketplace sellers can grow because it builds a best-in-class SaaS analytics tool. It helps in many major marketplaces like Amazon, Walmart, and eBay.
It starts with Amazon and it is still trying to build the best intelligence software for business selling in these marketplaces.
Many major companies are using Data Hawk to grow their business on the marketplace platform like Amazon. Some companies are Fortune 500, SMBs and some other Inc 500 e-commerce companies. It provides features like product development with the help of data monitoring and intelligent insights.
DataHawk technology scans millions of products and thousands of search queries on a regular basis to create a report to help you in making decisions.
How Does It Work? (Read Full DataHawk Review Here)
It helps every type of business even if you're just starting on Amazon by giving a boost to your business. It is the best tool for analytics and reporting for Amazon Marketing Agencies and consultants. Let's have a look at its dashboard.
They provide you information like what products to launch by understanding the market and needs of the customer and also monitor your product's growth like it's performance and ranking. With insight into all these things, you can grow your business very fast and very effectively. The tracked products on the dashboard will look like this: 
You don't have to do things like product research and market analysis. It will do it for you and provide you the best option for the growth of your business. It also gives you an update of the market like when to drop down the prices, increase the prices, competition and many other things.
Features and Services
1. Tracking
It has product tracker which tracks all the information regarding your product like monitoring their keywords, rank history, reviews, ratings, best sellers rank and much more. Through the data provided by tracker, you can take the decision regarding that product.
It tracks the daily changes in best sellers rank, review count, rating and monthly sales estimates to give you an idea about the status of the product. It also has a proprietary prediction program with the help of which it predicts your monthly sales estimates.
2. Market Analysis 
DataHawk does market analysis. After that analysis, it gives the suggestion to their user regarding which product will do better or which won't. The analysis results depend on the distribution of pricing, reviews, and ratings. It also gives analysis on the basis of keyword search and it provides you newly updated keywords, monthly search volume list, which you are tracking currently.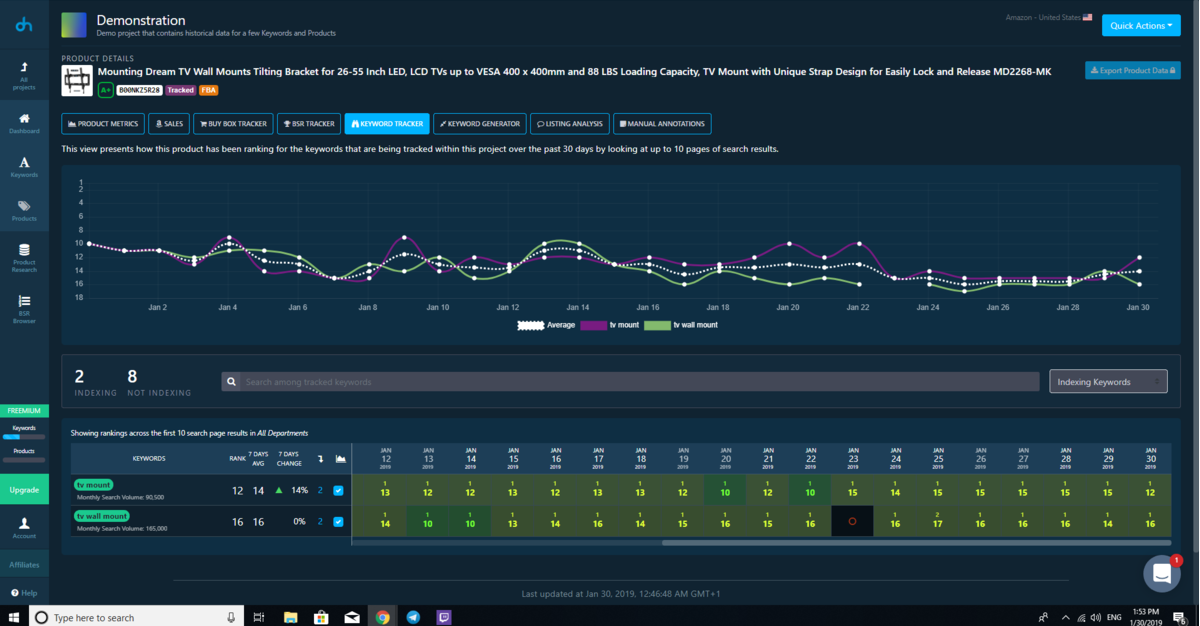 3. Keywords Research
The base of this feature is Amazon's customer search queries and top-ranking products. With the help of that, DataHawk gives you new keywords suggestions. It is the most important, valuable and high return activity of Data Hawk in the search marketing field. Because of this, you can get an idea about what customers want and what they do not want.
4. Product Research
It uses filters to give you more than ten thousand product ideas out of over one million products from their own database. With the help of these product ideas, you can get better results. Because it does not believe in selling instead of that it believes in marketing means what customer actually needs.
The suggestions provided by Data Hawk are based on the needs and wants of the customer which will help you in the long run.
5. Projects and Tags System
DataHawk gives you data of your product on the basis of analysis and research. After that, you can organize them in projects and assign Tags or labels on it. So if the keyword of that tag shows on the website then the customer can see the product and the user can see the analyzed data regarding that product.
It has some advanced filters for that. You can filter the keywords of the product and track them with the help of Data Hawk.
6. Parent/Child Grouping
This feature helps you in tracking all of your product variants and divide them into groups of their parents. Then it will display keyword ranks on a parent level.
These features are available on DataHawk. Along with that it also offers Reporting Services like Excel Export and API to help you in customizing your reports.
Why Should You Try DataHawk?
It is not just a typical analytical tool it is more than that. They provide you powerful analytics, beautiful dashboards and actionable insights on your products to help you in growing your business. DataHawk unlocks many opportunities for your Amazon business and with the help of that, you can give your best in the market.
It offers you data analytics so you can connect the dots to the success. You should instantly try it once, because a big opportunity awaits you.
Price and Plans | DataHawk Review
The pricing plans of DataHawk are very affordable and reasonable for even small businesses. It helps you in growing your Amazon business. So let's check the pricing plan offered by DataHawk. 
1. Basic Plan ( Free)
5 Products Variants

5 Keywords

Keyword Rank Tracker

Product Metrics Tracker

Buy Box Tracker

Product Listing Tracker

Product Research Tool

Keyword Data And Search Volume

Keyword Generator

Seller Central Sales Reporting
2. Essentials ( $65/month)
50 ASINs

20 Keywords

All the features of Basic Plan Plus

Competitors Sales Estimator

Marketing Intelligence Tool
3. Professional ( $140/month)
100 ASINs

1000 Keywords

All the features of the Essential Plan

Unlimited Data History
4. Business ( $550/month)
1000 ASINs

400 Keywords

All the features of the Professional Plan

Email Alerting Tool

Excel Export

Customization
It also provides you a 14-days trial so you can understand the uses of Data Hawk and learn to use Data Hawk. These pricing plans are affordable and majorly depend on your business type.
DataHawk Customer Support
The customer support is also good. The support team of DataHawk works 24/7 and provide solutions to every problem you will face regarding your business.
There is a help center where you will find videos and articles regarding how to use the features of Data Hawk. You can also learn to export your data to Excel, use the Data Hawk API. There is a detailed guide available on the website to help you through it.
The features are tricky to use and that is why you are going to need the tutorial for every feature. Data Hawk is very reliable and very useful for people who are doing business with Amazon.
It is still currently on Amazon but we can expect that it will expand to other websites as well because as you know that there is not only one marketplace available on the market, there are many people who need tools like Data Hawk to give a boost to their business.
The support team of DataHawk solves every query of the user within very short span of time, which is a great customer response time than any other analytical tool. These are the reasons why you should try using Data Hawk on Amazon.
DataHawk Reviews & Testimonials
 Quick Links:
DataHawk FAQs
✅How does the free trial of DataHawk works?
DataHaak's free trail is easy to claim. Once you sign up for the 14 days trial you'll get to try the Professional plan and all the features for free. With the free trial, you get 50 ASINs and 50 Keywords, without even entering your credit card details.
💵How much does DataHawk cost?
DataHawk essential plan starts at $65/month that includes pro features with 50 ASINs and 50 Keywords. Whereas, the professional plan costs $140/month and the business plan costs. $550/month.
👉🏻What happens when I reach a keyword or ASIN limit?
Once you reach certain limits, you won't be able to add additional ones. You can either archive unused ones or just upgrade to a higher limit.
Conclusion: Can DataHawk Analysis Amazon Sales Proper? | DataHawk Review
The need for DataHawk is increasing day by day in the market because of the features of Data Hawk. Everyone needs their business to grow up and become successful on Amazon but in doing so they need an analytic tool to monitor the market and keywords on Amazon because it is impossible to do it manually.
The factors affecting the market are the need of the customer and competitors.
To catch up with this, all that you need to have is an analytical software which is Data Hawk. It helps you in all the possible ways for your business to increase. So, in my opinion, I think this is the best analytical software available on Amazon. But it will take time to fully come out in the open market for other users of other websites.
If you like this review then don't forget to share your opinions with us in the comment section below and share the post with your friends and colleagues who are looking to get started on Amazon.