Krishna Srinivasan CEO @Whizlabs Telling How He Helping Professionals To Be Successful
1. Please tell us something about yourself and your educational background? How did you enter into entrepreneurship?
Hi, I'm Krishna Srinivasan, CEO at Whizlabs. I am a daydreamer (and it really helps me to bring innovative ideas and productive strategies). I feel, in this technology era, everyone should think about the betterment of humanity using advanced technologies. From the beginning, I am more passionate about educating the masses.
I believe that it is the best thing one can do for humanity. For this only, I started a blog to share my knowledge and educate the readers. It also helped me to gain a good knowledge of various technological domains and eventually, brought me to the Whizlabs.
I joined Whizlabs with two other co-founders (Pradeep Chopra and Kapil Nakra). They did significant work on Java training courses and then moved on to accompany other ventures. It was the time (the year 2016) when I entered into entrepreneurship, took charge from them to lead Whizlabs and transformed it into one of the best cloud computing training providers in the industry.
2. What are your company Whizlabs goals, and how you plan to create an impact on students through Whizlabs?
Being in the online certification training industry, our mission is to offer best-in-class training for our students. We work very closely with our customers to ensure that they are happy and satisfied with our services. We have dedicated customer support that is available 24*7. I myself respond to many customers to resolve their queries. We've built a company culture where everyone is aimed at achieving one common goal – Customer satisfaction.
3. What were the initial hiccups? 
The major challenge I had, in the beginning, was hiring highly motivated employees who could be a great asset to the company. As we want the whole team to be aligned with the company's mission, it's an ongoing challenge. However, I have a prior exposure to Digital Marketing, Technology, and HR process, that helps me to hire the best candidates for Whizlabs.
4. How many courses are offered by Whizlabs?
At Whizlabs, we provide online certification training in a number of technological domains such as Cloud Computing (AWS, Azure, Google Cloud Platform, Salesforce), Cloud Security, Java, Project Management, Agile, Business Analysis, Big Data, Linux, Blockchain, Blue Prism, Quality, and Networking.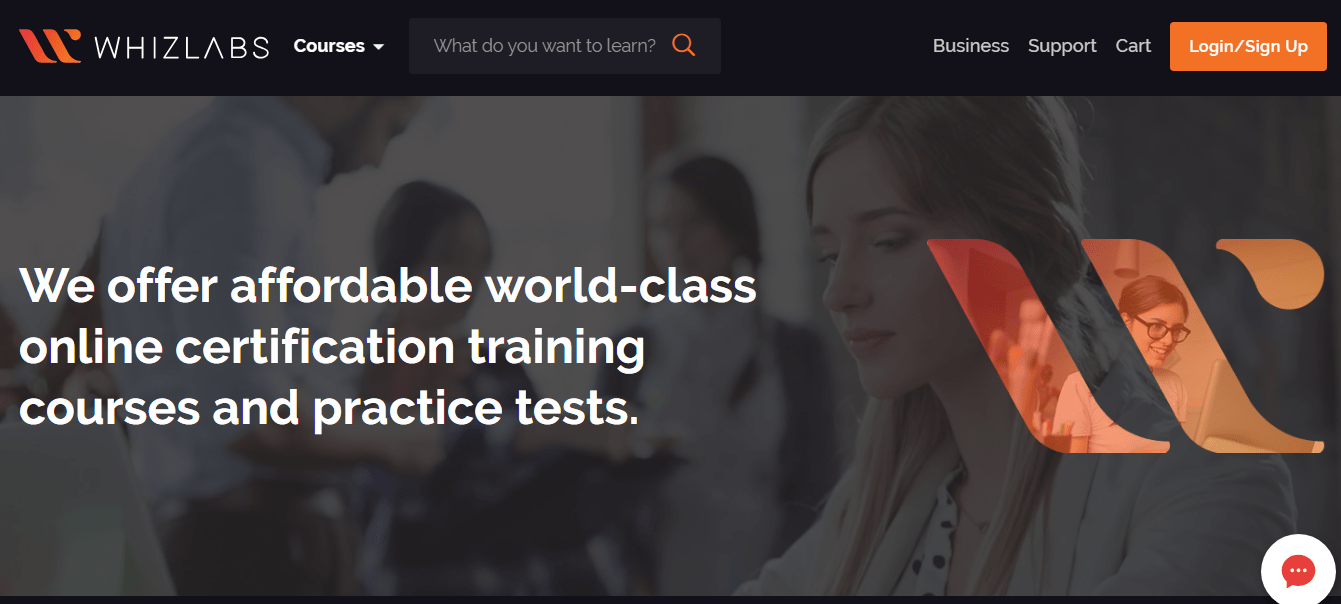 We offer online courses and practice tests for the certification exams in these technologies. If we talk about numbers, currently we're offering 100+ courses in various domains. But this number is not static as our teams keep on working on the new courses. We launch a number of courses every month in the existing domain as well as new domains, to help the professionals in getting ahead in their careers.
5. How do you hire instructors? What is your process of hiring? 
Most of our instructors are from Fortune 500 companies over the globe. Many of them are working remotely, part-time with us while others have joined us full-time. As we deal in various technological domains, we keep on hiring experts in different domains as per their knowledge and experience. 
The hiring process basically starts with sending out mailers to our existing customers with open opportunities. We receive hundreds of responses, and then we start the process of application review, verification of the experience, knowledge, and certifications of the applicants. Then, we work with them for the sample content, if we find their work up to the mark, we onboard them for further assignments.
6. The competition is very huge in the education niche, how you plan to survive against big brands?
Absolutely, it's not easy to deal with the huge competition in the e-learning industry. A number of well-known training providers are there and many others are emerging every other day. Though we're known as pioneers in the online training industry, it has not been so easy for us to keep up this pace. 

We have focused only technology professionals who are aspired to achieve their career goals. Our strategy is to focus on some selected domains (Cloud Computing, Linux and a few others) and provide the best training courses. This strategy has paid off, and we became the market leader in cloud computing domain with our high-quality practice exam simulators. At this moment, we are aiming to capture video course market for cloud computing and some other domains. 
The thing that is most important in order to stay at the top in the online certification training industry is the quality of the content you are providing. If the training content is up-to-date and aligned with the exam objectives, whatever be the number of competitors, you'll be able to maintain your tag in the market. So our plans and strategies have always been focused to provide best-in-industry material and achieve customer satisfaction.
7. What suggestions you would like to give to young guns of India who are planning to become an entrepreneur, as in India entrepreneurship for parents is still risky. 
Be honest, work hard, and stay focused! This is the mantra to become a successful entrepreneur. If you are honest and working hard to achieve your goal, you will cross all the obstacles and reach the destination. My next advice is to read a lot of good books that will enrich your thinking skills! 
True! In India, parents never encourage startups as they are worried about its consequences. Elon Musk, once said "A failure is an option here! If things are not failing, you are not innovating enough". There is a risk every day in our lives. If we are afraid of taking the risks, then we would never become successful in life. 
If you want to become a successful entrepreneur, you should always motivate yourself with this quote of Elon Musk "I think It is possible for ordinary people to become extraordinary people".
What is the dark side of entrepreneurship, that budding entrepreneur should know?
An entrepreneur is a mystique personality with a sense of purpose, high levels of energy, and a great degree of perseverance and imagination. But all the entrepreneurs don't belong to the homogeneous group, they may have different traits and personalities; here come some quirks which you can call dark sides of an entrepreneur. 
Generally, difficult employees turn into entrepreneurs. As I know a few, they don't consider orders or suggestions from others kindly and aspires to run their own shop.
Though this idiosyncrasy doesn't harm anyone when the business is small, they may be at risk when the business grows as they may need active cooperation and support of others at that time. In my opinion, an entrepreneur should be empathic, social, and a good listener irrespective of his position. He should always encourage his team to bring new approaches and ideas.
9. What kind of branding you are doing for Whizlabs? Any Tv Ads like an upgrade? Any video marketing strategies you are doing?
I am fortunate to have a talented digital marketing team. I would like to mention a few names – Amit Verma is leading our Digital Marketing initiatives along with his associate Neeru Jain; expertise in technology, digital marketing, and psychology helps them to become a pioneer in branding. 
We haven't planned any TV ads yet. As of now, our main focus is to get organic leads. Our huge success is the result of the word of mouth from our happy customers. Our DM team has been spreading our customer's success stories over the internet, that is helping us to reach more potential customers.
At the moment we are not investing in video marketing. But yes, we are planning to start video marketing this year.
10. Have you faced any fear of becoming an entrepreneur, what kind of challenge you faced in the beginning?
Of course! It's human psychology to have some fear at the time of doing something new. As I've stated earlier, my first venture was an independent technology blog. At that time, I had many fears in my mind such as do I have enough knowledge? Is it a good time to start? Is it good to take the risk? What if I'll have to face failure? etc. etc. As you know the typical Indian mentality after marriage and family commitment.
It was quite challenging for me to quit my full-time job and jump on to a new venture without any prior experience. I have had many sleepless nights before I started with Whizlabs to have a backup in order to deal if something goes wrong. 
The major challenge I faced was the finance; I was not backed up with any financial support when I got into entrepreneurship. So, I had to take every step cautiously. But it's true that every hard phase of life teaches you something and that time taught me how to deal with critical situations and cash flow issues tactically.
11. Did you like my blog, please give your feedback. Things you like and don't like in my blog?
Yes, I like your blog, especially the concept you follow. I'm one of your subscribers and check out your blogs on digital marketing whenever I get time. It is also appreciable how you provide a platform to the budding as well as hidden successful entrepreneurs and introduce them to the world. Wish you the best for your next plans; achieve your set goals at the earliest!
12. What are your plans with Whizlabs for the next few years?
In 2018-19, we have established Whizlabs as one of the best e-learning platforms over the industry. In e-learning space, one of the biggest challenges is to keep up with the student's needs. At the same time, we have to innovate the best platform that suits our students. An interactive learning platform and easy to use interface makes our students happy because they can closely track their progress on each course. 
In 2019-20, our primary focus is to launch as many new courses as possible on the emerging technologies. We'll be more focused on using some advanced technologies such as Artificial Intelligence (AI), Virtual Reality (VR) and Virtual Assistance (VI) in our learning platform. It will improve the overall learning experience for the users. We have plans to upgrade our learning platform with new features that I won't be able to share now.
13. Please suggest a few books for new entrepreneurs to read.
Yes, books are a great source of information as well as motivation. I love to read and there are many books that proved a true companion during my journey. These books will definitely help budding entrepreneurs to grow. I'd like to mention a few of my favorites here:
The seven habits of highly effective people by Stephen Covey

Zero to One by Peter Theil

Dream with Your Eyes Open: An Entrepreneurial Journey by Ronnie Screwvala

High Output Management by Andrew S. Grove
Quick Links,
Conclusion: Interview With Krishna Srinivasan – Sharing Whizlabs Success Story
We have seen how Krishna Srinivasan managed to get into the online certification industry and break it to the top. What are your thoughts and opinions, let me know in the comments section below.