JungleScout Discount Coupon Code
Are you looking for a working Jungle Scout discount coupon?
Great!
In this post, we have compiled a verified list of Jungle Scout discount coupons 2020 to get up to 50% OFF On Jungle Scout products — Jungle Scout Web App & Jungle Scout Chrome Extension.
What's more? You can get up to 50% OFF on Jungle Scout Bundle (Webs App + Extension).
Let's get started here.
Jungle Scout Discount Coupon: (Get Up to 50% Off Now)
The new Jungle Scout offer gives you a discount of up to 50% on your purchase. Get a 50% discount on purchasing Jungle Scout Extension, 30% discount on Jungle Bundle, and a 20% discount on Jungle Scout Web Application. Here are the offer links from which you can save on your purchase:
What is Jungle Scout?
Jungle Scout is a great way to find the best Amazon products. The Jungle Scout web application and its extension address several issues in the product search cycle. With the web application, you can immediately scan the product catalog, and with the extension, you get accurate readings and specific data for the products of your choice. Basically, Jungle Scout helps you to get an idea of a niche market on Amazon that can help you get the most out of it. Check our in-depth Jungle Scout Review here.
What's the difference between the Web App and the Chrome extension?
These are two applications that take different aspects of product research into account. The Chrome extension allows users to collect data and information about a particular product on Amazon. They can be installed in the Google Chrome browser running on the Amazon website. The Jungle Scout web app helps users find products, which products work well and track products that have already been filtered out of the Chrome extension.
The Lite version does not do much more. But there are additional features of the Pro version:
FBA Fee Estimator
Product Profit Calculator
Product Opportunity Score
Sales Item Profit Calculator
Category and Seller Ranking
This is what Jungle Scout (JS) looks like: This screen appears when you click the Chrome extension on the Amazon page. Features that I think are the most important are:
Opportunity Score [PRO]: The JS will let you know if the product is good or bad. It also highlights high/low demand and high competition products.
Sales and turnover: For me, this is the most important information. You can see immediately how many sales and earnings are generated by the product on the first page.
Reviews and ratings: After you've determined that the niche has enough volume, you can examine the number of reviews and ratings they got.
[PRO] Fees and net payments: After you have determined that the product is not competitive, you can review its profitability. In advance, you could check the prices on AliBaba to know the production costs. After a brief overview of the rate and the net payment, you can decide whether or not to sell the product in a decent profit.
[PRO] Calculate monthly turnover: It is important to know if this is a modern/seasonal product. By clicking on the sales numbers, another window opens, which will show you the monthly sales history.
As you can see, I've pointed out what are these features are. They are available only in the Pro version. Honestly, I do not think everyone needs the pro version. I personally like to check as many potential products as possible in no time, so for me, the pro version is perfect. In this way, I can systematically cover all the 5 steps and have all the information I need in a concise summary. However, if you're just starting out, the Lite version still gives you the most important features you need.
How to use Jungle Scout?
Before you begin, make sure that you already have in mind a specific product line and a set of criteria that satisfies every product that can meet.
Then you can use the Chrome extension. Start it in your browser and start your search for the assortment of your choice.
After that, you will receive all the sales data of the products that appear in your search. This data will provide an overview of the overall performance of the product line chosen, including the number of ratings, the estimated sales, and the price.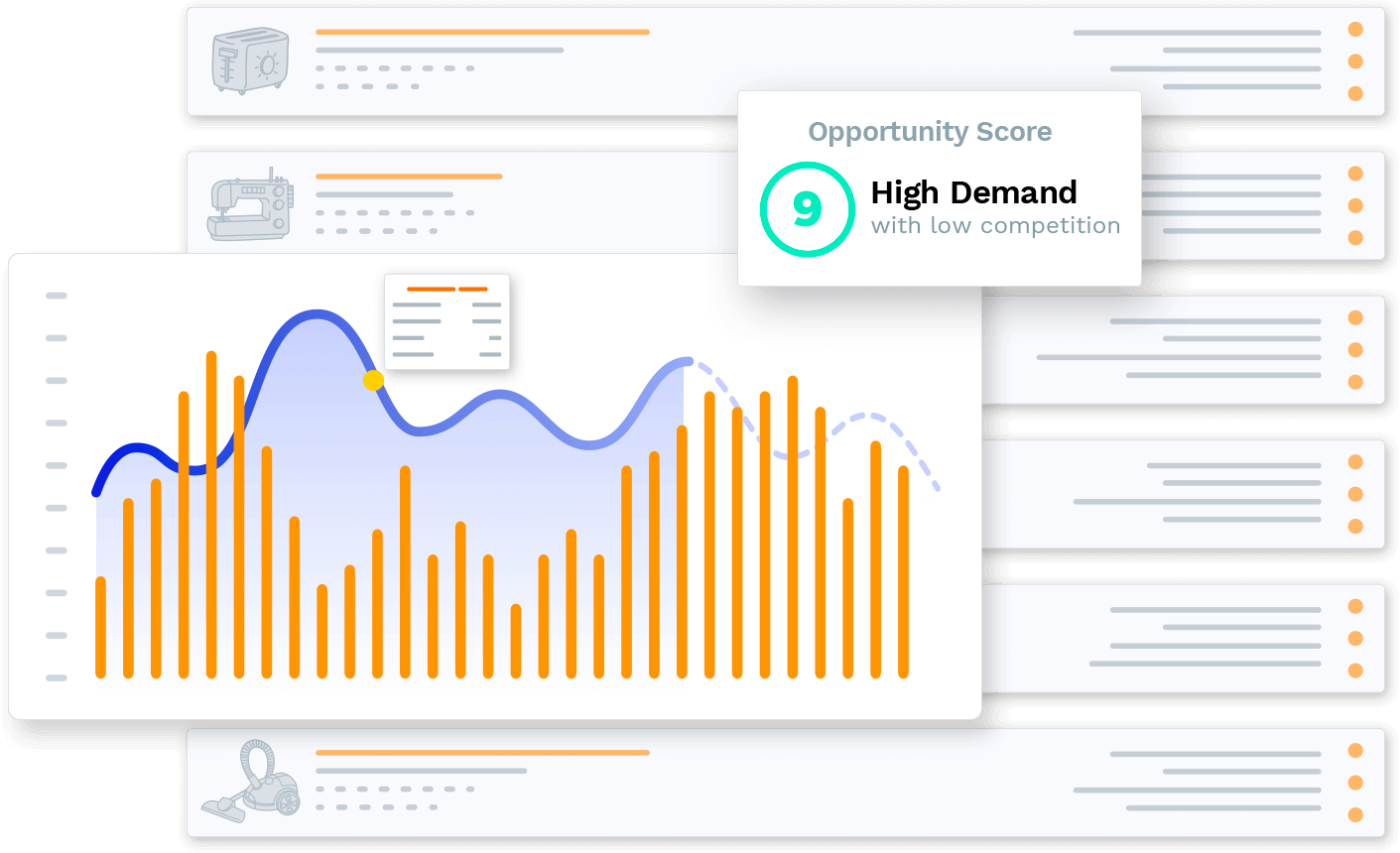 In the web application, you can refine your search based on the various criteria that you consider. This can be a specific price range, country, product weight, monthly minimum sales, and so on. Established BAF providers will find this more useful as the filter capacity represents a significant benefit to their BAF activity.
With the web application, you can also find a new product niche and product ideas while keeping track of the products in your assortment.
No matter if you have the resources or services free monthly, Jungle Scout is a tool that can benefit the one who, is, or wants to be a seller of Amazon because it can quickly see the level of competition and monthly sales. Later in this article, I will share how Jungle Scout enables me to succeed in achieving Amazon or "FBA."
I only have experience with Amazon FBA and have never used the successful merchant option. The following information is still useful for those who do not want to sell through Amazon FBA, but I can only recommend FBA.
Jungle Scout Chrome Extension: Which Extension is Better?
I think Jungle Scout Lite is all you need, especially if you use the Jungle Scout web application at the same time! Amazon offers free services, such as the Amazon Rate Calculator, to help you determine your FBA pricing.
If you use the Jungle Scout web application, you can already see the size and weight of the items. If you take the time to review the list of competitors, you can set your opportunity score.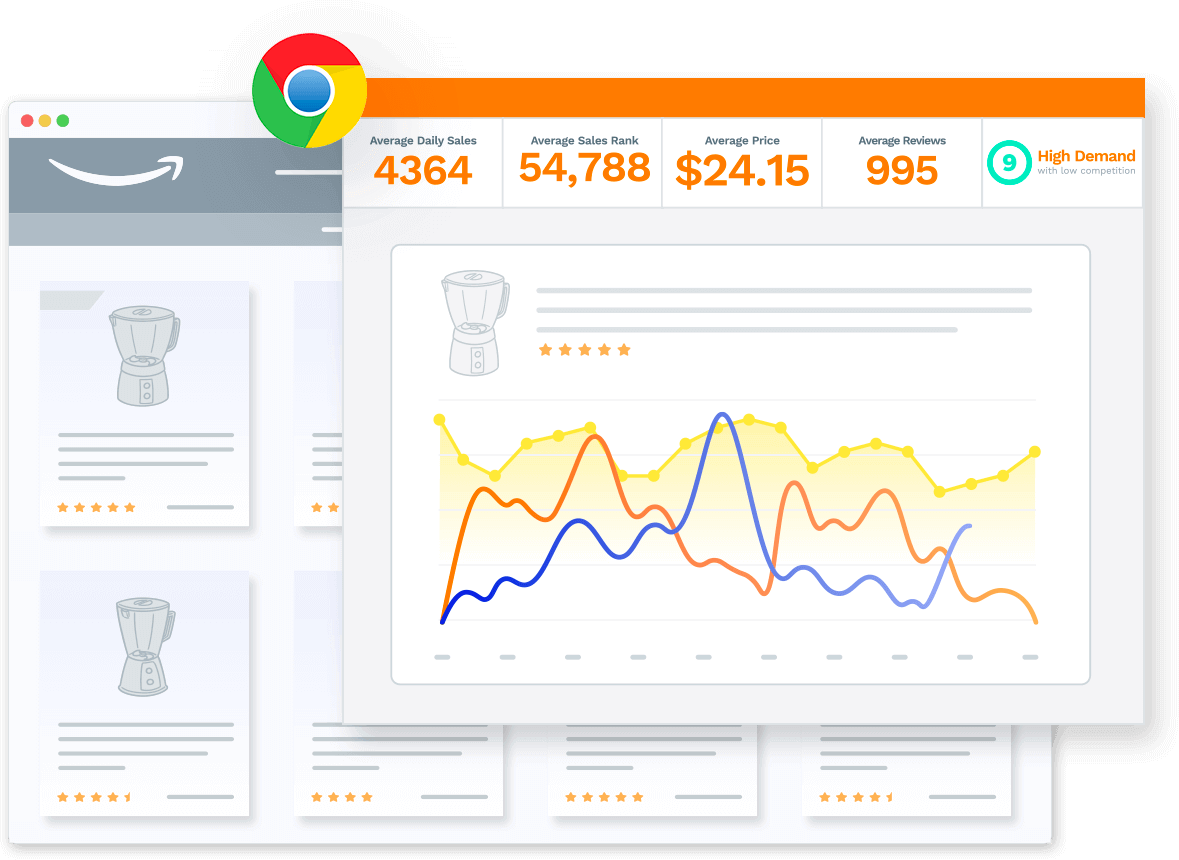 In the screenshot above, you can see that I have used the new product again. Once you find a product that's worth selling, start the Chrome extension. The extension displays your average monthly revenue, your rating, your prices, your ratings, your revenue, your income, and so on. At a glance, you can quickly see a list of key product competitors that help you determine demand and competition.
Keep in mind that the "x" will remove all products that do not match your search criteria, as this may falsify your results.
JungleScout Niche Hunter
Niche hunters will help Amazon marketers find profitable niches within a range of categories. Niche hunter checks the top 10 ads in this niche to make sure the niche is profitable. Sometimes one or two niche records give this niche a profitable appearance, but there may be other reasons for its success.
Niche hunters will ensure that no anomaly makes the niche more profitable than it really is. In addition, Niche Hunter will also show you Google trends when the information is available.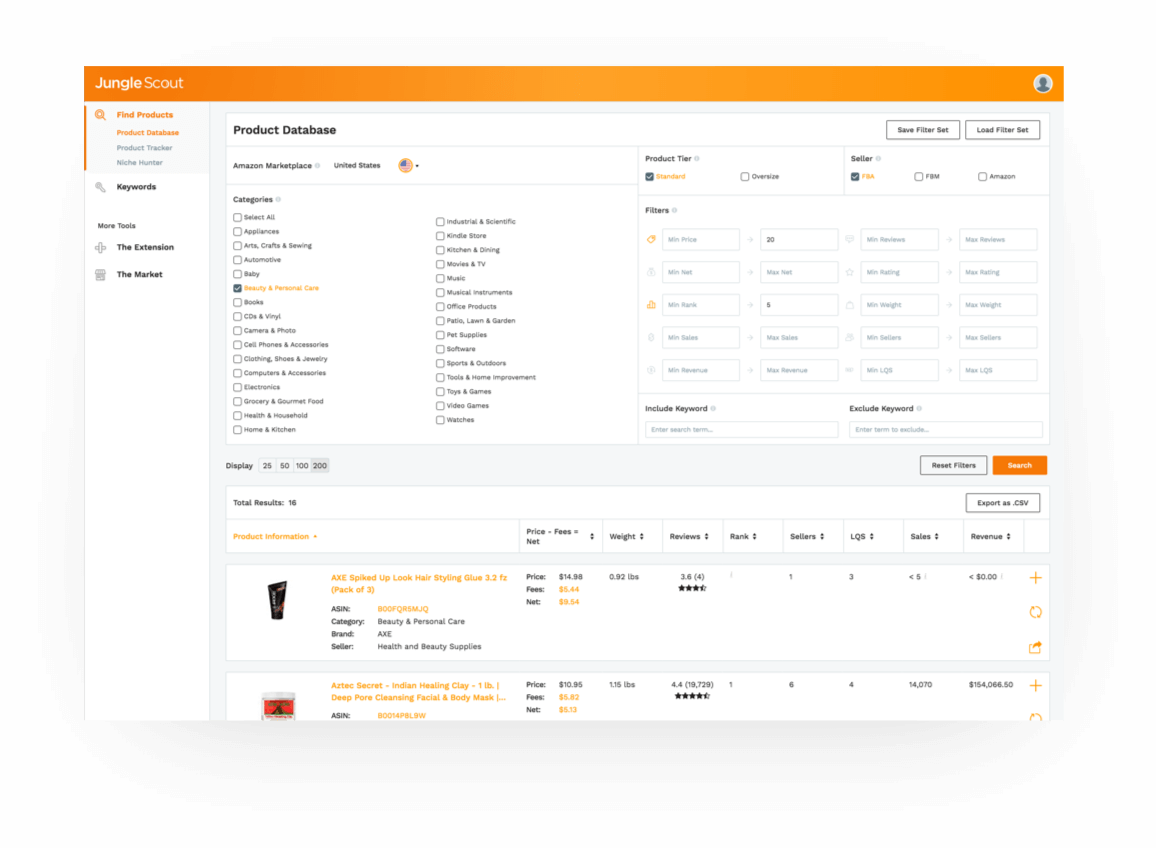 Do I think that this product is necessary? No, but it can save your time. I check the 10 best products myself with the other Jungle Scout tools, but if you can afford the extra $ 20 a month, do it.
Additional features of the Jungle Scout
The Jungle Scout web and the Chrome extension offer many features. The demand is strong. The features are impressive and help you achieve the best product value. If you are interested in e-commerce and want to get the most out of the products you want to sell, this tool is essential. This is a great option as it offers the following additional features:
Detailed Survey: This app will do a detailed survey of the different types of products you want to see. This will allow you to take a close look at the market value of the product and the number of buyers who want to buy it. You can relax, and it will do the rest for you.
Prepares the data: It is one of the most surprising features of this tool. It can retrieve the statistics of the best-selling product in each category and thus evaluate the items that need to be considered in the production of the product to achieve a higher value.
Review the data: The statistics provided by this application are new, and there is no old product. Therefore, it only has to compete with previously sold products. It constantly keeps track of changing data and keeps the information up to date.
Authentic opinions: Authentic reviews are very important as they indicate the relevance of each product and the answer in the market. Jungle Scout also brings you products with the best and worst ratings.
Coupons and Discounts for you: When you visit the Jungle Scout website, you have the option to purchase the Chrome web application or extension. The official website also offers discount vouchers for people who wish to purchase the application at a lower price. The Jungle Scout Discount coupon must be awarded if you want to save the best percentage.
What are the functions of the Jungle Scout web application?
With the web application, you can scan the Amazon product catalog in no time and save as much time for research.
Product Database
Here you can filter products by categories, requests, prices, ratings, and many other criteria. The database helps you to get a complete list of products based on your search function.
Categories
You can select the categories to be filtered. You can choose not to search for categories like gourmet or even electronic categories.
Filters
This will give you some results if you narrow down your search category. Some of the filters include network, price, range, etc.
Product-level
It helps you to view standard size, size, or both.
The seller
For the seller, you can select Amazon, or fill Amazon and/or the merchant
Product Tracker
You can select specific data, for example, promotions, prices, supplier assortments, etc. for the products are tracked from the database, and this data is tracked over time.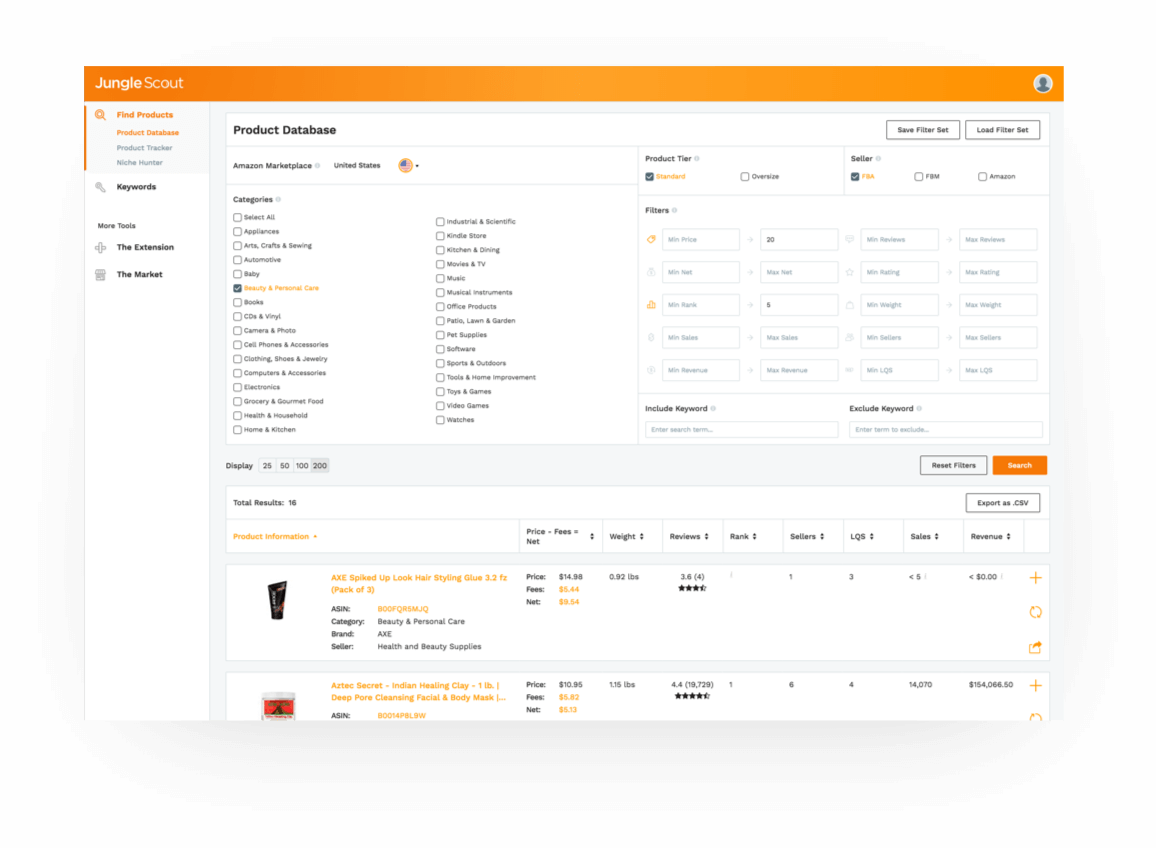 Niche Finder
Available in standard and business plans, Niche finder is the perfect tool to expand your product range and discover new sources of revenue. You can calculate the top 10 sales statistics and list the quality values of a keyword.
Supports multiple markets
Sales data is available in different countries such as Canada, India, Spain, Great Britain, India, France, Italy, and Germany.
Keyword Explorer
You can search for keywords proposed for PPC brands and HSA brands.
Quick Links:
Jungle Scout Pricing
There are three pricing options for the web application: Start, Standard, and Professional. Below these standards, it seems that this is the most popular proposed by the Jungle Scout, which can help find more than 80 products.
Pros
The tool gives me all the required info in 1 clear overview.

Very accurate on medium-high volume products.

Unlimited database filtering

Competitor Tracking

Low Competition Opportunities

Accurate Estimated Sales

14-day money-back guarantee

Award-Winning Support
Cons:
There's no free trial version

The sale estimate isn't always accurate.

The Jungle Scout isn't useful if you are selling used or new books.

It only works with the Chrome browser.
Over To You: Jungle Scout Discount Coupon Codes October 2020
This was my detailed review of the Jungle Scout. If you have used the coupon, feel free to give feedback and share your valuable opinions with us in the comment box.
It can be difficult to spend money at the beginning of your business. Therefore, the cost of the current Jungle Scout subscription may be difficult for new entrants. That said, even if you can afford to subscribe for a few months to make a specific request, definitely a worthwhile investment.
We hope our Jungle Scout discount coupon helped you in cracking the best discount offer on Jungle Scout.
Feel free to share this post on one of your favorite social media channels such as Twitter, Facebook, and LinkedIn.