About Ken Burns
Kenneth Lauren Burns is an American filmmaker, known for his style of using archival footage and photographs in documentary films. His widely known documentary series include The Civil War (1990), Baseball (1994), Jazz (2001), The War (2007), The National Parks: America's Best Idea (2009), Prohibition (2011), The Roosevelts (2014), and The Vietnam War (2017).
He was also executive producer of both The West (1996, directed by Stephen Ives) and Cancer: The Emperor of All Maladies 2015, directed by Barak Goodman
Burns' documentaries have earned two Academy Award nominations (each for 1981's Brooklyn Bridge and 1985's Statue Of Liberty) and have won several Emmy Awards, among other honors.
Ken Burns Early Life
Burns was born on July 29, 1953, in Brooklyn, New York, the son of Lyla Smith Burns, a biotechnician, and Robert Kyle Burns, at the time a graduate student in cultural anthropology at Columbia University in Manhattan. The documentary filmmaker Ric Burns is his younger brother.
Burns' academic family moved frequently. Among places, they called home were Saint-Véran, France; Newark, Delaware; and Ann Arbor where his father taught at the University of Michigan. Burns' mother was found to have breast cancer when he was three and she died when he was a circumstance that he said helped shape his career.
He credited his father-in-law, a psychologist, with a significant insight: "He told me that my whole work was an attempt to make people long gone come back alive. Well-read as a child, he absorbed the family encyclopedia, preferring history to fiction.
Upon receiving an 8 mm film movie camera for his 17th birthday, he shot a documentary about an Ann Arbor factory. He graduated from Pioneer High School in Ann Arbor in 1971. Turning down reduced tuition at the University of Michigan
He attended Hampshire College, an alternative school in Amherst, Massachusetts, where students are graded through narrative evaluations rather than letter grades and where students create self-directed academic concentrations instead of choosing a traditional major.
He worked in a record store to pay his tuition. Studying under photographers Jerome Liebling, Elaine Mayes, and others, Burns earned his Bachelor of Arts degree in film studies and design in 1975.
International Recognition
Burns has gone on to a long, successful career directing and producing well-received television documentaries and documentary miniseries on subjects as diverse as arts and letters (Thomas Hart Benton, 1988); mass media (Empire of the Air: The Men Who Made Radio, 1991); sports (Baseball, 1994, updated with 10th Inning, 2010)
politicians (Thomas Jefferson, 1997); music (Jazz, 2001); literature (Mark Twain, 2001); war (the 15-hour World War II documentary The War, 2007); environmentalism (The National Parks, 2009); and the Civil War (the 11-hour The Civil War, 1990, which All Media Guide says "many consider his 'chef d'oeuvre'").
According to a 2017 piece in the New Yorker, Burns and his company, Florentine Films, have selected topics for documentaries slated for release by 2030. These topics include country music, the Mayo Clinic, Muhammad Ali, Ernest Hemingway, the American Revolution, Lyndon B. Johnson, Barack Obama, Winston Churchill, and the American criminal justice system.
Ken Burns Film-Making Masterclass Review 2020
The Ken Burns Teaches Documentary Craft which is officially my most popular masterclass ever. And it's not a small compliment.
Because almost all the MasterClasses I have tracked so far have amazed, inspired, energized, motivated, and made me smarter.
However, in a catalog of phenomenal learning experiences, Ken Burns has managed to raise the already high bar.
This review is my effort to translate that sense of "wow" into words and to explain why Ken Burns Filmmaking Masterclass is my favorite among many fantastic classes.
Of course, not because I'm impressed by this MasterClass, everyone will enjoy it.
Although I am not a documentary maker, this art has aroused my interest for many years and I am currently preparing a documentary as a hobby.
I'm also a storyteller and a creator, so obviously there is a lot of overlap and teaching that can be learned from Ken.
Ken Burns Teaches Documentary Filmmaking | Official Trailer | MasterClass
If you are not creative, documentaries are not interesting for you, Ken Burns and his work do not interest you, or you are not interested in learning the process from someone who tops his domain (after all, this is one of the best Documentary filmmakers), so this MasterClass is probably not for you.
But I think it falls into one of these categories, so this review is probably for you.
Let's go to the exam now.
If you know documentaries, you already know Ken Burns.
Even if you are unfamiliar with your work, you probably already know the style of panning and zooming still images with your name: the Ken Burns effect. If you edited some personal movies on an Apple computer, you saw that name. Steve Jobs explicitly asked Ken to use his name in the software.
If you aren't familiar with Ken, you should check out some of his documentaries.
These films, in particular, will blow you away:
Jazz
Baseball
The War
The Civil War
The Vietnam War
The National Parks
The Central Park Five
Ken Burns MasterClass Is Divided Into 26 Video Lessons
That's 5 hours of video content (ignoring the hour's students can ask Ken questions), with each module between 10 and 20 minutes.
There is also a 156-page workbook with exercises, tasks, and tasks that can keep you busy for months.
It's beautifully filmed, the message is evocative, the music wakes up and the emotion takes you away.
Before plunging into the heart of the class, Ken says that the MasgterClass is about finding your own path and giving them something that will help them to really learn.
The course is meant for you to deepen your lyrics, e-mail voices, files, archive footage, music, sound effects, sound design, and everything you need for great results. Documentation.
The course begins with a stimulating and inspiring discussion on the qualities of filmmakers and an invitation to Ken to participate in the documentary revival that has been taking place since the mid-eighties.
The speed at which Ken speaks intellectually is incredible.
He has a great understanding of work, creativity, art, and man's condition, hard to follow, but it's easy to feel inspired.
We'll begin with an important discussion on how to get to know your creative goals and what questions to answer before you make a documentary.
What is Ken doing to make a living? He wakes up the dead.
It gives people the opportunity to explore the complex emotions that they never had before.
Each lesson is a call to action for artists like no one else I've ever seen in my life.
A lesson contains more valuable advice than most courses in his career.
This is not a class where you can relax and watch without thinking.
That does not mean it's not good. Because I can not remember the last time I had so much fun listening to someone who spoke for a long time. But you really have to deal with this material because it is deep and deep.
The research part of the course really impressed me and gave me a better understanding of the incredibly effective immersion process that precedes creation.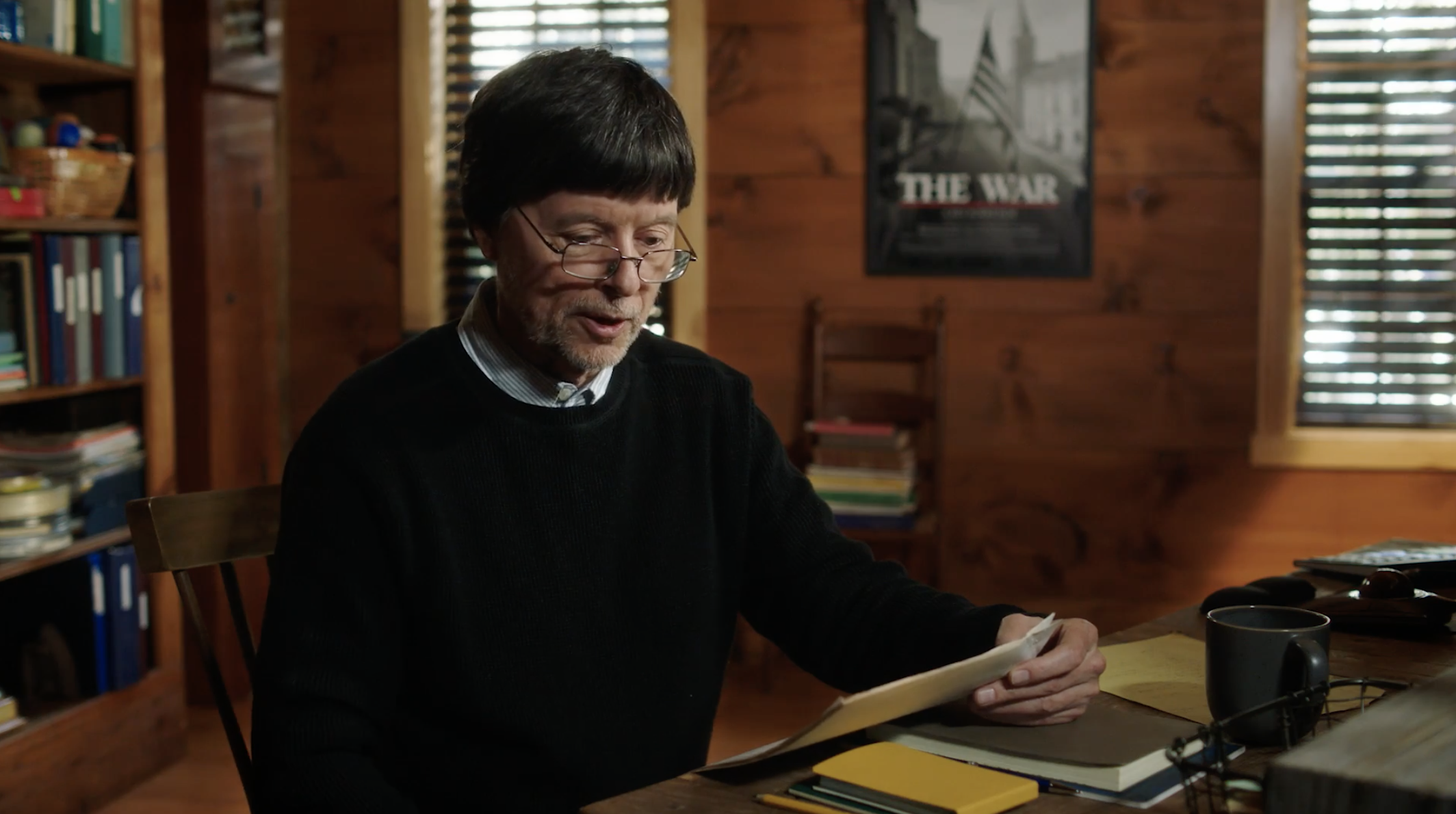 We've learned to find the deepest possible sources, and we've learned how Ken got hold of Vietnam's private video cassettes and created the person she thought was the film's character.
After a detailed discussion about why we should go to the mattress and what we want to sacrifice for our art, the course starts with practical advice.
Of course, this is not even a fraction of what you get in this MasterClass.
We then began to structure a documentation story and establish a direct connection to your audience.
We learn the fascinating lessons in terms of arcs: at the macro level (episodes/seasons) and at the micro level (scene/dialogue). And as Ken Burns and Steven Spielberg obey the same laws of narration, the only difference is that he can "do things wrong and I can not".
Ken Burns is not only a born storyteller but also a born teacher and educator, born of a passion full of passion that is so full that you cannot be otherwise trained.
Masterclass
Masterclass is an exclusive online education platform created in 2015 by Aaron Rasmussen and film editor and director David Rogier in 2015 that allows students and learners from across the globe to connect with leading creative professionals Entrepreneur, top influencers and award-winning personalities from the art industry including Oscar award and Grammy award-winning filmmakers, actors, screenwriters, Multi-billion dollar grossing directors, and many more.
Masters at Masterclass
The masterclass is a great way of learning online from top creators as it brings in the best influencers from the art industry under one platform. The platform gives you the opportunity to learn various forms of arts like Creative Writing, Photography, Directing, Cooking Techniques, Acting, Music and much more from an elite list of masters like:
| | |
| --- | --- |
| MASTERS | WHAT THEY TEACH? |
| Carlos Santana | Guitar |
| Mira Nair | Independent filmmaking |
| Helen Miren | Acting |
| Samuel L. Jackson | Acting |
| Serena Williams | Tennis |
| Gordon Ramsay | Cooking |
| Thomas Keller | Cooking |
| Tom Morello | Electric Guitar |
| Steve Martin | Comedy |
| Margaret Atwood | Creative writing |
| Dan Brown | Writing thrillers |
| Stephen Curry | Shooting, Ball handling and scoring in Basketball |
| Garry Kasparov | Chess |
| Jimmy Chin | Adventure photography |
| Martin Scorsese | Filmmaking |
| Christina Aguilera | Singing |
| Ken Burns | Documentary filmmaking |
| Ron Howard | Directing |
| Aaron Sorkin | Screenwriting |
| Judy Blume | Writing |
| Deadmau5 | Electronic music production |
| Usher | Art of performance |
| Diane Von Furstenberg | Building a fashion brand |
| Marc Jacobs | Fashion designing |
| Herbie Hancock | Jazz |
| R.L. Stine | Writing |
And many more!
At this point, the value in this MasterClass is resolved.
During one of the longest lessons I ever did, I had to divide it into several presentations because I was so excited by the knowledge that I had to assimilate.
Ken analyzes the various narrative elements that are available to him, how he can determine in the first versions of the narrative sheet of his film, how he writes with poetic details, builds a structure around the facts, creates a dimension through different narrative and even more.
The analysis of the effect of Ken Burns was exciting: how he takes a picture and says "It's my master shot", and has a great opportunity, a middle picture, a close-up picture, an extreme approach, a tilt, a panorama, a revelation Insertions of details.
Ken shows you how to create meaning through coexistence, how to activate the imagination of your audience, how to turn a visual experience into an auditory experience, how to create meaning through time and movement, and how people think. The Ken Burns effect is usually wrong. The effect is "an attempt to bring a photograph to life for the benefit of a complex dramatic narrative exhibition".
It is incredibly helpful to see Ken's process.
After we have shown his logic and reasoning in the episode overview, we see the real pictures in action, a real joy, and a wonderful learning process.
Ken was passionate all the time, but his passion reaches its peak when he stands in front of the boards of his episodes. He jumps in front of feeling.
challenge everyone to find more soul in an educational experience of this caliber.
After learning how to use emotionally powerful interviews, we switch to non-fiction cinematography, where we learn what we need to do to get the best shots (with a great story about how Ken and his team came along are the best pictures). Pictures that you once saved.
Masterclass Pricing Plans
There are two ways by which you can purchase a Masterclass, a single Masterclass and an All-Access Pass for any of the gurus on the platform.
Single Masterclass: ₹7,775
All-Access Pass: ₹15,550 per year
The All- Access Pass comes in real handy when you wish to take more than one Masterclass, so this means that there is no limit on the number of Masterclasses on the All Access Pass.
A 30-day money-back guarantee is also available for any of the Masterclass packages you purchase and you will get a complete refund of the amount in case you are not satisfied with their services.
You may also like:
Mobile apps: Access Ken Burns Masterclass on the go
Access your Masterclass lessons anywhere on the go by downloading the Masterclass app for your iOS or Android device for free from the App Store and Play Store. Save lessons as favorites, adjust the playback speed and watch them anytime you want to.
Conclusion: Ken Burns Masterclass Review 2020: Is It Worth It? YES Totally
I hope you like Ken Burns Masterclass Review 2020 and let me know if you have been part of Ken Burns Masterclass how is your experience please share in the comments below!