Spike Lee Masterclass Review
Pros
Masterclass mobile app for iOS and Android
Affordable For Professionals
Get access to material from top-level creators and artists
Includes top quality materials
Produces high-quality video
High-caliber award-winning instructors
Posts new courses regularly
Unmatched Quality
Who Is Spike Lee?
Spike Lee is an American film director, producer, writer, and actor. His production company, 40 Acres and a Mule Filmworks, has produced over 35 films since 1983.
He made his directorial debut with She's Gotta Have It in 1986, and has since directed such films as Do the Right Thing, Jungle Fever, Malcolm X, He Got Game, The Original Kings of Comedy, 25th Hour, Inside Man and Chi-Raq.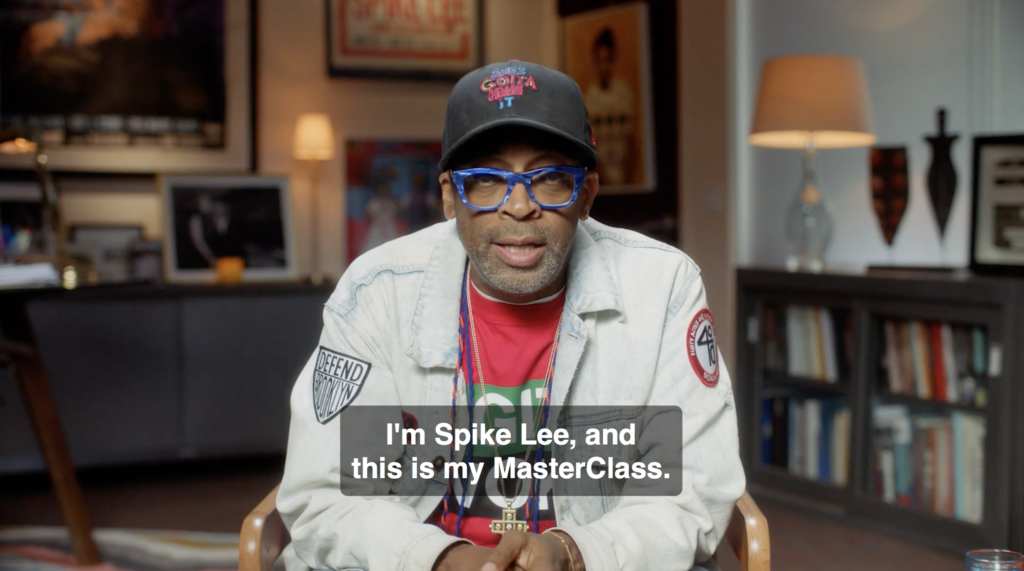 Spike Lee also had starring roles in ten of his own films. Lee's films have examined race relations, colorism in the black community, the role of media in contemporary life, urban crime and poverty, and other political issues.
He has won numerous accolades for his work, including an Academy Award for Best Adapted Screenplay, a Student Academy Award, a BAFTA Award for Best Adapted Screenplay, two Emmy Awards, two Peabody Awards, and the Cannes Grand Prix.
He has also received an Academy Honorary Award, an Honorary BAFTA Award, an Honorary César, and the Dorothy and Lillian Gish Prize.
Spike Lee Early Life
Spike Lee was born in Atlanta, Georgia, the son of Jacqueline Carroll, a teacher of arts and black literature, and William James Edward Lee III, a jazz musician, and composer. Spike Lee has three younger siblings, Joie, David, and Cinqué, who all worked in many different positions in Lee's films.
Director Malcolm D. Lee is his cousin. When he was a child, the family moved to Brooklyn, New York. His mother nicknamed him "Spike" during his childhood. He attended John Dewey High School in Brooklyn's Gravesend neighborhood.
International Recognition
Lee's independent film, Joe's Bed-Stuy Barbershop: We Cut Heads, was the first student film to be showcased in Lincoln Center's New Directors/New Films Festival.
In 1985, Lee began work on his first feature film, She's Gotta Have It. With a budget of $175,000, he shot the film in two weeks. When the film was released in 1986, it grossed over $7,000,000 at the U.S. box office. Spike Lee's 1989 film Do the Right Thing was nominated for an Academy Award for Best Original Screenplay in 1989.
Lee's film BlacKkKlansman, a drama thriller set in the 1970s, won the Grand Prix at the 2018 Cannes Film Festival and opened the following August. It also received nominations for the Academy Award for Best Picture and Best Director (Lee's first ever nomination in this category), with Lee winning his first competitive Academy Award in the category Best Adapted Screenplay.
Spike Lee Film-Making Masterclass Review
The MasterClass is still full of surprises. It's like all our heroes are gathered in one area and their A-list catalog does not stop. Man, I like to relax with spike lee movies. So when I entered the Full Pass Access (to bite into another class) I was pleasantly surprised to see the masterclass "Spike Lee Teaches Independent Film-making".
Spike Lee teaches film-making Masterclass. If you know Spike Lee, you will be surprised to see what you get with this MasterClass.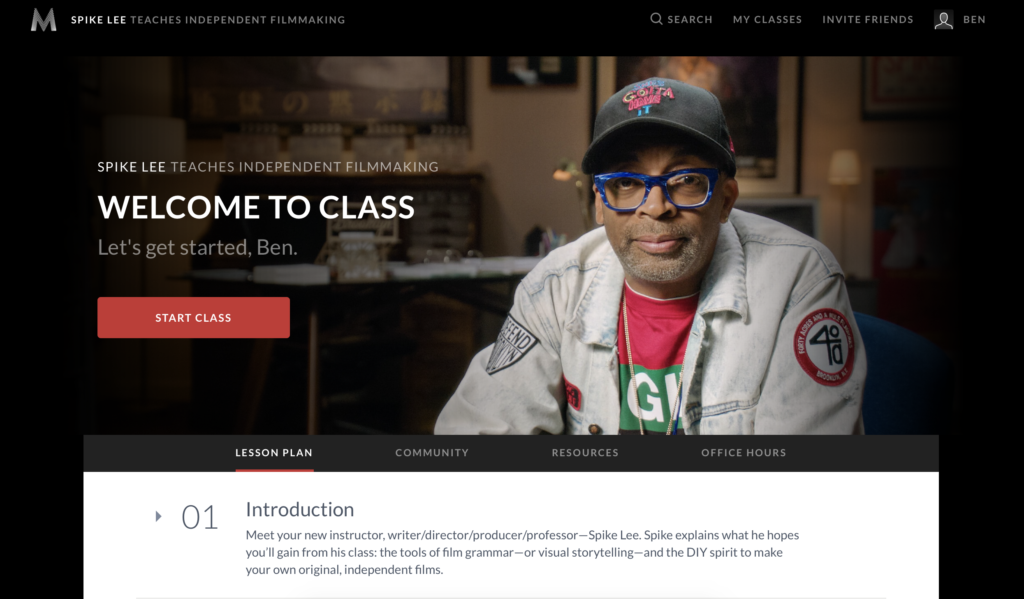 They know the style of Spike, but do not expect all the surprises of this class. With 19 video modules and more than 3 hours of content, as well as a learning workbook, you will experience a lot of surprises.
The MasterClass begins with Spike Lee, who introduces his goals by teaching him film grammar so that words on paper come to life. Then Spike shows us how to put the words on paper.
Spike Lee Masterclass Review in Detail 2020: Is It Worth It? (Pros & Cons )
We receive the plan for the writing process from Spike Lee. And learn how to use the cards to write a script, master some discipline techniques, and work with a partner.
It was a fascinating process that really got me dressed. I had never done it like this before, but I felt a real craving for it because it could very well match my personality. I already put it into action and really like to write a script this way.
You can also see his screenplay for the first long-term edition of Bamboozled. What a pleasure it was.
Have you ever thought of writing a screenplay in your hand?
You'll definitely want to try it after Spike tells Lee how he does it. By the way, it's definitely one of the best Masterclasses.
You can say that now.
Spike Lee Teaches Filmmaking | Official Trailer | MasterClass
Production, editing, scenography, music …
Everything feels so much easy, Spike Lee really gets into your soul. What a way to guide a course and learn something.
Spike's advice on writing a 120-page script was simple but quiet and efficient.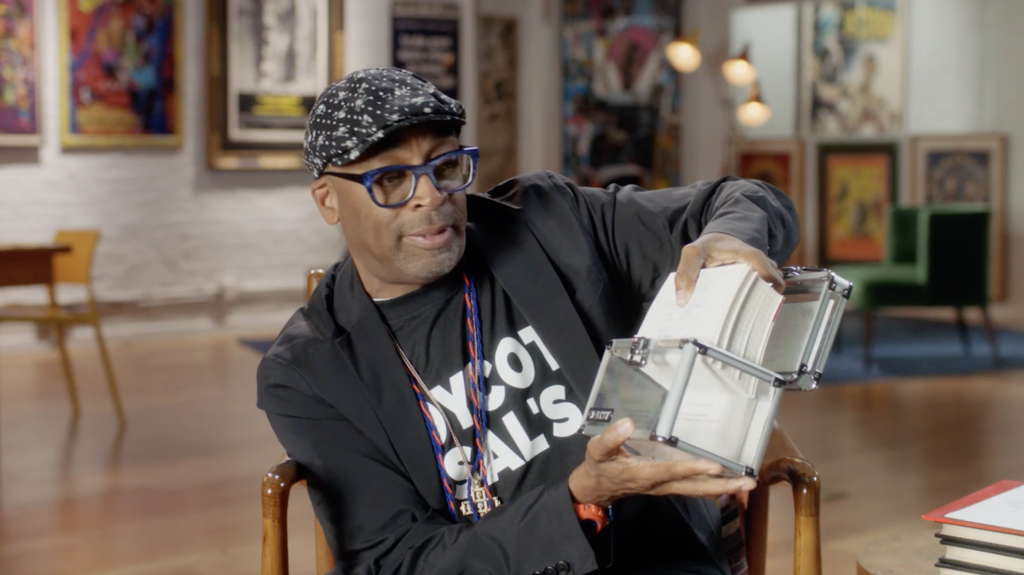 Spike has the vibrations of the mentor because you can not feel well and know exactly what to do after you have listened to him.
There is also a lot of good advice that is not just about the process (using examples like the next Black Klansman), but also important tips on what you should not do …
Spike tells us what you absolutely must avoid, otherwise, you could end your career before it starts.
Spike Lee goes into his storytelling philosophy. You get to learn everything about developing a unique voice and creating brave characters. All about how to get the ugly truth of your characters and how to separate them from yourself.
Spike uses "Do The Right Thing" to build his history lesson.
I like the fact that we can see real movie scenes with Spike's commentary as we try to teach you a specific lesson (for example about a story or a character).
This REALLY makes LIVE class and gives a lively dynamic that lets you forget the forgotten time.
I loved seeing a conflict between two characters. The characters who are right are right, both have their beliefs and the shit gets really dramatic when they start bumping into each other.
Spike Lee never thinks of the first, second or third act while writing.
It was very interesting Another area that is different from so many types of storytelling/writing/directing/filming.
I never thought that there was only one way to do something, especially to tell a story. I loved hearing about high concepts by using a deeper analysis of BlacKkKlansman (which I can not wait to see).
And then we reached a part of the course where my head exploded with emotion. This section is called "Tell the truth in power" and includes Spike Lee to analyze one of my favorite movies and one of his favorite movies: The Sea.
It was unbelievably incredible. I've gone through Spike's analysis of On The Waterfront.
Spike Lee's passion is contagious. Especially when he screams on screen and connects Terry Malloy's character Marlon Brando with the true story of Colin Kaepernick.
The Spike Lee Master Class Is Really A School For Mini-Movies.
After immersing in many creative lessons, Spike takes the lessons in a different direction and begins to teach you the commercial side of the cinema.
We learn all about your budget strategy and the fact that Spike calculates how much money he can bring to the film before writing a word in the script.
Make the movie for which you can raise money.
A detailed and relevant discussion of how we have an ideal vision of the scenes, but about the need to get involved if you do not have the money.
If you are an independent filmmaker for the first time and your budget is limited, you will need to attend this course as budget and money restrictions are recurrent topics in the classroom.
About Masterclass
Masterclass is an exclusive online education platform created in 2015 by Aaron Rasmussen and film editor and director David Rogier in 2015 that allows students and learners from across the globe to connect with leading creative professionals Entrepreneur, top influencers and award-winning personalities from the art industry including Oscar award and Grammy award-winning filmmakers, actors, screenwriters, Multi-billion dollar grossing directors, and many more.
Masters at Masterclass
The masterclass is a great way of learning online from top creators as it brings in the best influencers from the art industry under one platform. The platform gives you the opportunity to learn various forms of arts like Creative Writing, Photography, Directing, Cooking Techniques, Acting, Music and much more from an elite list of masters like:
| | |
| --- | --- |
| MASTERS | WHAT THEY TEACH? |
| Carlos Santana | Guitar |
| Mira Nair | Independent filmmaking |
| Helen Miren | Acting |
| Samuel L. Jackson | Acting |
| Serena Williams | Tennis |
| Gordon Ramsay | Cooking |
| Thomas Keller | Cooking |
| Tom Morello | Electric Guitar |
| Steve Martin | Comedy |
| Margaret Atwood | Creative writing |
| Dan Brown | Writing thrillers |
| Stephen Curry | Shooting, Ball handling and scoring in Basketball |
| Garry Kasparov | Chess |
| Jimmy Chin | Adventure photography |
| Martin Scorsese | Filmmaking |
| Christina Aguilera | Singing |
| Ken Burns | Documentary filmmaking |
| Ron Howard | Directing |
| Aaron Sorkin | Screenwriting |
| Judy Blume | Writing |
| Deadmau5 | Electronic music production |
| Usher | Art of performance |
| Diane Von Furstenberg | Building a fashion brand |
| Marc Jacobs | Fashion designing |
| Herbie Hancock | Jazz |
| R.L. Stine | Writing |
And many more!
Spike Lee Masterclass Review 2020: Detailed Analysis
Spike explains how engagement leads to creativity and something better than originally planned. How to manipulate the material and shoot the place How to make people work for the report (very interesting).
Then let's go to the Malcolm X case study and see how Spike Lee and everyone else knew from the beginning that they did not have the money to complete it.
It was fascinating to know how he solved his household problems. Then he discusses the importance of casting.
This was one of the longest and deepest lessons. Because, as Spike explains in the beginning:
Bad actors, bad newspapers could turn out to be a bad movie.
Spike goes straight to us to give us a casting masterclass just so he can pick the right actors for the right roles and make the good movie.
The wealth Of Case Studies Here, I Really liked.
We enter chemistry, we seek new talent, we collaborate with its director for photography and audition for all: actors, editors, directors of photography, what they are looking for, what is being asked.
After learning how others can be made to improve their vision, we return to the details of the story.
One of my favorite parts of the masterclass was "telling stories with a camera cover".
Spike shows us all the angles of the camera and the techniques that make up his iconic style and explains how he enhances the drama with each of them, increases the suspense and makes the story more useful.
Spike shows us how to contrast the characters by placing the camera.
In Do The Right Thing (you can guess what Spike is talking about, they're iconic), as well as camera technique in Mo 'Better Blues and 25th Hour.
When you hear Spike Lee speaking, you really move forward with a sense of creativity and pleasure.
If you know what you are doing, then you can really enjoy following all the rules (for example, drinking with Samuel L. Jackson at Do The Right Thing).
Spike Reads The Criticism Of Masterclass
Spike Lee speaks slowly when he is individual and everything he says is evocative, practical and inspiring, often witty and wise.
Tap Spike in front of a screen while one of your movies or favorites is playing in a different direction and EXPLODE.
Spike becomes strong, passionate, speaks fast and you can not stop being carried away.
If I had a criticism of the master class, I would have wished that some parts would be longer. Especially if you learn more about storyboards with Malcolm X as a case study. It was great, but I wanted more!
Most of the lessons are long and the class as a whole is fairly normal for a master class, but the desire to expand it is a testament to the fascination with which I found it.
After learning how to lead the actors, build trust and respect, achieve their best performance, their connections to the performers (I love their techniques) and everything related to readings, essays, and collaborations, we'll go into some of them my favorite parts of the course.
Opening Sequences Of Titles!
We analyzed Mo 'Better Blues, 25th Hour, and BlacKkKlansman to see how to adjust the sound from the beginning of the movie.
Spike brings you all about color, music, graphics and how to use them to create the mood and prepare the audience for your articulation.
We learn more about the score and style of Mo 'Better Blues, the determination of the mood at the right time, and how to make contemporary time black klansman.
Bright things here. Again there is no conflict. We have the opportunity to see and analyze the opening of these films, with Spike explaining his image for every aesthetic choice, picture by picture.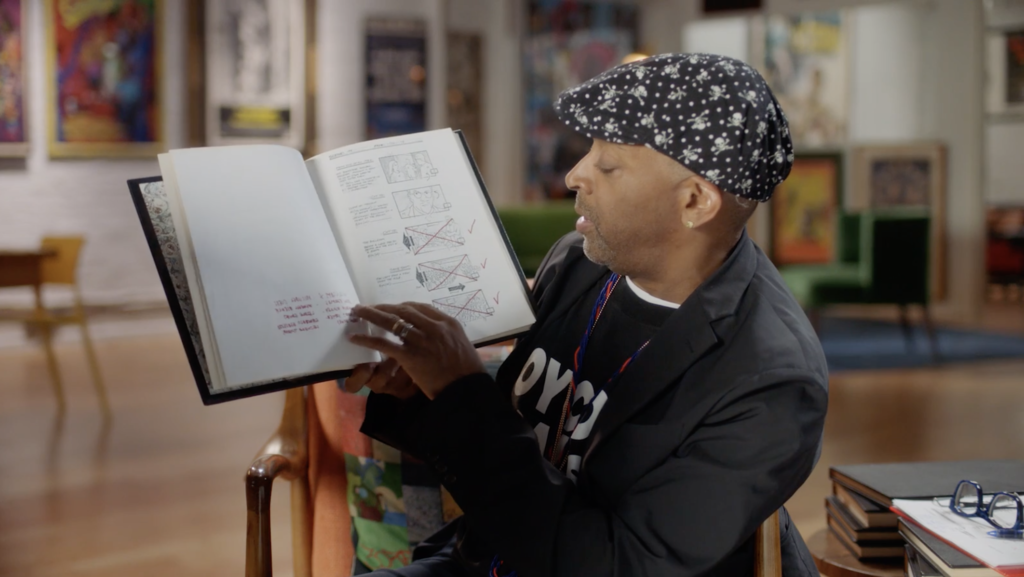 Another favorite part of the master class is where we learn to use the score to enhance the drama, work with a composer, turn the source into a score, and use music as a counterpoint.
The advice here is very detailed, fascinating and enlightening. Spike's listening process makes this particularly difficult topic more accessible.
In particular, the discussion about counterpoint and the case study was extremely interesting, especially if you do not understand how to use the power of confrontation.
Then we went to the edit and it was a really extraordinary lesson. Long, deep, interesting, with lots of practical advice.
Very powerful things and worth repeating the visits.
As the conference begins to wane, we begin a topic that is very important to Spike Lee:
Cinema As An Agent Of Change.
Spike is weighed in the false narratives in the movies, especially conspicuous injustices against blacks.
This, as well as the suppression compared to other demographic characteristics, is a theme in this MasterClass as one would expect of Spike Lee, but this particular module is a suitable supplement for a particular type of filmmaker
Let's be honest. If you decide to learn from Spike Lee, you're a kind of filmmaker. A filmmaker who has something to say, a belief that is rock solid and knows the social consequences of the moving image and how it can work in a positive direction.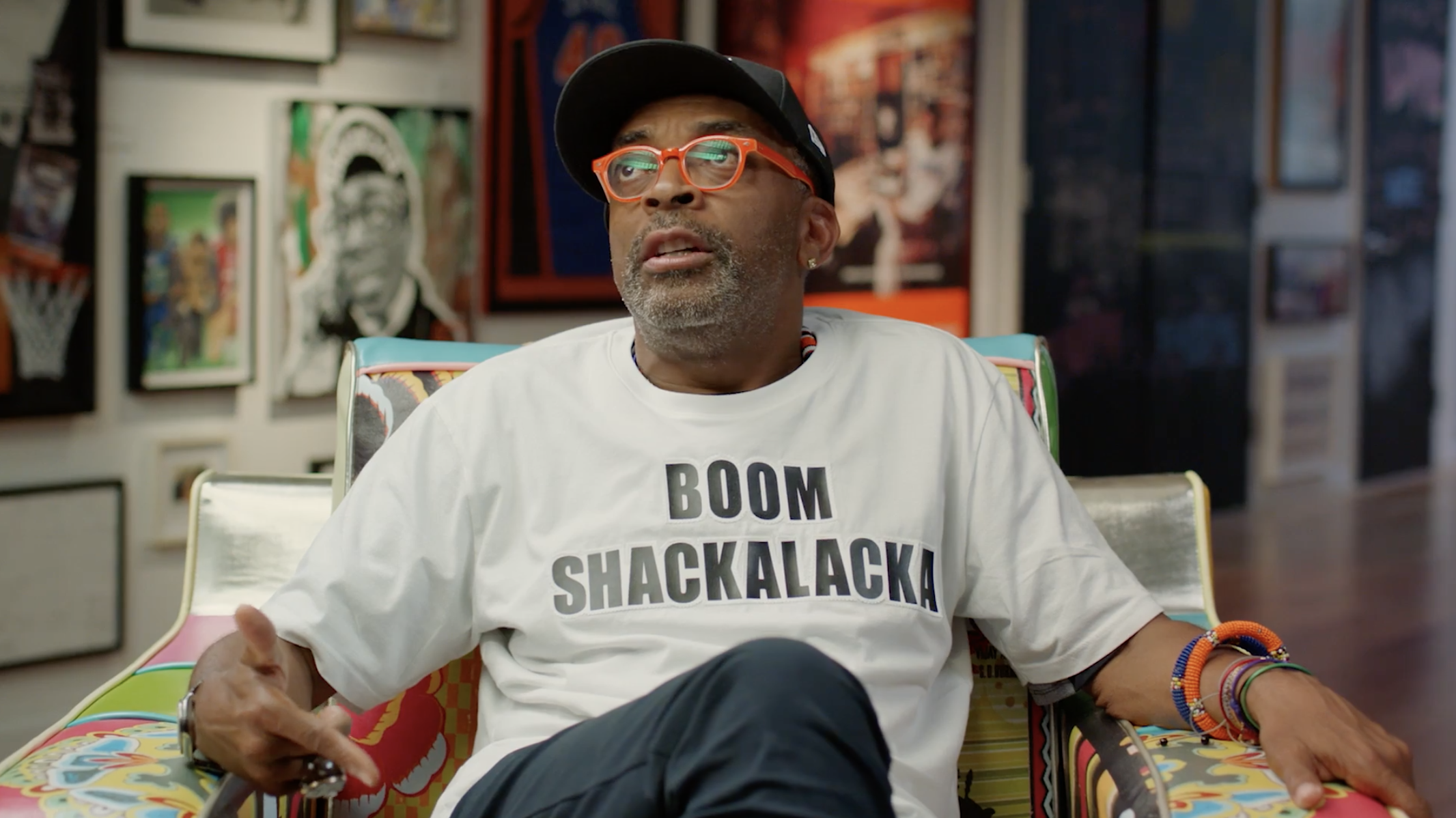 We learn all about Spike's film release and how to redefine the sector and push back the goalkeepers. The good thing about this MasterClass is that Spike Lee never gives any generic advice.
He always embarrasses you with something funny and unexpected, and I often have to go back and take a break to catch him again and write his advice.
The independent film-making masterclass, Spike Lee Teaches to be independent, it is intended for serious students who are ready to devote themselves to the process.
It's a lot of fun, but the central message of this course is passion, love, dedication, education, and work.
If it suits me, you should definitely go through the course or think about getting full access if you want to learn from other leading MasterClass filmmakers.
Masterclass Pricing Plans
There are two ways by which you can purchase a Masterclass, a single Masterclass and an All-Access Pass for any of the gurus on the platform.
Single Masterclass: ₹7,775
All-Access Pass: ₹15,550 per year
The All- Access Pass comes in real handy when you wish to take more than one Masterclass, so this means that there is no limit on the number of Masterclasses on the All Access Pass.
A 30-day money-back guarantee is also available for any of the Masterclass packages you purchase and you will get a complete refund of the amount in case you are not satisfied with their services.
You may also like:
Mobile apps: Access Spike Lee Masterclass on the go
Access your Masterclass lessons anywhere on the go by downloading the Masterclass app for your iOS or Android device for free from the App Store and Play Store. Save lessons as favorites, adjust the playback speed and watch them anytime you want to.
Conclusion: Spike Lee Masterclass Review 2020: Is It Worth It? YES Totally
I hope you like Spike Lee Masterclass Review 2020 and let me know if you have been part of Spike Lee Masterclass how is your experience please share in the comments below!
We hope this post suits your purpose well. Share this post on trending social media channels like Facebook and LinkedIn.