In this post, I am going to review about Unbounce. There are many features available in Unbounce which I am gonna tell you all about it. Landing pages are mainly focused on conversion.
It increases the conversion rates of a business website. 
The average conversion rate because of the landing pages is very low. Media plays an effective role in conversion too like videos have the highest conversion rates by 86%.
Read Our Detailed Unbounce Review and get more information about the application.
✨Unbounce Review: Is It Best Landing Page?
Detailed About Unbounce Review:

Since 2009, Unbounce is providing landing pages to their customers and made a great reputation in the market.
Because of the efforts of Unbounce now it's not only a landing page builder but also it gives tools to create, publish and test multiple landing pages.
In these years, it is constantly improving its functionalities to provide customers better services along with an awesome experience.
Because of that now there are over 10,000 customers who are connected to Unbounce and with the help of its tools they managed to perform 250 million successful conversions.
It is an all-in-one platform which allows businesses to create amazing, functioning landing pages to convert the customers. You don't need any kind of developer to do that you can do it all by yourself.
Even if you're not a web designer or developer then still you can use the tools of Unbounce because they are very easy to use.
To get started with Unbounce you just need to integrate with MailChimp, Campaign Monitor, Constant Contact or Active Campaign.
🎁How Does It Work?
Unbounce is very easy to use. If you already used a drag and drop builder before then it will be a piece of cake for you. The working of Unbounce goes through 6 simple steps.
1. Sign Up In Unbounce And Take The Free Trial And Start Creating A Landing Page-
Click on the sign up for a free trial and then go to the login option. You'll see a green button which shows "Create New" in the upper left-hand corner.
This will take you to a new window to create a new landing page.
2. Choose From A Large Number Of Templates And Start Editing It-
You'll see a choice between starting with a blank or a template. If you wanna save your time and effort then choose a template.
After seeing a template of your liking then click on the button which shows " Start with this template" in the bottom right corner and start editing it.
3. Once You Choose The Template Then Start Customizing It-
You'll be redirected to the Unbounce builder after selecting a template where you'll have the power to change the background image, add text and additional elements.
In the next steps, you can add your own photo, buttons and adjust the background colors.
4. Use Unique Elements In Your Landing Page-
In the right sidebar, you'll see the properties of an item. In the properties, you'll see the options like changing the size, change the color, change the text and add or remove a link.
5. Save The Landing Page-
After creating a landing page you'll see a save option in the top right corner. It will save all the details of your landing page and after saving you can use that landing page any way you want.
6.Customize, Integrate And Publish-
After saving the landing page you'll be redirected to a dashboard where you'll see the options like adjust the URL, create versions for A/B testing and integrate with other programs.
After choosing the options and performing them, you'll see a blue " Publish" button in the upper right corner of the dashboard.
💁‍♀️Features Of Unbounce:
1. Landing Page Builder-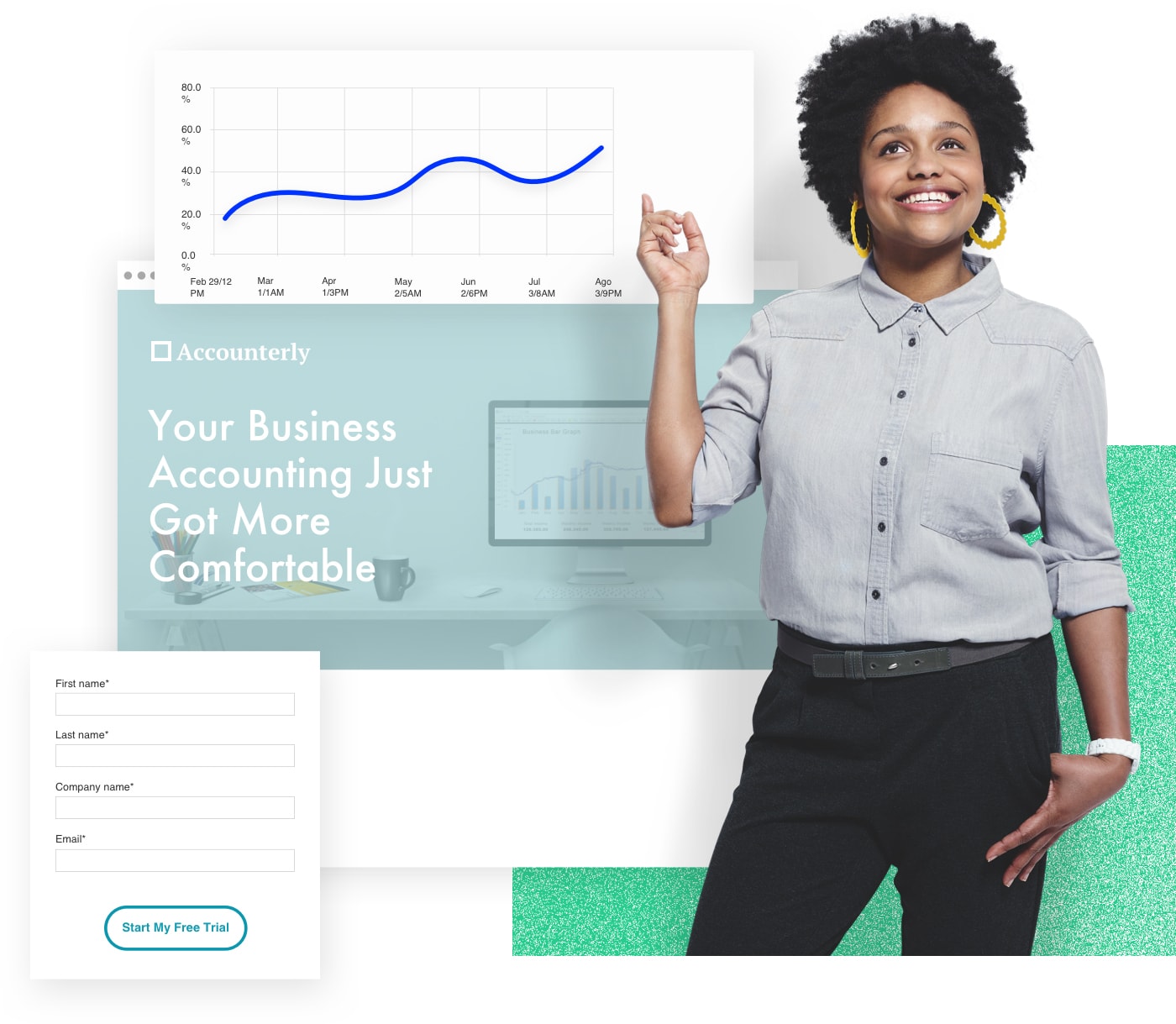 Unbounce Review- Unbounce has a very unique technique for creating a landing page. You'll see the difference once you start using it and compare it with other landing page builders.
Most of the landing page builders focus on the simplicity of the landing page but Unbounce helps you create a beautiful, unique landing page along with simplicity.
It has a drag and drops feature which is very to use that's why non-coders can also use it. But a large number of functionalities makes it a bit difficult.
Apart from that, you can work with it easily. Once you learn all about Unbounce then it will be a piece of cake for you to utilize all the features of it.
The editing process is very dynamic. Because of the in-built google fonts, you can choose from over 840 different options for texting.
2. Conversion Tools-
The main thing which differentiates between a typical web page and a landing page is conversion. That's why it has many conversion tools. The primary one is pop-ups which you can use to show up on your website anywhere you want.
Creating these pop-ups is very simple, all you have to do is drag and drop some elements and do some editing and you'll get an awesome pop-up for your website.
Along with pop-ups, it has also sticky bars to engage with mobile users. Creating them is also a very easy task. You just have to choose one template.
Unbounce's template list and combine it with its drag and drop builder and then you can use these sticky bars to be displayed on the top or bottom part of your website like a banner.
They might get the attention of the customers but it is not necessary that it will manage to engage and convert.
That's why Unbounce has a targeting system with the help of that you can show the right elements to the right audience at the right time with the right message.
3. A/B Testing With Unbounce-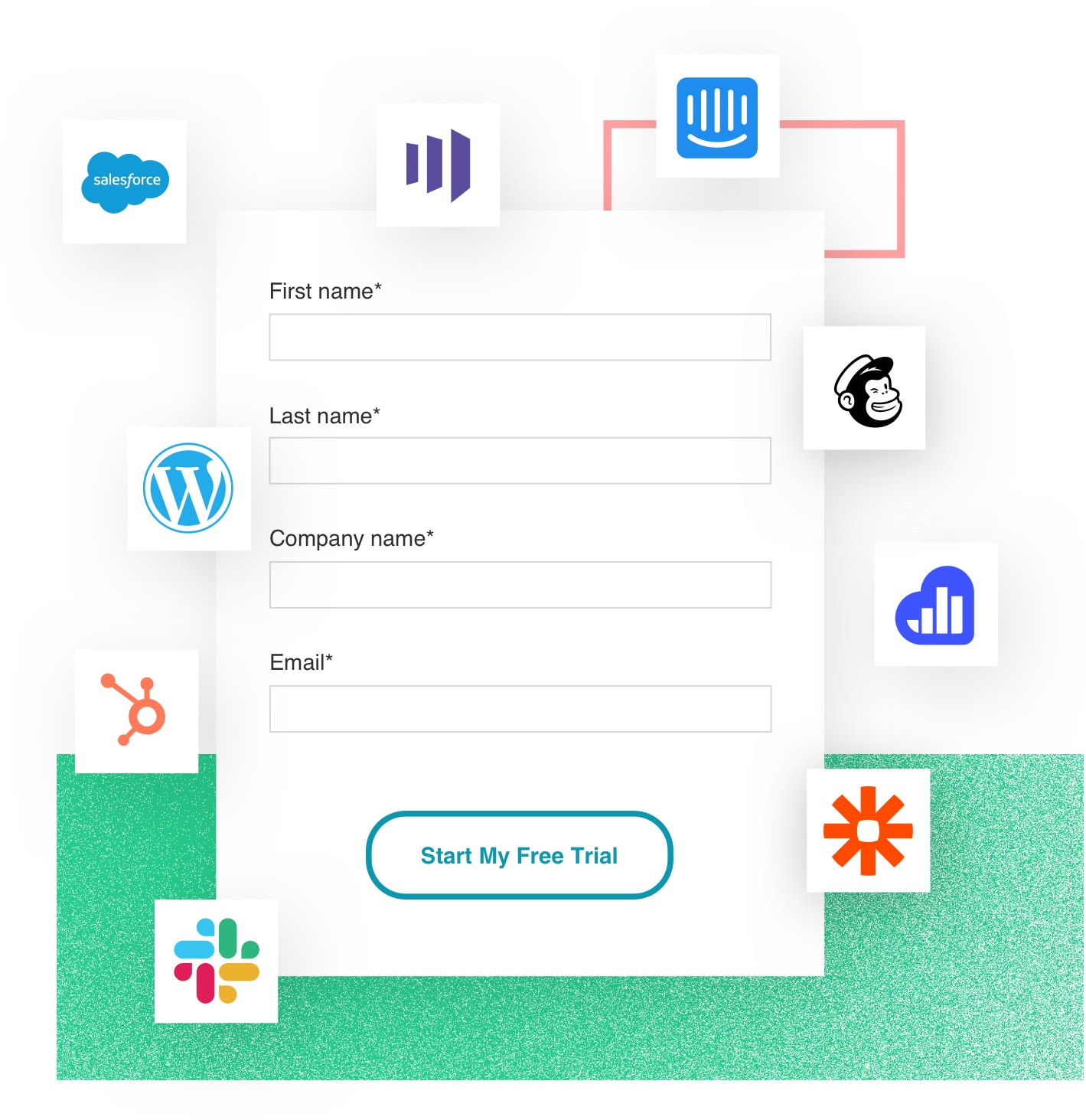 The tools of Unbounce can create conversion campaigns but it is not necessary that they will perform better than any other conversion campaign.
So to resolve that conflict Unbounce has a feature called A/B testing. The main purpose of A/B testing is to analyze different campaigns and according to that decide which one will be the best for the business.
The process of testing is quite simple.
All you have to do is create two different versions of a landing page with different elements and then the system of Unbounce helps you monitor them both then you'll see which landing page.
More conversion rates than the other so you can decide which one will be better for the business.
4. Landing Page Analyzer-
The A/B testing will only give you the best version of a landing page but you'll never be entirely sure about the best landing page campaign so to resolve that Unbounce has the landing page analyzer.
As the name of the feature, the working of it is exactly the same. It analyzes a landing page and finds out the potential problem so that you can resolve them before generating a comprehensive report.
The report shows a comparison between your landing page and other landing pages of the same industry so that you can find out the best elements for your landing pages for future references.
This report gives an insight on-page request, loading times and speed of the landing page.
5. Integrations-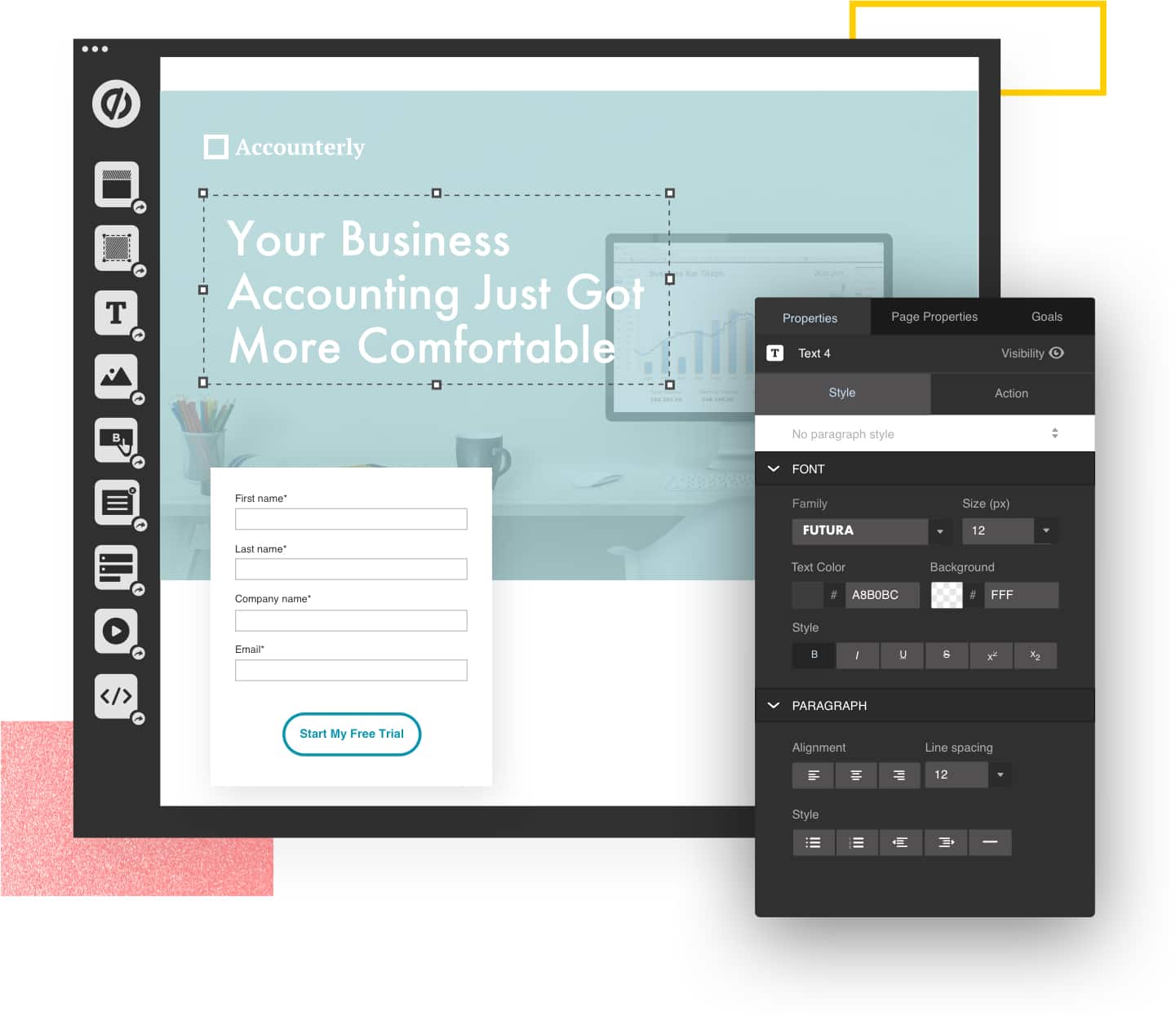 There are mainly three ways available for you to integrate Unbounce with other software and tools which are Native Integrations, Zapier and Web hooks.
The first two options will be very good for you if you don't know to code.
The number of apps that have native integrations with Unbounce is MailChimp, Get Response, Aweber, Campaign Monitor, Constant Contact, ConvertKit, Infusionsoft, Active Campaign, HubSpot, Marketo, and Salesforce.
To work with Zapier you need to have a paid Zapier account for that. Advanced users and developers mostly use Web hook with Unbounce.
They are usually used to send email data into a server like CRM. As an integration, if you use Facebook ads then you need to have Facebook pixel connected to your landing page which will help in tracking your pages.
6. Tracking And Analytics-
You can easily track a page's performance with the help of Unbounce. With every page, there will be a report of its performance so you will be aware of how your page's working with your audience.
There is an IP filter available on Unbounce by using that your page will no longer count your visits.
Once it detects your IP address then it will be automatically filled in the next page. You can also add more IP addresses to a page but you have to do it manually.
Unbounce Review- You can see the overview of the reports like Unique visitors which counts the number of new visitors who comes to your landing page and it will only count them one even if they visit the page many times after that.
It also counts the conversion which is important for your campaign. After counting the conversion it gives a conversion rate also.
😃Who Should Consider Using Unbounce?
Unbounce Review- The main problem is learning how to use everything because learning takes time for an amateur but only experienced can do it with ease. To increase the conversion rate of the website, you should try the features of Unbounce.
It may not be the best landing page builder but it will certainly help your business by giving a boost to it.
Landing pages are mainly focused on the conversion of the customers. Unbounce has many converting tools for that but mastering those tools will take time.
Even an amateur start building landing page for their website with the help of Unbounce's tools. It is an awesome solution for landing page problems.
You'll see the difference once you start using it.
It also fits into your budget because the pricing of Unbounce is not much high along with that it also gives you a 14-day free trial so that you can get a taste of how to create landing pages.
If you're interested in it then it will totally deliver everything to you as long as you know how to use it.
👩‍🚒Unbounce Review Pricing Plan:
Essential( $99/month or $79/month yearly)
75 Published Landing Pages

8 Published Popups and Sticky Bars

Unlimited Users

Unlimited Domains

Dynamic Text Replacement

SSL Encryption

Google Single Sign-on (SSO)

A/B Testing

Zapier Integration

WordPress Integration

HubSpot Integration

Infusionsoft Integration
Premium( $199/month or $159/month yearly)
150 Published Landing Pages

16 Published Popups and Sticky Bars

5 Client Sub-accounts

All Essential Features

Marketo Integration

Salesforce Integration

Advanced Popup and Sticky Bar Targeting

Popup and Stucky Bar Scheduling
Enterprise ( $499+/month or $399+/month yearly)
375+ Published Landing Pages

40+ Published Popups and Sticky Bars

15+ Client Sub-accounts

All Premium Feature

Full Feature Access

Two-Factor Authentication

Audit Logs

Customer Success Manager

Dedicated Launch Specialist

CTA Conf Ticket Included

Template Migration Service
🙌Customer Support:
Unbounce Review- Using tools Unbounce raise many queries so to solve that customer support is very important. You can ask any kind of query from the support team from technical questions to billing as long as it is related to Unbounce.
You'll definitely need help in using the tools of Unbounce if you don't know how to use them properly.
The customer support system of Unbounce is top-notch. The support team provides answer to every email within less than 12 hours.
Even it is not enough for you then you can go to the Unbounce Community which also runs by the company. This community helps you in connecting with other users and staff of Unbounce for a better experience. 
With the help of Unbounce, you can create landing pages within a few minutes. It doesn't take very long as any other landing page builder.
The pricing of Unbounce justify the uses of tools of Unbounce.
🙌Social Media:
Looking to boost your ecommerce sales?
Shoppable landing pages are one of the easiest, most effective ways ⁰to shorten your buyer journey and sell more online.🧵⬇️ pic.twitter.com/Yf6GRGZpKu

— unbounce (@unbounce) July 7, 2022
We love a guest who is 'fashionably late' – no worries, though!
This is your last chance to get in on our Unniversary™️ celebration. 🎉

➡️ https://t.co/WXt5wvKqHU#landingpages #conversionoptimization #digitalmarketing pic.twitter.com/KAfAhaQMMF

— unbounce (@unbounce) September 1, 2022
🌏FAQs: Unbounce Review 2023: Is It The Best Landing Page Builder?
🤷‍♀️How does Unbounce work?
Unbounce is a landing page builder that helps you create and publish high-converting landing pages. With Unbounce, you can create custom landing pages from scratch or choose from a library of proven templates. Once you've created your landing page, you can use Unbounce's powerful conversion tools to optimize your pages for conversions.
😉What are the benefits of using Unbounce?
Easily create custom landing pages without needing to code or hire a designer. - Increase conversions by using Unbounce's powerful conversion optimization tools. - Save time with Unbounce's easy-to-use drag-and-drop editor.
🙌How much does Unbounce cost?
Unbounce's pricing varies depending on the features and number of landing pages you need. For more information on Unbounce's pricing, please visit their website.
👩‍🚒How do I get started with Unbounce?
Getting started with Unbounce is easy. Simply sign up for a free account and start creating your first landing page. For more help, check out Unbounce's support center or contact their customer success team.
Quick Links:
😉Conclusion: Unbounce Review 2023: Is It The Best Landing Page Builder?
Unbounce is fairly simple to use to get a boost in the growth of the business. For some users, it may not fit into their budget because they have a small business but it certainly helps out larger business.
It also has customers who are famous personalities of this world. Within 10 years the reach of Unbounce is very far now.
The customers are satisfied with Unbounce for creating landing pages. It provided more than 250 million landing pages to the customers till now.
The number of templates maybe not much but the conversion rate of those are very high.
In this digital era, everyone wants to grow their business but without marketing, it's not possible so the need of creating landing pages is also growing.
Unbounce has better conversion rate than any other page builder so in my opinion, it may not be the best it is a good place to start.
After reading Unbounce Review post if you like it then let us know in the comment section.