Voluum is a new tracking system that is causing a stir in the online marketing space and with good reason. It is the newest and most advanced tracker on the market for years. In this post, we have featured Voluum vs CPVlab Review & Comparison 2020. Let's get started here.
What Is A Tracking System (Voluum VS CPVlab Review)?
A tracking system is software for monitoring and optimizing your online marketing campaigns.
Example: Malan creates ten Facebook ads for the new CD of his group. When someone clicks on the Malan ad, it will be sent through their tracking system, capturing the ad clicked on, their personal information (city, age, gender, etc.), and whether they buy a CD or not.
Next time Malan announces, you can use the ad with the most clicks to reach the people who bought the most CDs, and not waste money on people who do not. have no.
Malan earns ten times more money.
CPVLab and Voluum are both good tracking systems, but each has its pros and cons. Read on to find out why.
Voluum vs CPVlab Review & Comparison 2020: Which One Better??
CPVLab Review 2020 Overview
CPVLab is a self-hosted PHP based tracking software that I and many other important partners use for 2 or 3 years.
Technical Details About The CPVLab
Linux server: Recommended VPS or recommended GoDaddy and HostGator NOT recommended
PHP version 5.3 or higher
MySQL version 5.1 or higher
At least 100 MB of hard disk space
IonCube 4.4 or higher installed
Benefits Of CPVLab:
When CPVLab came out, it was a great substitute for Prosper202, a traditional tracking tool that helped many of us get started, but over time has stopped innovating and updating. That's why CPVLab was a new, easy way to track campaigns.
It was such a big improvement that most of us changed, even though it was $ 297 and $ 147 a year for updates on the 202, which was free.
CPVLab offers many good things. As I mentioned earlier, it's still used in one or two campaigns. I have recommended it for a good reason in the past.
CPV Lab Pricing Plans: Voluum vs CPVlab Review With Discount Coupon
Pricing offered by CPV Lab is very simple and here they don't confuse right with multiple pricing plans. As here the price of 1 year is $297 and right after 1 year renewing your license is basically optional.
And once your license expires you can still run your existing CPV Lab install right at the current version. But there somehow you will not be able to run any of the software updates and also you will have the limited access right to the user area.
The best part about CPV Lab is that you can simply try CPV Lab pro right for a full 30 days and here you have nothing to risk. If due to any reason you wanted to cancel your subscription then you easily go for that and cancel your subscription. And in return, you will be getting your 100% refund and there will be no questions asked.
Listing of CPVLab Pros
Easy to Use & Split Test
Rules and Colors
Tracks many different campaign types
Self Hosted
3rd party add-on for multi-variate testing (MVT)
Good support
Easy Of Use: Compared to 202, CPVLab is definitely an improvement. Simplified processes such as configuring the campaign, splitting test landing pages, and manually optimizing rules. It can be up and running in minutes.
Rules and colors: They have a system of rules that they can use so that the data changes when they reach a destination. For example, you can create a rule for a campaign that says the investment minimum return is 40%. When an ad or landing page reaches 40% of its return on investment, it turns yellow.
It's a great visual way to see when things are going well.
Different types of campaigns: You can track all types of ready-made campaign types. Direct links, landing pages, multiple routes, lead captures, landing page sequences, and email tracking work without additional coding.
Self-hosted: It's also hosted by itself (it's installed on your server) so you can feel confident that no one is looking at your data except you. Unless hackers naturally target your installation, you can not do much.
MVT add-on from third-party vendors: A year or more ago, a third party developed a multivariate test plug-in (MVT) that works in CPVLab. This allows you to optimize multiple points on a page at the same time. I have used this add-on from time to time and found it very useful to optimize the PPV landing pages.
Good Support: I've had to contact CPVLab technical support over the years, but he has always been open-minded and helpful.
Getting Frequently Updates: When CPVLab came out it was great because CPVLab had an active team that was going to be updating the software all the time.
Cons of CPVLab:
CPVLab has its limits. Over the years, performance and server downtime have often frustrated me when traffic is very important. I often lost thousands of dollars because of this problem.
List of CPVLab Cons (Voluum VS CPVlab Review):
Requires a VPS or Dedicated server to run well
Bogs down a server at about 500k+ clicks
Requires a secure server to auto-post conversions
The dashboard is not well organized
Self Hosted
Lack of Updates
Server getting Crashed: Anyone who is CPVLab partner can tell you, If you use CPVLab in a high-volume campaign, you should see it clearly that when CPVLab reaches about 500 to 700,000 visitors in the database, it slows down and can block your server.
If you want to use CPVLab in a large campaign, you'll need to periodically remove your valuable data from the database or pay $ 100- $ 1,500 per month for a dedicated server that can manage it.
VPS cost or dedicated server: As mentioned earlier, if you're building a real volume and want to make sure you're not blocking your server, you'll spend between $ 100 and $ 1,500 a month on a large server to handle the traffic. If you do not pay extra for a fully managed server, you are responsible for every problem.
I'm not a server administrator, so I had to have a backup server worker or spend hours fixing the incidents.
Automatic conversion publication: CPVLab requires a secure server (https) to automatically trigger the conversion pixels. When you make a sale, it automatically appears in your CPVLab statistics.
If you do not want to pay for the security certificate or do not know how to configure it, you must manually download the downloads from the associated network in CPVLab. It is feasible, but it may take a long time if you plan it several times a day, daily.
Its Dashboard is not exciting: I like the system, but it's not pretty. CPVLab is gray, flat and boring.
Times are changing fast and the code base may be out of date in a year or two. The innovation for CPVLab has slowed down over the years, so many of us are looking for something new and up to date.
Voluum Review (Voluum vs CPVlab Review Comparison)
Voluum was launched in late 2013 or early 2014 in the beta phase. It has become the favorite of most major affiliates due to its innovation, ease-of-use, stable codebase and excellent design.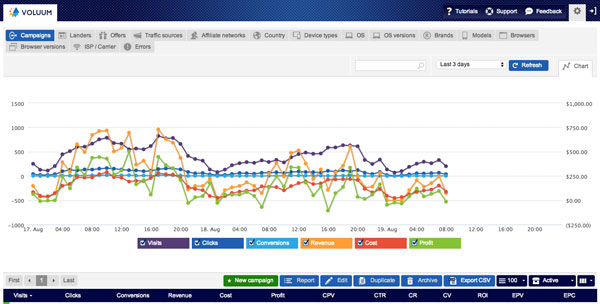 The first time I heard about Voluum was more than 6 months ago from a great Facebook partner who was always up to date with the latest tools and trends. He had provided me with great tools in the past, and when he told me that he had gone from CPVLab to Voluum, I knew I needed to take a look.
The first thing I noticed about Voluum is the elegant design. It is white, minimalist and very elegant. Configuring new campaigns, split testing and optimization were very easy and I was up and running about 10 minutes later.
Volume Pricing: Free or $ 99 / month (depending on traffic)
Voluum Technical Details
Hosted Platform
Database technology: VoluumDB
Programming language: Java
Worldwide server locations
Max click volume/day: 3 Billion+
2 Year Data Retention
Voluum Pricing Plans:
Voluum offers four subscription plans for different needs from beginners to pros. The right plan depends on how many campaigns you are tracking and if you want the pro features:
Entry – $44/month
1.000.000 Events

1 custom domain

1 dedicated domain with SSL

3 month's data history
Tracking Essentials:
Group Onboarding Webinar

Marketplace with exclusive offers

Organic/paid pixel tracking

Mobile App with Basic Notifications
Basic – $119/month
3.000.000 events

3 custom domains with SSL

1 dedicated domain with SSL

6 month's data history
Includes ALL Entry features, plus:
Individual Onboarding

Comes With Anti-Fraud Kit for bot detection

AI Automation for the optimization process

Custom Notifications for Mobile & Desktop as well

It has the traffic Cost Integration with Taboola and Revcontent
Advanced – $248/month
10.000.000 events

5 custom domains with SSL

1 dedicated domain with SSL

12 month's data history
Includes ALL Basic features, plus:
2 Additional Users

Dedicated Account Manager

Real-time Routing API
Custom – By quote
Epic – 100 Million+ Included Events

Legendary – 1 Billion Included Events
For more insights with respect to the plans, contact deals by means of email or web shape.
Voluum Pros
Voluum appeared at a time when most tracking systems had stopped renewing their products. In addition to creating a top-level crawler, Voluum has added so many new updates that you feel like you're tracking campaigns in the future.
They host it for you
Built-in Java
Servers around the world
Very simple to use
Auto-fires conversion pixels by default
International Redirect paths
Redirect Path Rules
Comprehensive info about your users
2 Year Data Retention
Clean Interface
Voluum host it for you: Voluum is a hosted tracking system, meaning you live in the cloud. Some customers are skeptical when other people should be able to host their campaign data. However, after using Voluum for a few days, the benefit of being in the cloud was so great that I stopped being skeptical.
A hosted solution looks like a dream and allows you to save over $ 500 / month on the own dedicated server for CPVLab. You no longer have to worry about server maintenance or failures, and that's a big relief.
Time-saving optimization tools.
Instead of continually hitting refresh and scrolling through report after report, you can use Voluum's optimization tools to save much of your time and optimize like no other people can. Their AI feature analyses and redirects traffic to the most converting alternative. Just set up two different options, turn on the AI and the Voluum system handles the rest.
Servers from around the world: Voluum has distributed servers around the world. When visitors arrive on their pages in other countries, redirects and server files are hosted locally. This leads to faster forwarding and speed = money.
Integrated Java: I'm not a technician so I can not tell you much about Java. However, what I understand is that PHP and MySQL are the combinations that caused the CPVLab crash for about 500,000 users. Voluum uses Java and a proprietary database language to handle more than 2 billion hits per day without shrinking.
Easy to use: Once you've learned Voluum, it's very easy to use. Once all traffic sources, offers, and connected networks have been entered into the system, it takes about two minutes to set up a new campaign.
Returns the pixels: If you had to manually download your affiliate network downloads (1 to 25 times a day) to your tracking system, you'll love it. Voluum uses data return pixels that automatically display your conversions in your default statistics. Just take a small code from Voluum, paste it into the partner network and the pixels will be tracked.
International diversion routes: Most traffic sources are not ideal for the geographic orientation of their users. Therefore, if you set up a campaign only in the US. UU., It will end with 10 to 20% of traffic from other countries. If your offer does not accept international customers, the affiliate network will redirect you to your own international offering in your backend.
Voluum solves this problem by allowing you to create a route that is reserved for international visitors. So, if you click on the link to your offer, they will be redirected to an international offer for which you will be paid. On this international route, I've seen profits increase by 5 to 15%.
Redirecting route rules With Voluum: you can redirect users to different routes based on location, device type, browser, and so on. If your mobile users are to see a different landing page than their desktop users, you can create that rule in seconds in campaign settings.
Details about your visitors: I've found that Voluum collects more information about its users than any other standard system. It is not necessary to configure code or special scripts to retrieve the information. So it's a goldmine for mobile campaigns.
Storage of 2-year data: To prevent another tracking system from crashing, you must erase your data every few days or weeks, depending on the size. That means you can not look back and study trends. With Voluum, you never have to delete your data, and you can use campaigns for two years if necessary to see what works.
Amazing Interface: The Voluum design is good. I'm a former director and creative designer and hate working on ugly software and applications. Voluum is white, minimal and uses strategic colors to keep track. The winnings turn green and the losses turn red. It's good to work in an app that looks just as good as it does.
Voluum vs CPVLab FAQs
✅Which kind of software are Voluum & CPVLab
Basically, Voluum and CPVLab are leading tracking software for Affiliates.
🔥Which one is better Voluum vs CPVLab?
Voluum works like a charm when it comes to ad tracking. Because of its benefits and features, it definitely worths your try.
Quick Links:
Cons of Voluum
Since Voluum is so new, it is difficult to access, as any features that I think should be added are probably already on your to-do list. But there are things that I do not like about the system I'm going into now.
Monthly Costs: Voluum provides price levels based on the number of "events" (visits, clicks, and conversions) it uses. Most new affiliates with smaller campaigns can put Voluum in the $ 99 / month category for free, mid to high volume affiliates, while huge affiliates with large campaigns pay the highest fees.
0-100,000 events are free
1,000,000 or $ 99 / month
25,000,000 is $ 999 / month
I'm not really a proponent of recurring/monthly billing in my life, so that was a big change for me. However, with Voluum you can cancel the dedicated server
Hosting in the cloud: It was initially a detour for me. I mean, who wants to host the details of their private campaign on someone else's server? If Voluum members want to steal all data from our campaign, they can only log in and recover. But as Voluum explains in your video, if you want to hack and take away all of your CPVLab data, you can get it.
Quick Links:
Conclusion: Voluum vs CPVLab 2020 | (Final Decision)
Voluum and CPVLab are both solid tracking systems and either one can get the job done. But the only advantage of using CPVLab has is that you can host it on your own server and buy a 3rd party add-on and do multivariate testing if you want to.
But that's just not enough of a reason for me to stick with it. Voluum wins when it comes to using the latest technology and make things easy to use. With Voluum you have no more server maintenance, it constantly clears out data or server crashes.
Let me know in the comments section below what you like most about both the products and what's your opinion on CPVLab and Voluum.