Hosting and managing webinars isn't everyone's cup of tea as there are lots of hurdles and aspects that you need to manage while hosting a webinar.
But webinar software like GoToMeeting can help you host and manage with ease.
In this post, we have featured the GoToMeeting review 2021 that includes detailed insights into its features & benefits, complete setup guide, pricing, pros & cons and more.
So let's get started here.
GoToWebinar Review: In A Nutshell (GoToWebinar Product Details)
GoToWebinar is a renowned platform for institutions and individual companies to create and deliver video conferencing online with their customers, colleagues, shareholders, etc. GoToWebinar applications are very extensive. This platform is an excellent choice for professionals and businesses looking to expand their reach to their audiences, provide online and audio-conferencing training and conduct interviews with attendees without having any kind of physical interaction.
A brief demo of GoToWebinar
With a simple and intuitive user interface and a user-friendly platform, GoToWebinar is the leading self-service webinar application for many people and businesses. The configuration is very simple and does not require any computer support. Its simplicity has helped companies and individuals generate more valuable and qualified marketing opportunities at a lower cost. It's compatible with PCs or Macs, making it easy for attendees to attend a webinar without having to worry about system requirements.
GoToWebinar Features & Benefits: Hands-On Review (Best Video conferencing and webinar hosting for large events)
1) Easy To Plan:
Virtual event planning on internet does not give you a headache as it is very easy and entertaining. The platform has a simple control panel that makes it easy to navigate and use the toolbar conveniently. You have to select the date, your life or your series and adjust the settings with just a few clicks. If you have already done some presentations, you can automatically adjust the settings based on your previous webinars.
2) Wide Branding Choices:
To be more competitive and attractive, you need to use the magic of the brand to attract more people to your webinars. An intelligent function selection is available for this, which makes your presentation exciting and attention-grabbing. With the available drawing tools, you can create your own custom webinar background that represents your company logo, brand colours, and images.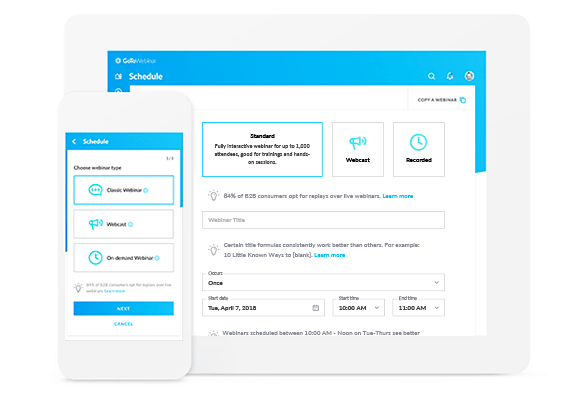 3) Email Automation:
The GoToWebinar app has a personalised, smart email invitation that automatically sends alerts about upcoming events and provides customers with useful information and promotional material via email. Interactive tracking of emails.
4) GoToStage:
If you want your business to inspire crowds and millions of people, you can use this revolutionary feature built into the GoToWebinar app. GoToStage is a comprehensive tool that lets you introduce your webinars to a wider audience. Millions of people are waiting for webinars based on GoToStage ideas. One of them could be yours. Creating an attractive channel page, adding bookmarks, and accessing the webinars that inspire demand gives you additional visibility, enhanced prospects in the target market and SEO tools you need. Your site is easily accessible to others.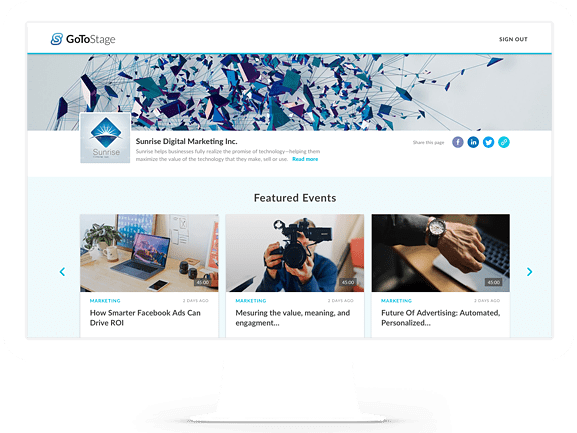 5) Easy To Use:
This webinar platform is easy to use and straightforward.  GoToWebinar app is fully equipped with interactive tools so your presentation runs smoothly and attracts attendees. It has a control panel with timer and performance data and six moderator webcams that share the winning smile and inspiring atmosphere with the viewers. In addition, you can create polls and ask live questions to your audience to feel connected to the webinar.
6) Provide Maximum Comfort To The Participants:
GoToWebinar offers the participants maximum comfort so that they can enjoy a presentation of quality products. You benefit from an instant download of the GoToWebinar application from your browser and realise in real-time that the transfer is not delayed. In addition, each participant can activate the microphone or webcam to voice their opinions and ask questions. This can be done via the PC and the mobile application of GoToWebinar.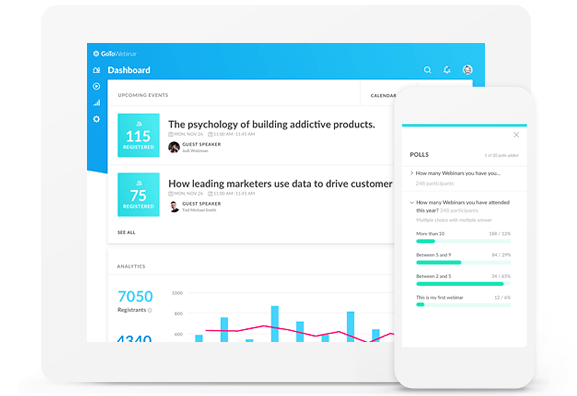 How To Setup GoToWebinar Quick & Easy?
GoToWebinar is an easy to use yet powerful webinar platform to get started with.
To use GoToWebinar you need to download the software. However, if you do not want to bother your current and potential customers with this download, you can use GoToWebcast to stream without downloading.
To organise a live web conference, the organiser must send invitations to interested participants. This invitation can be sent before the conference starts. To respond to the invitation, a Internet user only needs to validate certain item, and that assumption is not a disruption or obstacle.
GoToWebinar Schedule and Edit a Webinar
With GoToWebinar you can make a simple audio call. If the connection is better for the organiser and attendees, you can conduct a video conference. When the conference starts, the organiser can even share a screen.
In this way, the participants can see what is happening on the screen of the organiser. This Screen Sharing feature is very useful if you need to convince your potential customers of your product.
If you have a colleague in another country and need to install your work tools, you do not have to drive to his home. It is possible to take control of a person's computer when a person gives permission. However, it should be noted that only the presenter can support this control.
If one of your customers is missing during this video conference, do not panic, GoToWebinar has a recording function. Regardless of the duration of your presentation, you can record it. This record will be sent if the absent person is available. He will then make sure that he has said so to all his customers.
With GoToWebinar, you have a tool that lets you follow a session that you started. In other words, when responding to anything that has been said after a conference on "Price Negotiations with a Supplier", participants can leave their comments, opinions, and conclusions. This field "Comments" is open to all participants and anyone can read and write comments.
In the GoToWebinar section, you can view a report on all your conferences. You can even download it as an Excel or CSV file.
How GoToWebinar Presentation Works?
Unlike other online seminar tools, GoToWebinar is better suited for presentations and seminar meetings. GoToWebinar allows you to host webinars quick and easily.
With this tool, participants can hear everything that is said and respond through a single device. When you meet a customer abroad, you do not have to use individual headphones. Of course, the conference and the exchange can take place as if the customer were at a table with you. Also, the screen sharing feature of this webinar software is lit due to which it takes video conferencing to the next level.
GoToWebinar Video Sharing
GoToWebinar makes meeting your current and potential customers a breeze. It can accommodate up to 1000 people and each participant can join a conversation.
This webinar solution is popular with inexperienced entrepreneurs, but those who do business online like it too.
This online conferencing application can be installed on a Windows, Mac OS or Linux computer. There is also a version for Android and iOS mobile devices, iPhone and iPad. The GoToWebinar program is available in French, English, German and Spanish. WebinarJam is one of the finest webinars solutions out there.
You can check out the WebinarJam review here: https://www.bloggersideas.com/webinarjam-review/
Some Notable Features Of GoToMeeting
GoToWebinar has updated it with some new product updates that you can try. Whether you're using webinars for marketing, training, or internal communication, these updates make organising exciting webinars easier than ever.
Webinar That You Can Share Privately
If you want to share your webinars when needed, the GoToWebinar channel pages make it easier. Your channel page is your own webinar centre. You can customise your page with your logo, images and colours and have all or part of your webinars as needed. For more information, visit the Content Marketing Conference channel page below.
GoToWebinar customers can also make their webinar and channel pages available on GoToStage, where viewers can find them based on topics and brands of interest. Viewers can subscribe to your channel on relevant topics to stay up to date. You can also tag your webinars with relevant keywords to show them in search engine results for better visibility.
Get To Know Your Audience With Improved Q&A Reports
Knowing who asks questions and what they ask helps you get to know your audience better.
Look at the number of questions each assistant asked to see who was really busy and barely listening. Use frequently asked questions to guide your next webinar topic. Or, when organising a web marketing seminar, use participants' questions to personalise the reach of potential customers.
With updated Q & A reports, it's easy to put all this data in a single table and put it into operation.
More Power To The Video
We tend to consider a webinar as a speaker or two and a slide deck. However, using videos during your webinar can add variety to your presentation and grab your audience's attention.
Play a video to break the ice, explain a complex problem, or show the perfect demonstration. If you can not schedule a webinar on the dates of your panellists, pre-screen your presentation and watch it during your live event. There are so many ways to embed videos to excite your audience and make your life easier!
GoToWebinar has improved on video-sharing feature. So, if you play an MP4 video during your live webinar, it plays when the webinar is recorded. Now your on-demand webinars are as good as the live event.
Easy Workflow With New And Updated APIs
GoToWebinar integrates with marketing automation, CRM, and other tools you use every day, including HubSpot, Salesforce, and Zapier. It gives you control and data where you need it.
With the new version of the GoToMeeting APIs, you now have even more control and flexibility. The updated APIs give you complete access to GoToWebinar. These include planning webinars, collecting records, managing records and wizards, and viewing data about the systems you already use. This simplifies the configuration and execution of the webinar.
Added Custom Registration Disclaimer To Support Compliance With The GDPR
The General Data Protection Regulation (DSGVO) is in force and GoToWebinar is committed to not only meeting all the requirements of the Regulation but also helping clients to do the same. The purpose of the GDPR is to give people control over their personal data and their use. If you now use the GoToWebinar registration pages, you can add a checkbox with a custom disclaimer message. In this way, your webinar registrants know exactly what they are accepting and can give their explicit consent.
GoToWebinar Pricing Plans
GoToWebinar comes with three pricing plans and also it offers a trial with a Plus Plan features for up to 10 participants.
Starter – $109/month or $89/month (billed annually)
100 Participants
Reporting and Analytics
Polls, Handouts, and Q&A
Full-Service Registration
Automated Emails
Custom Branding
Integrations
VOIP, Phone & Toll-Free
Online & Local Recording
Channel Pages
GoToStage
Pro – $249/month or $199/month (billed annually)
500 Participants
All Starter features, plus:
Simulated Live
Source Tracking
Beta Video Sharing
No Download
Plus – $499/month or $429/month (billed annually)
2,000 Participants
All-Pro Features
No Download
Enterprise – Custom Pricing
Up to 5,000 Participants
All Plus Features
Editing Capabilities
Testing & Certification
How You Can Edit Webinar Recordings With GoToWebinar
I know you have invested a lot of effort into each live webinar to build relationships and create high-quality engagement. Would not it be great if you could just turn this webinar into a perfect, multi-year video resource that can be used over and over again?
I have introduced three new GoToWeb tools here for post-production to help you with the recording of your webinars.
1. Video Editor
GoToWebinar offers a simple video editing tool that lets you remove unwanted fragments at the beginning, in the middle or at the end of your recorded webinar.
Now you no longer need to export your webinar and use an external video editing program to remove unwanted conversations or blanks. This optimises your post-web workflow and makes it easy and fast to create lasting video assets.
The modified webinar replaces the original webinar recording in your video library. This means that every link to the webinar you share is automatically routed to your updated video. If you want to keep your original webinar video, just download the file before you edit it.
2. Transcripts
With this new feature, you can create, download and publish transcripts for all your webinar recordings. This helps you with:
Improve accessibility and meet compliance requirements
Increase recognition and audience capacity through content indexing, which improves the SEO ranking (ideal for all your web marketing seminars).
Create a better user experience with transcripts that can be searched and downloaded so that you can easily read webinars or search for specific content.
3. Embed the video
You can now create an embed code for videos in your video library to organise webinars directly on your website, in your resource centre, in your blog, on your support site and more.
So you do not need any third-party tools to host and playback your recorded webinars and you can allow your audience to view your webinars at any time.
Why GoToWebinar Is Best Webinar Software (GoToWebinar Review)
Webinars are a great way to generate brand rumours, educate customers, organise large meetings, and generally engage audiences effectively. With this webinar hosting platform, you can host webinars on the go without any hassles. Also, GoToWebonar helps you with video conferencing at no extra cost.
GoToWebinar is best because of its: 
1. Reliability And Quality
The professional webinar software connects you with your colleagues, customers, and prospects. In other words, there is a lot at stake. The best-ranked solutions have a proven track record and are known for their reliability.
GoToWebinar was launched in 2006 for the first time and since then they have dominated the market. GoToWebinar has more customers than any other solution and hosts millions of webinars every year on our platform. They set the industry standard for conferencing software and their customers continue to give us good ratings, with particular attention to audio and video quality, usability and service consistency.
2. Number Of Authorised Users/Participants
The aim of the webinar is to reach a broad public around the world. An effective webinar tool must be able to support a large number of users without sacrificing quality. Look for a high-quality on-screen and video sharing tool that will help you find the phone and computer audio options you need. And make sure that the sound is compatible in the countries where it is needed.
GoToWebinar occupies an outstanding position in this category and can accommodate up to 2,000 participants without affecting the audio or video quality. You can also add up to six moderators to simultaneously view and share your webcam.
3. Integrated Features For Marketing Campaigns
Organising a webinar is not limited to the event itself, especially if your webinars are designed to increase brand awareness and generate new potential customers. You should think about promotion, registration, tracking and conversion, and remember how to measure success.
Modern webinar software has to provide assistance before, during and after the event. The integration into various support and marketing tools is essential and plays an important role in the ranking of the platform.
GoToWebinar includes a number of peripheral tools and support options such as email/marketing automation, CRM integration, and branding.
4. Robust Set Of Intervention Tools
The best webinars involve the public. And the best webinar software gives you the tools for it. The Best Webinar Software list features easy-to-use conferencing tools that empower your audience to embrace the experience.
GoToWebinar also holds a prominent position in terms of public participation opportunities. With survey and survey tools, question/answer functionality, and digital "brochures," GoToWebinar focuses on providing participants with an outstanding experience. Real-time analytics can also track audience engagement during the webinar.
5. You Can Record Webinars
The recorded GoToWebinar events allow you to launch a previously recorded presentation as well as integrate interactive features such as surveys and polls. This kind of flexibility differentiates high-end platform options.
6. Customer Support
GoToWebinar shares a Frequently Asked Questions page with its younger brother, GoToMeeting, because they are almost identical in terms of procedures and system requirements and both are Citrix brand children. The customer service offered by GoToWebinar is reliable and responsive.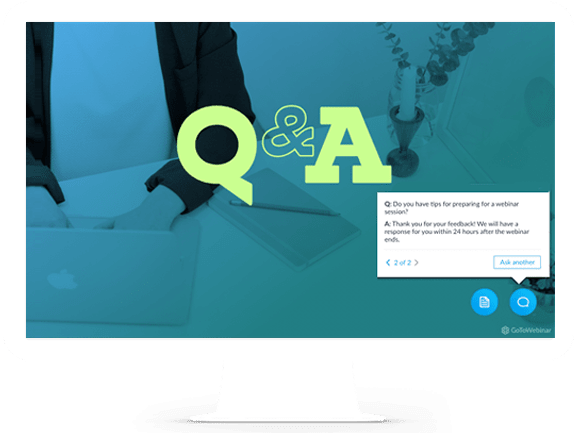 The support page also includes a multi-functional search bar to search for articles, videos and tips for use. You can also get help from the Citrix community or register for a live training session. If you need further assistance, you can contact your support by phone or e-mail.
7. It Comes With 7 Days Free Trial
It would be a waste to spend the money that costs you so much to gain software just to find that it really does not fit your needs and preferences. In that sense, GoToWebinar has offered customers the opportunity to test their service without paying a penny in advance.
They offer a free 7-day trial so you can try their software. Just go to their website, create an account and off you go! If you want to be a member of the target audience of a particular GoToWebinar organised a webinar, you do not need to create an account. Just enter the 9-digit ID you receive from the organiser and you can now access the session.
Pros And Cons Of GoToWebinar
Pros of GoToWebinar
It can accommodate up to 5,000 attendees
You can archive recorded webinars for 12 months
Provide excellent real-time analytics and lead management
Relevant Recorded webinar editing tools available
Participant phone-in option with a toll-free number
Mobile-friendly interface
Open developer API
Excellent customer support staffs available
Cons of GoToWebinar
It can be quite expensive for some users
No breakout rooms available
You need to purchase separate software to collect attendee payments via GoToWebinar
Not widely third-party integrations available as compared to other top services providers
Quick Links,
GoToWebinar FAQs
👉🏻What Is GoToWebinar?
GoToWebinar is a powerful webinar hosting platform that helps you create and manage webinars with ease.
✅Is GoToWebinar Safe To Host Webinar?
Yes, GoToWebianr is a safe and reliable platform to host your webinars with. All your data is safe and secure with GoToWebinar.
🤔Are GoToMeeting and GoToWebinar Are Same?
No, GoToMeeting & GoToWebinar are used for different purposes. GoToMeeting is used for online chatting and video conferencing while GoToWebinar helps you create and host a webinar.
💵How Much Does GoToWebinar Cost?
The basic plan of the GoToWebinar starts at $89/yealy. Apart from this basic plan, it comes with two other plans — Pro Plan (199/yearly) & Plus Plan ($429/yearly).
GoToWebinar Review Conclusion: Best Video conferencing and webinar hosting for large events
GoToWebinar is the easiest way to create an online seminar inviting multiple participants to hold a presentation. The presenter's interface differs from other webinar platforms but has some unique advantages if you need to access your computer during the webinar.
With the ability to translate the entire user interface into multiple languages which is a great option for companies with offices in countries that do not speak English. It offers 24/7 customer support. What do you think of GoToWebinar? Let us know in the comments section below.
We hope our GoToWebinar Review suits your purpose well. If this post helped you then kindly share it on social media platforms such as Facebook, Twitter and LinkedIn.