Are you excited to create and sell online courses on your WordPress site? The LearnDash WordPress plugin is specifically designed to help you create and sell online courses on your WordPress website. But is that the best option?
LearnDash is the most popular learning management system (LMS) add-on for WordPress. Today most of the Fortune 500 companies, major universities, and organizations around the world rely on LearnDash to create exceptional courses for their clients and students.
It's a simple but powerful add-on with brilliant features. You can easily configure your settings to create exceptional courses on your WordPress site. If you are an expert on any niche and willing to create an online course on a topic, you can easily develop this LMS system also you can sell and make money online with this.
Related read: LearnDash vs Sensei Comparison.
You can set prices, payments, and recurring subscriptions or membership plans to sell the courses
With LearnDash, you can provide your readers with a fun learning experience through a variety of gamification techniques, rewards systems, and certification activators.
It encourages users to take more courses and improves user engagement on your website. For example, you can view course progress, issue certificates, award points, and provide credentials to encourage students.
Best  LearnDash Special Sale March 2021
LearnDash $40 New Year Special Discount:
LearnDash Features
Adaptive Learning with LearnDash
LearnDash is one of the powerful learning management systems introduced in 2013. Today, it has become very popular and competes with the oldest and most famous options. LearnDash provides all the features you expect from an LMS, including:
Drag the Drop builder
The LearnDash Drag 7 Drop Course Generator is unique and a revelation when compared to other offerings. This is a great selling point as you will probably spend a lot of time creating the LMS of your choice.
Monetization
When you build an online learning business, LearnDash is a good choice because of its monetization options. With LearnDash you can set up subscriptions, individual purchases, and course packages. LearnDash also supports various payment and shopping cart options such as PayPal, Stripe, WooCommerce and Easy Digital Downloads.
Supports open standards
LearnDash is compatible with modern standards for open learning resources, including the Tin Can and SCORM APIs.
Multimedia
LearnDash supports a variety of materials for your classes, including Videos, Articulate, and Adobe Captivate files, images, sound, Google Docs, HTML5, and more.
Huge range of plugins
As we know, LearnDash itself being a plugin for WordPress works alongside all other WordPress plugins. You get a wide range of add-ons with this plugin like:
As a good surprise, LearnDash also has its own add-on directory that lets you explore and install LearnDash add-ons in the LearnDash Administration Panel. There are a variety of add-ons that are provided by both third-party and official LearnDash systems.
More LearnDash add-on options
LearnDash offers a range of features and options to help your users enjoy an exciting e-learning experience. let's take a look at some of the most interesting additional features.
LearnDash Certificates
You can give your users official certificates, depending on the performance of your test, the completion of a course, or both. Certificates are fully customizable and support dynamic data, including username, course or test name, score, and more.
The certification options make your lessons more authentic and help gain the trust of your users.
Advanced monetization options
LearnDash makes it easy to sell your courses online. You can easily calculate your courses online, select a payment plan, and accept orders. You can set it up for a single purchase, recurring payments, or subscription plans.
User profiles
LearnDash creates front-end user profiles for its customers. By accessing their user profiles, they can easily track the activities of their course.
Powerful management System
LearnDash provides powerful management options for organizing your students and courses. You can group your students, report on user registration, progress, and test performance, exceed course access, and more.
Additional Add-ons
LearnDash offers a number of free and premium add-ons that enhance the functionality of your Learning Management system. It also supports extensions such as bbPress, Stripe, Woo Commerce, Mail Chimp, Slack, and many more.
The full list of LearnDash features can be found on the official LearnDash website.
LearnDash: Pricing and Support
LearnDash basically comes with their 3 pricing plans. The best thing about their prices is that they occasionally offer an exceptional discount, so stay tuned!
Basic: The basic plan usually costs $199. However, you can get it cheaper by offering a discount. They offer a discount of up to 50%.
Get LearnDash at $40 Offer:
If you purchase this plan, you can receive a site license and all LearnDash features except ProPanel. ProPanel is an advanced addition to LearnDash.
Plus Package: The plus package usually costs $ 299. It can be used on up to 10 websites. It contains all the features of LearnDash, including the ProPanel.
Pro package: It is suitable for large organizations and the pricing of the Pro package is $ 369. With this package, you can hold 25 site licenses with all the above package features.
All these price plans include one year of support and updates. You will also receive the files from the LearnDash demo site.
The LearnDash Help Center has a variety of Frequently Asked Questions where you can find answers to questions about pre-sales, technical questions, and other general questions. If you need personalized support, you need to open a support ticket.
How to use LearnDash as a student
If you've just installed LearnDash in your WordPress website, the student interface may be missing sometimes. The reason behind this is that WordPress was originally designed as a blogging platform.
Therefore, the standard design is not suitable for an e-learning environment.
Fortunately, WordPress is very easy to customize and does not require much work to improve the appearance of the student interface.
The main thing is to eliminate all unnecessary elements associated with the blog, such as publications, comments, purpose, etc. Simply removing the default sidebar completely improves the student's interface.
The interface itself is excellent. It guides students quickly through each part of the course, giving clear and concise messages as needed.
For example, let them know that you must finish a previous lesson before you can start the next lesson. LearnDash also immediately indicates which sections of a course were tracked.
How to Use LearnDash as a Course Builder
The admin interface of LearnDash is probably the best. If you already know WordPress, you'll feel comfortable with LearnDash right away.
Even if you've never used WordPress before, it's easy to learn how to use LearnDash. In addition, the LearnDash website contains a variety of articles and videos that guide you through course creation, tips, and best practices.
LearnDash includes an incredibly intuitive drag-and-drop builder that lets you quickly create and organize lessons, topics, and quizzes on one screen. Courses in LearnDash are structured in a very logical hierarchy: A course consists of one or more lessons, and each lesson can have one or more topics.
What's really cool is that questionnaires can be part of a class, lesson, or topic. No matter what kind of course you create, you can do it in LearnDash.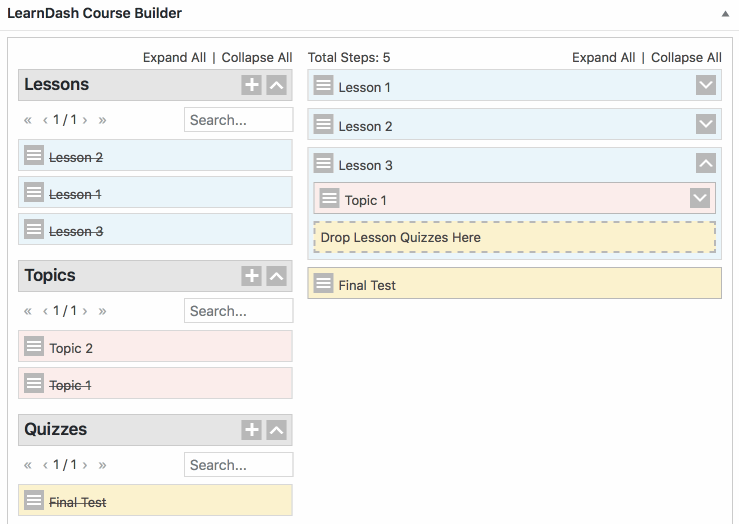 All specific LearnDash options include online help. If you have doubts about how an option works, just click on the appropriate question mark to find out.
Although the vast majority of the help text is really useful, I found a couple that did not provide any explanations. For example, the help text in the "Lesson Materials" field is simply "Lesson Options", so there is room for improvement.
Although the LearnDash administration panel on the interface is very simple and easy to use, it also offers a surprising number of customization options. A good example of this is how you can make the specific lessons of a course available on a particular date, while other courses always remain available. Many other learning management systems have this configuration for the entire course, so all courses, if any, have limited time.
Pros
Deep functionality gives you optimum control over most sections
Drag-and-drop course builder makes course creation a lot easier than other LMS
Built-in video progression support is great for creating video courses
The email integrations like Zapier comes with trigger functionality.
 Cons
The deep functionality can be a little irresistible for non-technical users
You'll need to integrate with third-party plugins for extra membership/payment functionality
Quick Links: 
Conclusion: LearnDash Review In Detail With Learndash Special Sale
The LearnDash Add-On is without a doubt the most powerful and easy-to-use WordPress LMS add-on. You can easily create complete online courses on your WordPress site and make money from the sale. The add-ons have a number of functions for organizing the courses and their clients. You also have interesting opportunities to involve your students and encourage them to attend more courses.
It also includes popular applications and add-ons that allow you to use your favorite tools to add features to your learning management system.
We believe that LearnDash is the best learning management system supplement currently available. That's why we recommend LearnDash to anyone who wants to create, sell and make money online.