Curious to know more about GoToMeeting?
Check our in-depth GoToMeeting review 2021 that includes detailed insights of its features & benefits, pricing, functionality, pros & cons and more.
Stick to our review, to know whether GoToMeeting is the best platform to get started or should you look elsewhere.
GoToMeeting Review: In A Nutshell
GoToMeeting is an advance web conferencing system that comes with international capabilities making it an ideal choice for companies that have multiple international locations and professionals who have contracts with international clients and colleagues. The software has a friendly interface and starting a meet can be done in a few moments.
The same flexibility and simplicity apply to your pricing system and the many integration options like Podium, Zapier, Microsoft Office 365, Slack, LMS Agreement and many other applications.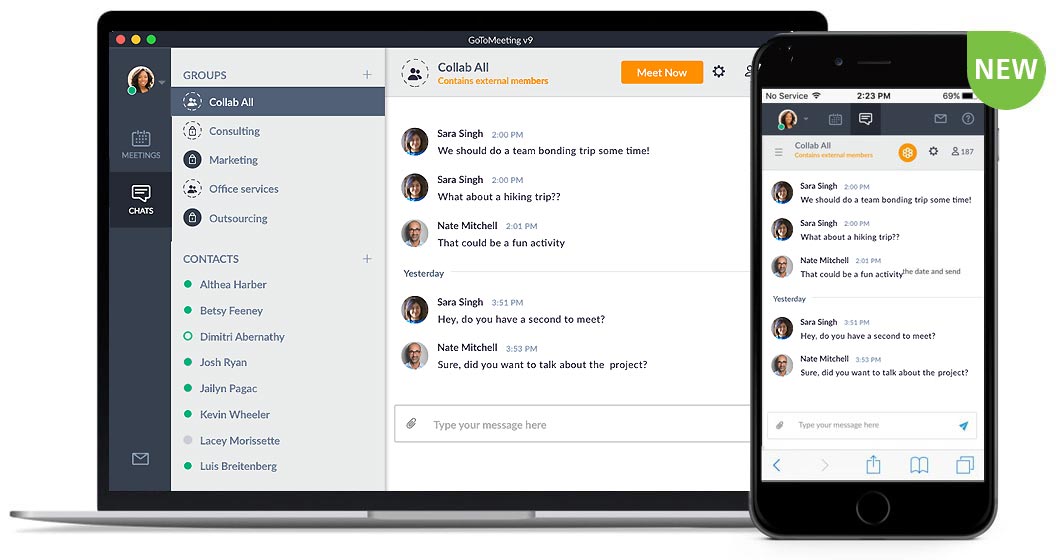 GoToMeeting is a great solution for companies that have outdated video conferencing and web-based input tools, and need a more robust alternative to Skype, Hangouts, and FaceTime. Also during conference calls, it allows you to hold the call. Although popular and widely used, they are not intended for intensive use. It is compatible with PC, Macbook Pro and iOS devices, as well as Android mobile devices, giving users great flexibility and the ability to create or join online meetings from anywhere and anytime from Office Space.
What GoToMeeting Has Got To Offer?
When choosing a video conferencing service, several factors must be considered. One of the most important is the number of people admitted to the service, as meetings with 10 people, 20 people or hundreds of people may need to be organised simultaneously.
GoToMeeting offers several service plans that allow you to organise video conferencing between 10 and 2000 users. Of these, up to 25 can be in the camera simultaneously. For larger meetings, the host can always choose who is in front of the camera.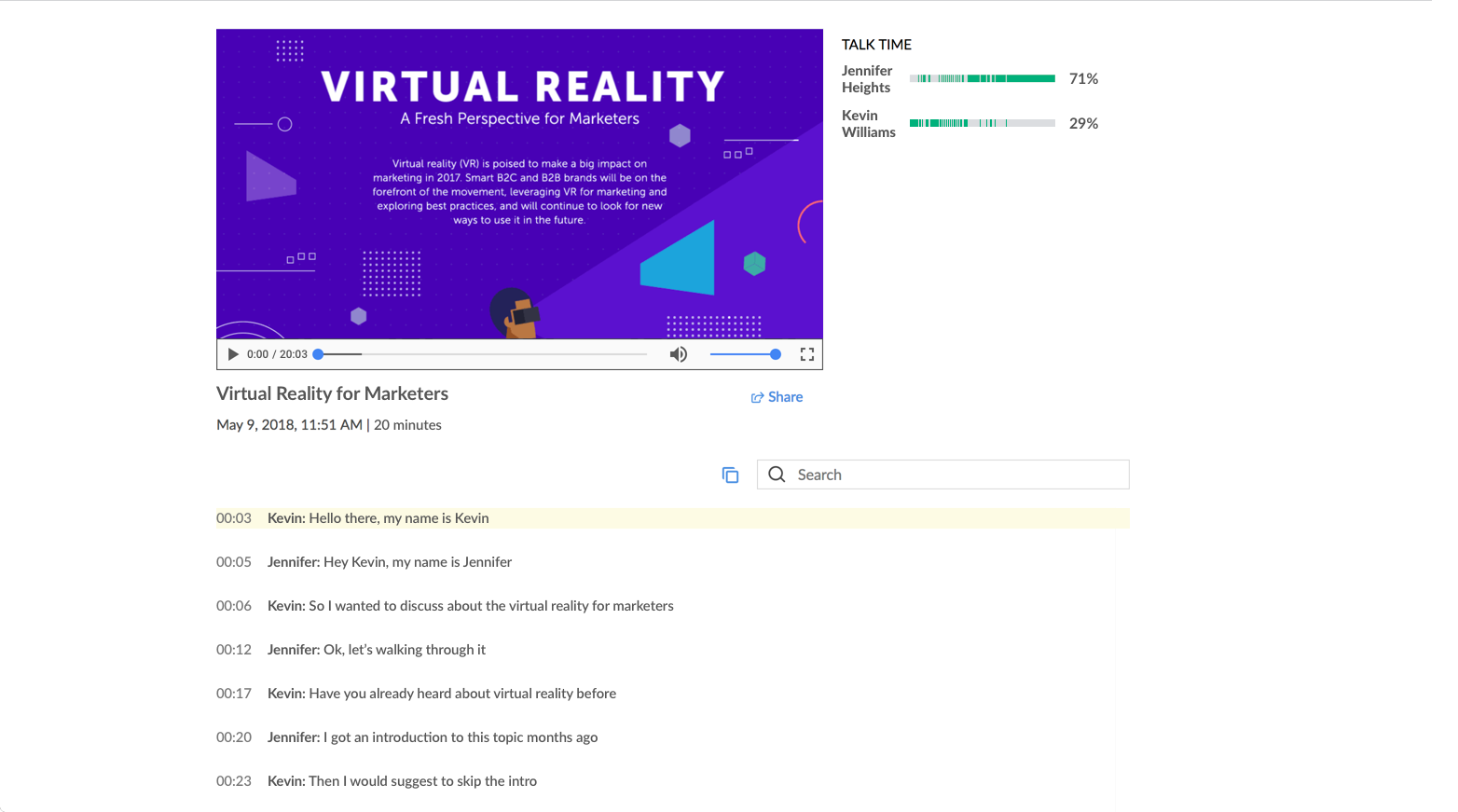 Most small businesses do not have a computer team to help them organise their video conferences whenever they want to start a meeting. The best videoconferencing system should be easy to use without too much training.
GoToMeeting fits perfectly with this bill. The user interface in both the web version and the desktop application facilitates the organisation of video conferencing. All buttons and links are clearly labelled so you can easily schedule, organise, participate and manage meetings. It should not be difficult to get used to this system.
Finally, GoToMeeting has nearly all the video conferencing tools that small businesses need to organise a perfect meeting, such as: you can share your screen, record meetings and automatically record transcripts.
In general, GoToMeeting meets all the expectations of video conferencing software: it can support numerous subscribers, is feature-rich and easy to use.
GoToMeeting Features & Benefits Overview
GoToMeeting offers many useful features. However, not all tools are available to all users. The functions you can access depend on the selected service plan.
Here is a list of key features of GoToMeeting:
Video quality:
All service plans enable HD video conferencing. This ensures that you have a clear video stream in each of your meetings.
Desktop Sharing:
Everyone who attends the meeting can share their screen. The host has the option to release his screen or to transfer this control to all participants.
The unlimited number of meetings: Licensees can hold any number of meetings without a time limit.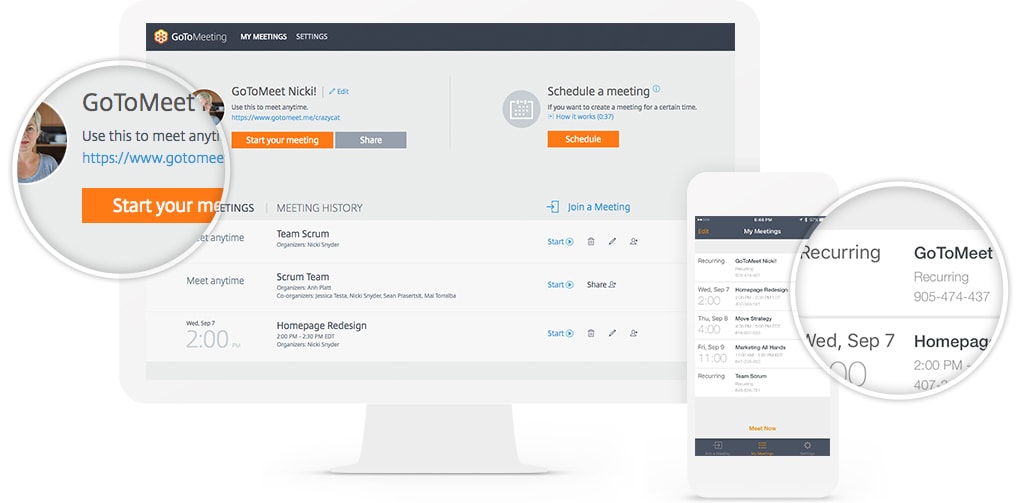 Web Audio:
You can connect to online meetings using the built-in speakers and microphone on your computer or smartphone. No phone is required to listen or be heard at a meeting.
Mediated Conference Leaders:
Organisers can provide conference attendees with a phone number they can dial during the conference. Although they can not see what's going on, they can still listen to the conversation and contribute to it.
Call Me Support
Instead of waiting for participants to participate, GoToMeeting can call its participants when the meeting is ready to start.
Professional Messaging Interface:
GoToMeeting gives you the tools you need to communicate with people inside and outside your organisation. In a chat, you can share your screen and switch to a video call.
Blocking Meetings: For security reasons, organisers can block meetings to control who is joining.
GoToMeeting - Attendee Quick Start
Recording:
Video conferencing can be recorded and stored locally or in the cloud, so those who could not attend will be able to see it later.
Drawing Tools:
Hosts can take notes, mark their work, and draw directly on the screen as if they had a digital dry-erase card. You can then share these notes with your team.
Transcript:
The transcripts of the recorded meetings give you a summary of what has been said. GoToMeeting also offers transcripts with subtitles that match the video recording.
Calendar integrations: GoToMeeting provides add-ons for Office 365 and Google Calendar.
GoToMeeting Additional Features
Online Meeting Recording
Built-In Meeting Audio
Meeting Drawing Tools
Online Meeting Room
Instant Meetings and Scheduled Meetings
Quick One-Click Meetings
Online Meeting Presenter Control
Dynamic Video Conferencing
Conference Calling for Everyone
Screen Sharing Without the Hassle
Mobile Conferencing
GoToMeeting for Mac, Windows, and Linux
International Conferencing
Does GoToMeeting Works Seamlessly For Mobile Devices?
As we know that our smartphones are productivity factors that allow us to work anytime, anywhere. However, organising meetings on mobile devices can be frustrating due to unwanted distractions, network reliability, and the cost of mobile data. With GoToMeeting, you can alleviate your frustration with an industry-leading mobile app update designed specifically for the best travel meeting experience possible.
Presentation of the mode of transport for the mobile application GoToMeeting. This update provides advanced features that allow you to attend meetings and schedule meetings outside the office. The simplified user experience offers you:
Distraction-free conferences: GoToMeeting app turns your entire screen into a colour-coded audio / mute button
Data Savings: You can save up to 90% of mobile data usage per meeting by disabling screen sharing and videos
Reduced bandwidth: You can talk well even on a weak mobile network

The commuter mode is now available for iOS and from the end of January for Android devices. So you can start with:
If you have not already, download the GoToMeeting app from the Apple Store or Google Play Store.
Start a meeting through your GoToMeeting app or join a meeting
Click the transport mode in the upper-right navigation menu to change the experience with the transport mode.
What's New With GoToMeeting
GoToMeeting recently introduced a number of product breakthroughs to improve collaboration before, during and after meetings:
Business messaging:
With GoToMeeting, all of your company's employees can quickly and easily interact with internal and external contacts in 1: 1 increment or groups using the new GoToMeeting desktop app or independent mobile messaging app. Users can easily switch from a news thread to a rich meeting experience with high-quality video, audio, and shared content in one click
Smart Meeting Assistant:
Stop taking notes and let GoToMeeting do the work for you. Session logs are stored in the cloud and can be easily shared and browsed. In this way, all meeting participants can quickly retrieve important information and engage important action items in meetings.
Unlimited and advanced cloud registration: Users can save and effectively share records in the cloud. In addition, GoToMeeting provides the ability to record screens and webcams.
Audio Enhancements:
Audio has never been so good with GoToMeeting: the enhanced audio experience turns every sound call into a personal interaction.
Enhanced dynamic content screen sharing performance:
Users will now see faster screen sharing performance and smoother content viewing. These improvements include faster changes between presentation slides and higher frame rates for fast-moving content and a smoother overall experience.
Amazon Alexa integration:
Alexa helps you plan or publish upcoming meetings, making GoToMeeting connections as simple as a single voice command.
Support for larger meetings:
GoToMeeting Pro customers can now accommodate up to 150 attendees, and GoToMeeting Plus can support up to 250 attendees.
Easy to implement:
Administrators have the ability to quickly enable these new collaboration features in their organisation and integrate new users into GoToMeeting for free.
GoToMeeting Messenger App
With the GoToMeeting Messenger mobile app, you can combine the convenience of text messaging with the productivity of your business. It allows colleagues, partners, and customers around the world to continue their conversations outside the traditional meeting environment, wherever they are or on what device they are. Let's see how the new application works!
1:1 chat with everyone, anytime
At the push of a button, users can send an instant chat message or safely share files. Through the simple search for a colleague in the phone book, a new conversation can be started at any time. It does not matter if the user is on a desktop, an iOS or Android device, they can receive their message and respond immediately.
Their conversations are not limited to colleagues! One of the biggest advantages of the GoToMeeting Messenger app is that users can send a message to anyone. If you enter only a person's email address, they will ask you to open the free version of GoToMeeting, and you can start communicating immediately. This means that you can open up a new communication line with external vendors, partners, and customers with whom you may want to collaborate.
Change from a group discussion to a mobile meeting
Although the collaboration with a person is excellent, GoToMeeting app knows that most of the meetings are more than 1: 1. With GoToMeeting Messenger, you can start a conversation with a group of people to keep up the momentum after the meeting ends. Just invite your last meeting to a group discussion and start talking!
If more conversations are required for a text conversation (how often), their email application works very well with the GoToMeeting mobile app. Anyone can turn a group discussion into a one-touch meeting. Clicking the video button in the top corner sends a meeting invitation to everyone, and the conversation flows smoothly to the GoToMeeting mobile app to share audio, video, and screen.
Collaboration on multiple devices
Best of all, all applications work cross-platform between desktop and mobile versions. The mobile e-mail application is synchronised with the e-mail application on your computer. Conversations you start on your phone are transferred to your computer. The meeting participants do not have to be on the phone or on the desktop to connect. So you can start a chat from your Messenger desktop app, add a user to your phone and then start a GoToMeeting event with all members of that group!
The GoToMeeting and GoToMeeting Messenger applications are available in Apple and Google Play stores and are compatible with iOS and Android phones and tablets.
GoToMeeting Pricing Plans
GoToMeeting
offers four SMB and enterprise pricing plans for users to choose from, including a free plan for teams with 3 participants. Check the details, and select the ideal plan for your company:
Free
3 Participants
Web audio
Screen Sharing
1-Click Meetings
Starter – $19/month
All Free Features
10 Participants
Dial-in conference line
HD video conferencing
Pro – $29/month
All Starter features
50 Participants
Drawing Tools
Recording
Personal Meeting Room
Mobile Apps
Keyboard & Mouse Sharing
Call Me
Plus – $49/month
All-Pro Features
100 Participants
Active directory
Sightboard
How GoToMeeting Helps To Reduce The Space For Remote Workers
Here are some ways to use GoToMeeting features that helps you to optimise a remote workflow and feel more connected.
1. Several ways to share the screen
If sharing is good, GoToMeeting is very interesting. Screen sharing is a major feature for GoToMeeting users. But keep in mind that it's not just about meeting hosts. With GoToMeeting, organisers can forward the cookie to all participants in the meeting. That way, you can easily move from one meeting to the next, regardless of whether the other person is sitting next to you in the room or working remotely. It also allows you to hold conference calls on all devices such as mobile, tablet and PCs.
How to Schedule an Online Meeting on GoToMeeting
The versatile screen sharing is just the beginning of the collaboration. GoToMeeting's drawing tools and virtual whiteboard take video conferencing to a whole new level. All participants can draw or emphasize everything that is shared on the screen so that even the most distant associate feels they are in the room. You can also record meetings to access it later as per your requirements.
2. Message or meeting – or both!
You should ask a colleague a simple, straightforward question. An e-mail is too formal, but your office is in a different area code. GoToMeeting Business Messaging is your solution for fast, informal communication and file sharing with your colleagues. Do you have to speak it? If you click on "Meet Now", you can immediately start a video call to continue the conversation without any problem. Better yet, you can start a conversation with anyone outside your organisation. Therefore, communication with suppliers, customers, and even their in-laws have become much easier.
3. Go to the remote worldwide
Collaboration goes beyond borders today. So you can work remotely, whether in a hotel room in London, an airport or a café in Paris. GoToMeeting will help you no matter where you are. OpenVoice Integrated offers conference calling services with VoIP options and free calls in more than 50 countries. Also, subscribers in Call Me do not even have to enter PINs or passwords to join the call. Do you only have access to Wi-Fi while you're out and about? Download the GoToMeeting app for a variety of functions when you need to organise or attend a meeting from your phone or tablet! This feature makes it the best conferencing software out there in the market.
4. Keep meeting records
We can not do all the meetings, especially if several people are involved. When you add remote workers to the combination, calendars are less frequently arranged as planets in a row. However, missed meetings should not affect your productivity remotely. GoToMeeting allows unlimited recording of meetings in the cloud to easily record and share your meetings.
GoToMeeting New InRoom Link Features
Your room system, unlocked.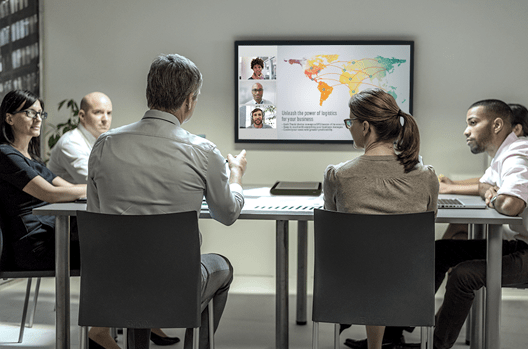 Bridge the distance between devices with GoToMeeting InRoom Link. Join a GoToMeeting session of your existing video conferencing room system and connect the conference team with the professional and reliable GoToMeeting experience you trust. Allow people in one room to connect with those in another room to work together smoothly without the need for anything else
Compatibility between devices.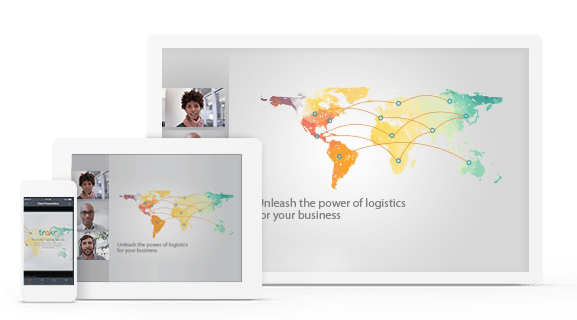 InRoom Link for GoToMeeting integrates with most H.323 and SIP compatible video conferencing systems, including Polycom, Lifesize, Cisco, and others. Just video your H.323 or SIP-enabled device, enter the meeting information included in your GoToMeeting invitation, and InRoom Link connects you to the meeting immediately. It's a simple and easy way to bring everyone together, but the GoToMeeting app also provides video conferencing equipment and materials in case you need them.
Easy access to Incredible quality.
Linking video conferencing with InRoom Link takes no time. If your video conferencing rooms already have H.323-compliant systems, you can get started. Just enter a number to join the meeting. The camera and microphone in the connected conference room automatically share and receive video and audio and simultaneously display the webcam and content to share the screen on the conference room's AV screen. Everything is backed up by the reliability and quality of GoToMeeting.
GoToMeeting Call Me Features
Faster to connect. Easier to use and Absolutely safe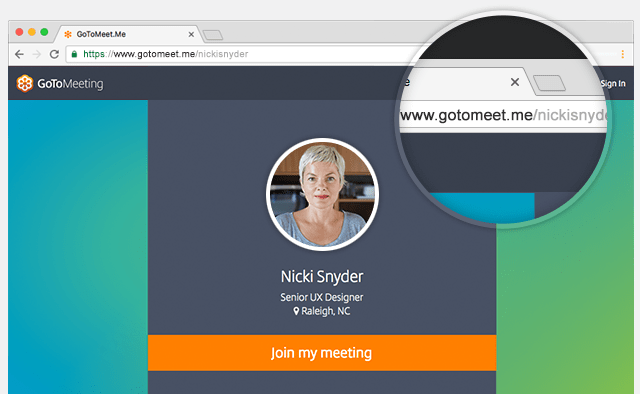 Dialing with access codes and audio PIN codes is complete. Call me offers you and your subscribers a completely secure way to participate in the audio of the meeting by simply picking up the phone. Share your number, answer call and voila: that's all.
Receive a call when the meeting starts.
Do you have a phone that you always use for meetings? With GoToMeeting Call you can save your number to automatically receive a call at my next meeting (or another person's meeting). Of course, you can always change your communication option to computer audio.
Convenience without fees.
When subscribers register using Call Me, you will not only avoid the hassle of dialling, but you will not be charged. Call Me is a free service that the organiser pays for the meeting per minute per participant. The offer of Call Me is free. Talk about how to make a lasting impression on your peer group and customers.
Available for Starter, Pro and more.
Call Me is an optional feature of GoToMeeting plans provided by OpenVoice. Just add the service when you buy or later on the My Account page. Pay only what you consume at $ 0.08 / minute per assistant.
GoToMeeting Customer Support
We are very satisfied with the customer service we receive from GoToMeeting. To prove the support, we have contacted the company by phone and live chat, claiming to be a business owner interested in the service.
Our team tried to contact the company over the phone but had to wait for at least 5 minutes as no one responded. However, when we called back the next day, they immediately responded to our call. The representative with whom we spoke was very helpful. He gave detailed answers to all our questions and at the end of the interview, we clearly understood how the service works and how much it costs.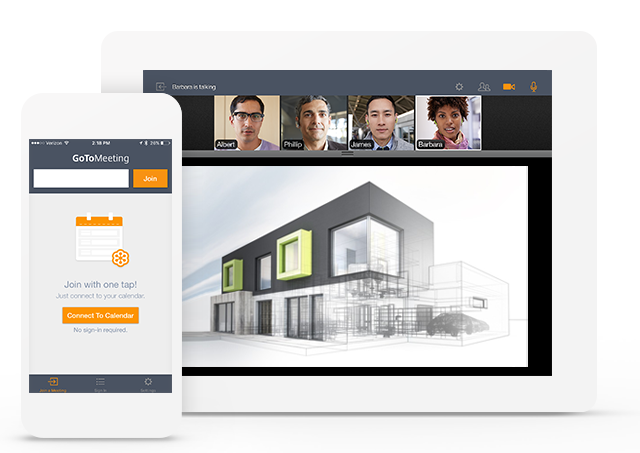 We were also happy with the support from the live chat tool. An operator was available immediately, which was not the case with some other services analysed. She answered all our questions and sent us web links to articles about the service with additional details.
In addition to the personal support you receive around the clock and seven days a week, the GoToMeeting website includes a wide range of training materials, including frequently asked questions and videos that help you in using multiple software. Looking for iPad hire and iPad Rental, you can check out tablethire.
LogMeIn, the parent company of GoToMeeting, is an accredited member of the Better Business Bureau with an A + rating. In the past three years, 95 complaints have been filed against the company. However, it is important to remember that not all of these complaints are related to video conferencing.
Pros And Cons Of GoToMeeting
Pros Of GoToMeeting
Simple user interface.
Easy to create meetings.
Free plan available.
Commuter mode.
The trial doesn't require a credit card.
Meeting transcription. 25 video feeds.

 Enables you to hold conference calls

 and screen share. 

Can use a custom URL to access the conference room.
Cons Of GoToMeeting
Lacks advanced meeting options such as polling.
Webinar features require getting GoToWebinar.
GoToMeeting FAQs
👉🏻What Is GoToMeeting?
GoToMeeting is a powerful online meeting and web conferencing software that pretty much automates everything.
✅Is GoToMeeting Safe?
Yes, GoToMeeting is a safe and reliable platform to host your webinars with. All your data is safe and secure with GoToMeeting.
🔥Is GoToMeeting Offer Free Trial?
Yes, GoToMeeting comes with a 14 Days Free Trial Offer. You can claim your free trial from its official website.
💵How Much Does GoToMeeting Cost?
The basic plan of the GoToMeeting starts at $12/monthly and the Pro plan costs $16/monthly.
Quick Links
GoToMeeting Review Conclusion:
GoToMeeting
is one of the easiest conferencing services available in the marketplace, and it's video conferencing feature helps to make its app relevant in today's competitive space. In my opinion, GoToMeeting is worth a try. Let me know in the comments section below what you think of GoToMeeting and its features.
I hope this GoToMeeting review post suits your purpose well. And if you liked the post, you share this post on all trending social media platforms.