Unbounce

Learn More

Leadpages

Learn More
$ Pricing
$90/mo
$37/mo
Best for

Since 2009 Unbounce is helping many websites by providing them landing pages. It enhances your marketing automation experience so that you can realize

LeadPages is comparatively new to some other software in the field of building pages but in such a short time it has shown some great results to the u

Features

Unbounce Builder
Unbounce Convertables
Agency and Client Tools

Landing Page Creator
Leadboxes
Leadlinks

Pros

Build & Publish Landing Pages Easily
Customizable
Split Testing Function

Beautiful Templates
Integrates with many platforms
Saves a lot of time

Cons

Form builder lacks few key features

Ease of Use

Unbounce has a lot features and all of them can be accessed and used easily by anyone.

Leadpages has a user friendly interface and it is very intuitive as well.

Value For Money

Unbounce is expensive but it offers a lot of advanced features which makes it worth that much money.

Leadpages has similar features as Unbounce but at lower prices so it can be a good place to start as a beginner.
Welcome to my Unbounce vs Leadpages 2023 Comparison.
Getting leads to convert can feel like an impossible task.
Getting the right balance of copy and design takes a lot of trial and error. Developing landing pages from scratch doesn't have to take a long time.
You may save time and get better results by using a landing page builder without coding knowledge or expertise.
For your convenience, I've compiled a summary of the benefits and drawbacks of each landing page builder.
Unbounce vs Leadpages 2023 | 🚀What Is The Difference?
With Leadpages, you can integrate your landing page into any existing website, whereas Unbounce requires a subdomain.
Unbounce's fees are considerably higher than Leadpages, with the entry-level plan starting at $90 monthly.
Unbounce has more aesthetically pleasing designs out of the box compared to Leadpages.
Unbounce provides more features for PPC campaigns than Leadpages.
Unbounce enables A/B testing on all their plans, but Leadpage limits it to higher-tier customers.
Unbounce offers a limited number of pages for those who purchase their higher-priced plans, whereas Leadpages allows you to create an unlimited amount.
Unbounce does not integrate with Facebook, but Leadpages offers proper integration.
Unbounce vs. Leadpages: Overview
LeadPages Overview
LeadPages is comparatively new to some other software in building pages, but in such a short time, it has shown some great results to users. You can make a perfect landing page with it.
This landing page builder started about three years ago, and within this period, it has more than 40,000 customers who are currently using Leadpages, and it already created around a million landing pages for its users. 
Leadpages has templates and optimization services, which is why it benefits big and small businesses. You can increase the reach of your products by multichannel linking in Leadpages.
That's what makes this page much better than some of the other software. With some experience in coding and designing, you can create beautiful landing pages and increase lead generation with the help of LeadPages.
Unbounce Overview
Since 2009, Unbounce has been helping many websites by providing landing pages. It enhances your marketing automation experience so that you can realize your full potential, and then it will be much easier to reach your customers. Unbounce lets you build landing pages, and you can also test them before you put them to use.
Your customer's experience will be improved because of this landing page software, which will undoubtedly boost your business and lead generation.
More than 14,000 customers are using Unbounce currently, and It is constantly improving itself so that you will get a better experience.
One can build landing pages, and you can also perform a split test marketing automation, customize landing pages, and track your campaign's performance. It is one of the fastest landing page builder software in the world.
Features Comparison: Unbounce vs Leadpages
LeadPages Features
1. Landing Page Creator
It allows you to use the feature drag-and-drop, making it easier for users to create custom landing pages according to their needs.
There are over 100 templates available in Leadpages from which you can choose and get started instantly. These templates are in the order of conversion rate, which means you'll see those templates with the highest conversion rates.
Templates are customizable, so there is no fixed way to see which template will be best to create an excellent landing page because, after all, those custom-made templates will be customized according to users' needs.
2. Leadboxes
Whenever you are about to leave a website, sometimes you see pop-up boxes, which are Leadboxes made by Leadpages. These boxes work according to a trigger that you can set based on condition, and conditions can be like when a visitor clicks on your website, this box appears in front of him.
3. Leadlinks
You can include these links in your broadcast emails through any email service provider. You can put links into the templates. Links can be on your website, your product, and many more.
You can also add other online courses in your emails with these links. All you have to do is send it to your customers, and once they click on the link, they will be registered.
4. Leaddigits
Leaddigits allow your audience to see your email list through texting on any device. You have to create a text list for this; after that, your customers can just click on the landing page to see that text list.
You can also collect the phone numbers of your customers through Leaddigits; why settle for only an email address and get their contact numbers too to engage with them. This feature is handy because today's generation loves texting more than sending emails.
5. A/B Testing and Detailed Analytics
You can perform many A/B testing to find a better campaign for your website. After the testing, you'll get the results that you wanted to see them.
There is a dashboard available in Leadpages where you can see a detailed analysis of data from which you can make a list and target your audiences to increase the profit and click-through rates. These analytics are compatible with Facebook Pixel, Google Analytics, and more.
6. Marketing and Website Integrations
Many marketing automation and website integrations are available, and you can choose any of them and use them according to your needs.
You can connect with your favorite email marketing service, Webinar tool, CRM, and payment gateway with these integrations. WordPress plugins are also available for these kinds of things, and you can connect with Leadpages to hook up to your website.
Unbounce Features
1. Unbounce Builder
It is a drag-and-drop landing page builder where you can just drag any element from Unbounce and drop it on your landing page. There are many customizable elements from which you can change templates according to yours.
These landing pages are also mobile responsive, which means they can be seen through mobile.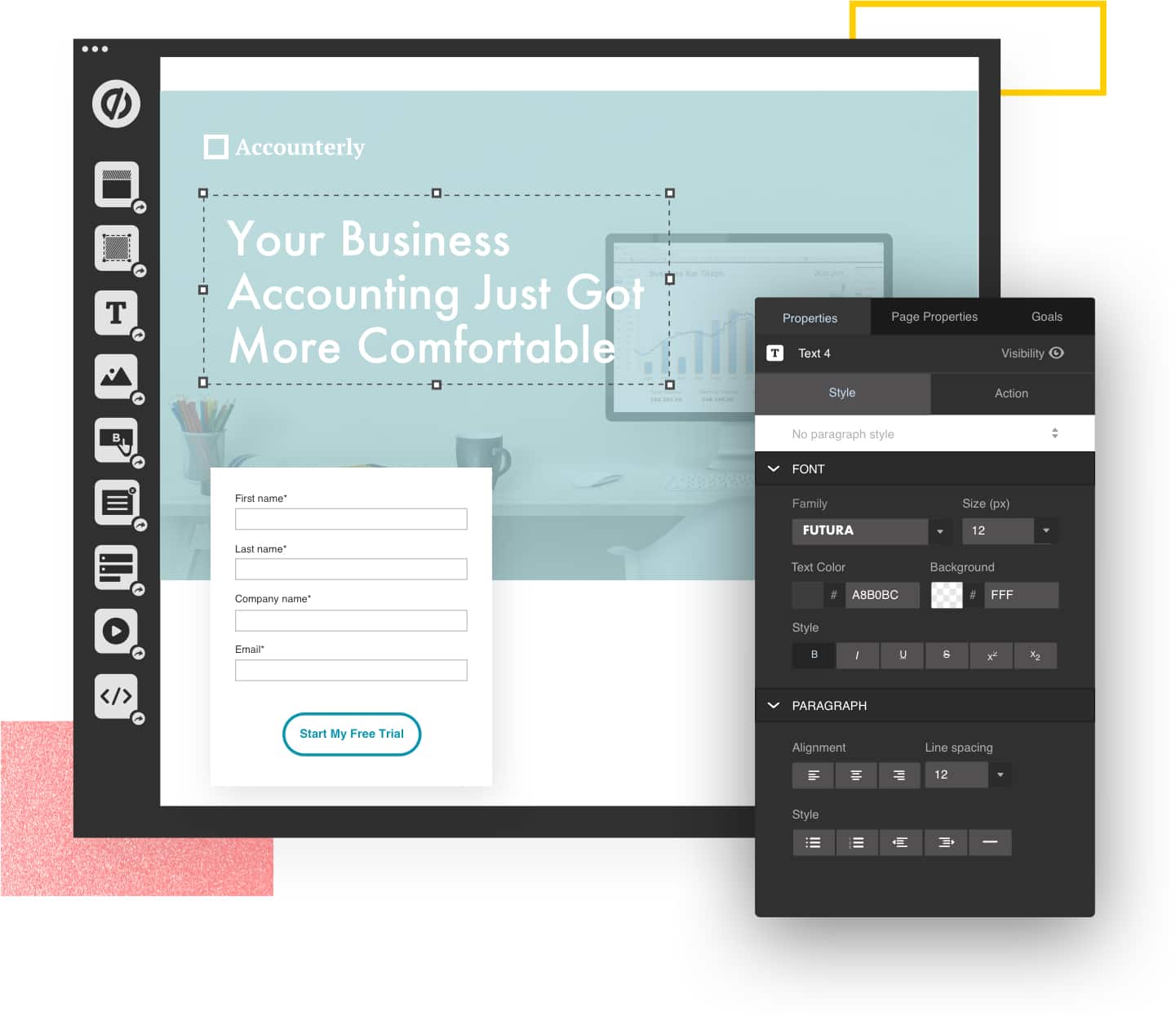 It also works with WordPress, and along with that, you can publish any domain with it. It has dynamic text replacement quality, which can swap out keywords to make your landing pages more relevant and boost your ad word quality score.
2. Unbounce Convertibles
This feature allows you to use targeted tools that you can launch on any webpage, like overlays and sticky bars. Additionally, Unbounce Convertibles offers you complete control to track activities like who is seeing your offers and when. With this information, you can also customize triggers and target rules.
3. Templates
There are precisely 125 ready-to-use templates available in Unbounce; from these, you can choose anyone and customize it any way you want. If you don't like any of them, you can also create your own design from nothing, but that will undoubtedly take time. You can mention your brands in those templates.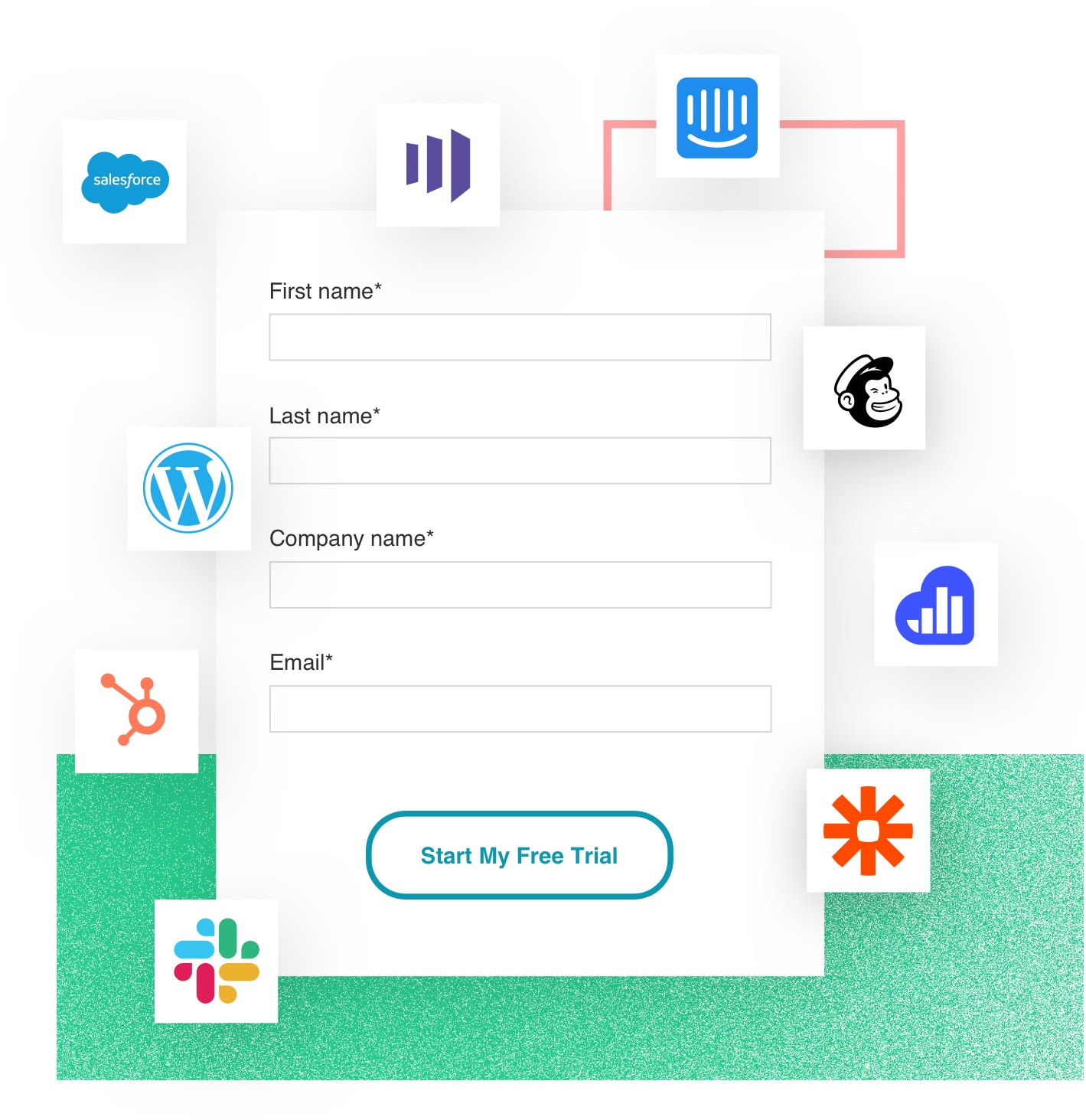 These templates allow you to download or upload your pages. You can find the template according to your campaign. Themeforest designers have pushed the boundaries of Unbounce by increasing the number of templates up to 180 customizable landing page templates.
4. Conversion Tools
There are a lot of conversion tools available in Unbounce from which you can convert your visitors into your customers by creating beautiful landing pages.
For that, you can try the feature A/B testing. This testing allows you to create two different campaigns, and then you can target the audience for those. After that, you will see which campaign has a higher opening rate than the other. With these conversion tools, you can make your pages more stylish and boost lead generation.
5. Agency and Client Tools
These tools are capable of managing digital agencies with multiple clients and marketing teams who are running multiple campaigns at the same time.
This saves a lot of time for users. You can also manage multiple clients and campaigns simultaneously on one account, and this feature allows multiple users. So that many users can work on the landing pages with one account.
6. Integrations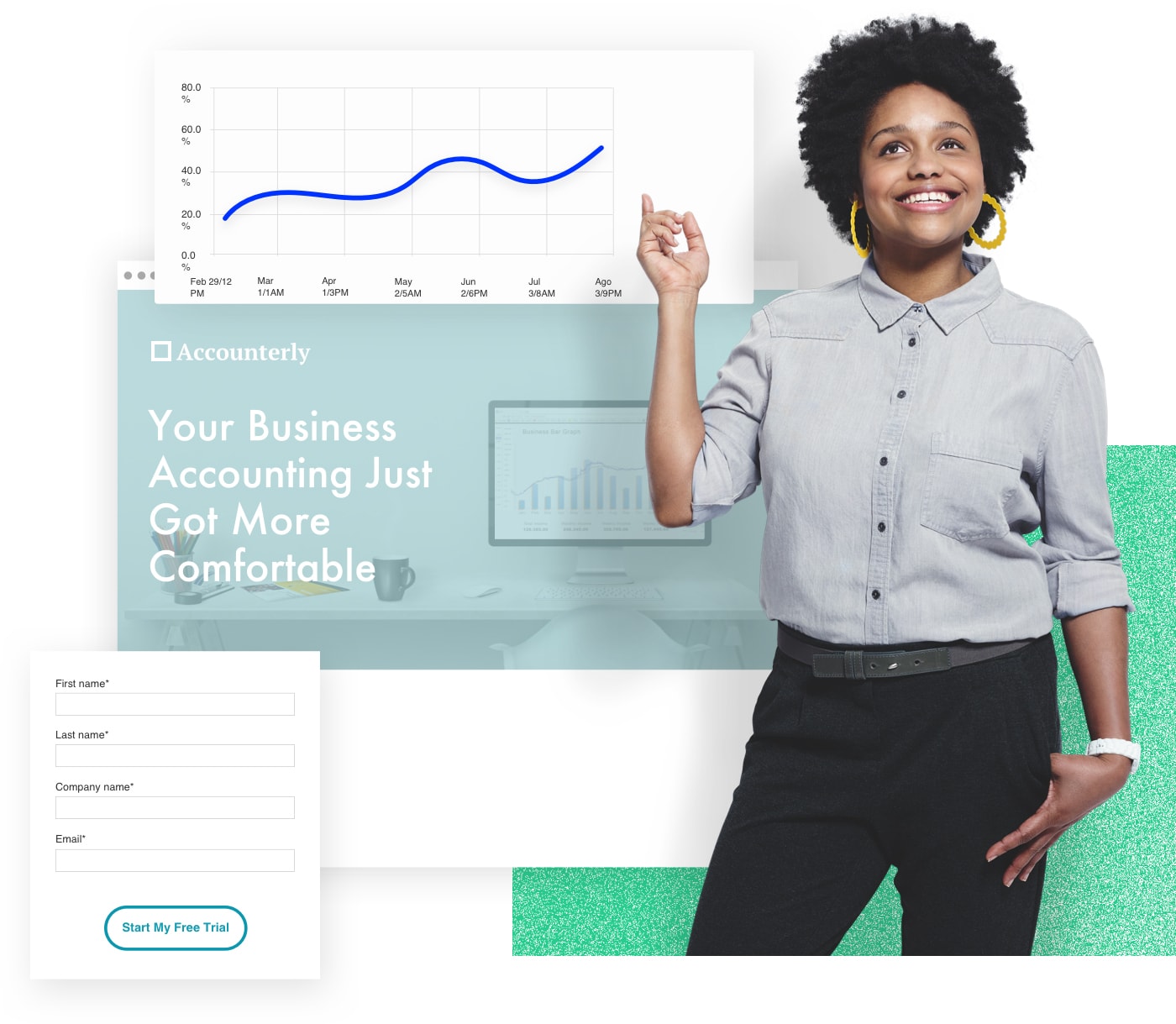 You can use many integrating tools to send and create your email and other things. These marketing automation platforms allow you to create a website with it, like Zapier, MailChimp, WordPress, Hubspot, Marketo, Salesforce, and Script Manager. These platforms are compatible with Unbounce.
7. Security
You can trust Unbounce with your data because it has tools to secure it, and you can also create landing pages around the clock. You can use Unbounce by phone, desktop, and Windows. It has automatic SSL encryption, which keeps your data secure.
The speed is very high to create landing pages. There are four data centers available in Unbounce. You can test and visit campaigns without using your data.
Unbounce vs. Leadpages: Benefits
Leadpages Benefits
There are a lot of templates available on LeadPages, but the most crucial part is that you can create a design of your own without having difficulty. These ready-to-use templates are designed based on user requirements. You can use templates according to your business size.
There are many customization options available that give you control over the landing page design. You can customize them according to the mobile screen or large screen interface.
In Leadpages, an A/B split testing feature is available, like Unbounce, which gives you a better campaign. Leadpages has a straightforward and easy-to-use interface available for some everyday users so that they won't have any kind of difficulty in using Leadpages.
The pages you design through Leadpages are SEO friendly so that your pages will stay on top of the search engine results.
Unbounce Benefits
You can build and publish as many pages as you like with Unbounce. With the help of the Unbounce landing page builder, you can develop and perform A/B testing for an infinite number of pages.
You can publish your pages with too many domains without restriction. Unbounce is also available on mobile phones to engage with mobile customers, which is incredible because mobile customers can also increase their online experience.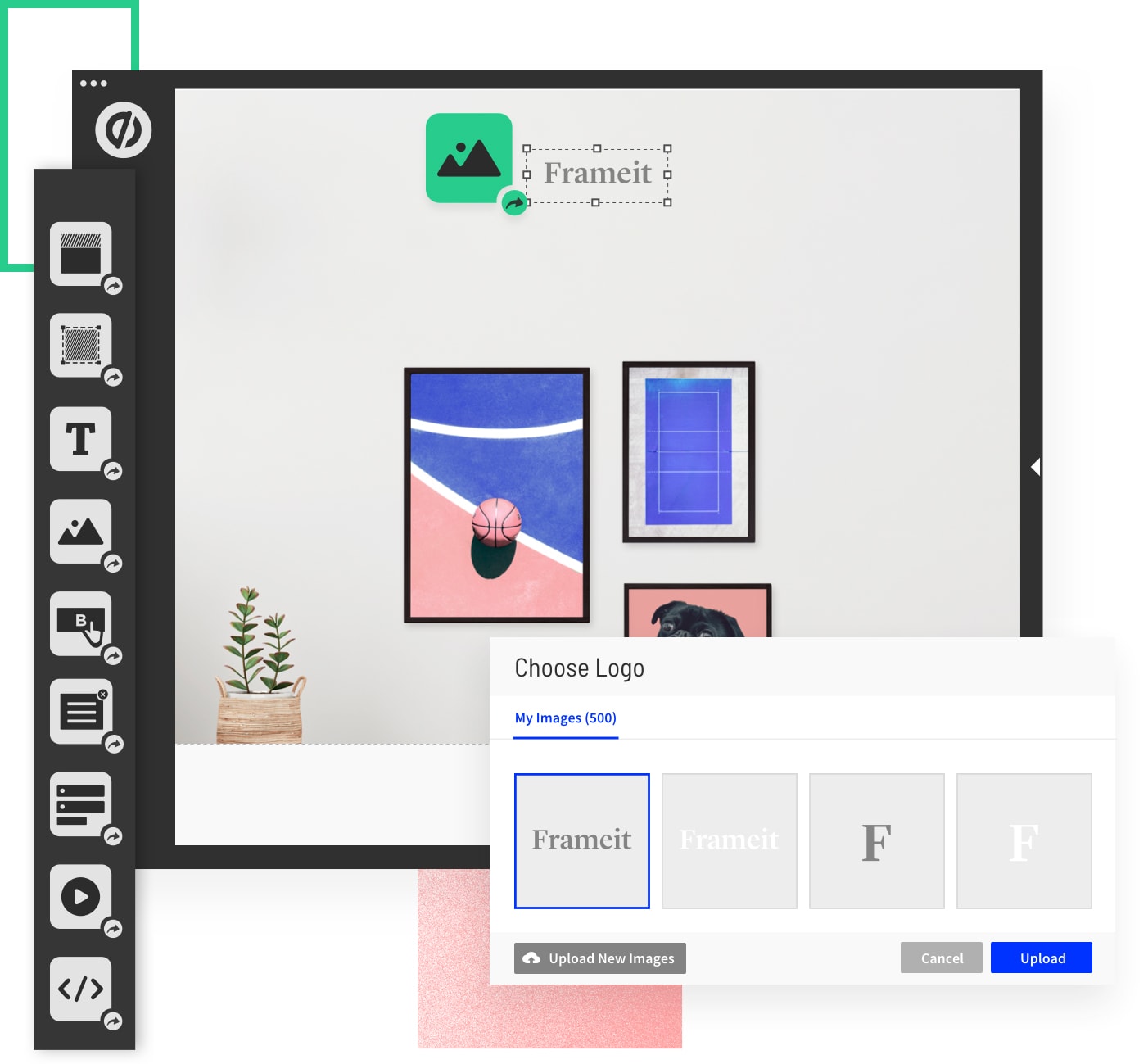 This feature completely changes the market because there are many users of mobile phones from where you can find your potential customers.
The number of templates and features is vast. Through them, you can create unlimited landing pages according to your needs. There is a feature available on Unbounce from which you can manage multiple clients through a single account, which is fantastic.
The loading time to load your pages can be reduced by 99.99% through Unbounce, which means your landing pages will load instantly.
Unbounce vs Leadpages: Customer Support
Leadpages Customer Support
Leadpages offers four kinds of customer services. You can solve your problem by contacting the support team through email, phone, or live and sending them a ticket regarding your query, which is fantastic. They also reply instantly and try to give a solution to your problem. It supports the same devices as Unbounce.
I believe Leadpages offers users the best customer service than Unbounce.
Unbounce Customer Support
Unbounce offers two kinds of customer services to users. You can contact the support team through email and phone, which is incredible because they reply instantly to their users, and you can put up any query regarding your problem to them, and they will undoubtedly answer that query.
It also supports Windows, Android, iPhone/iPad, Mac, and web-based devices. They also offer a 14-day free trial to their new users.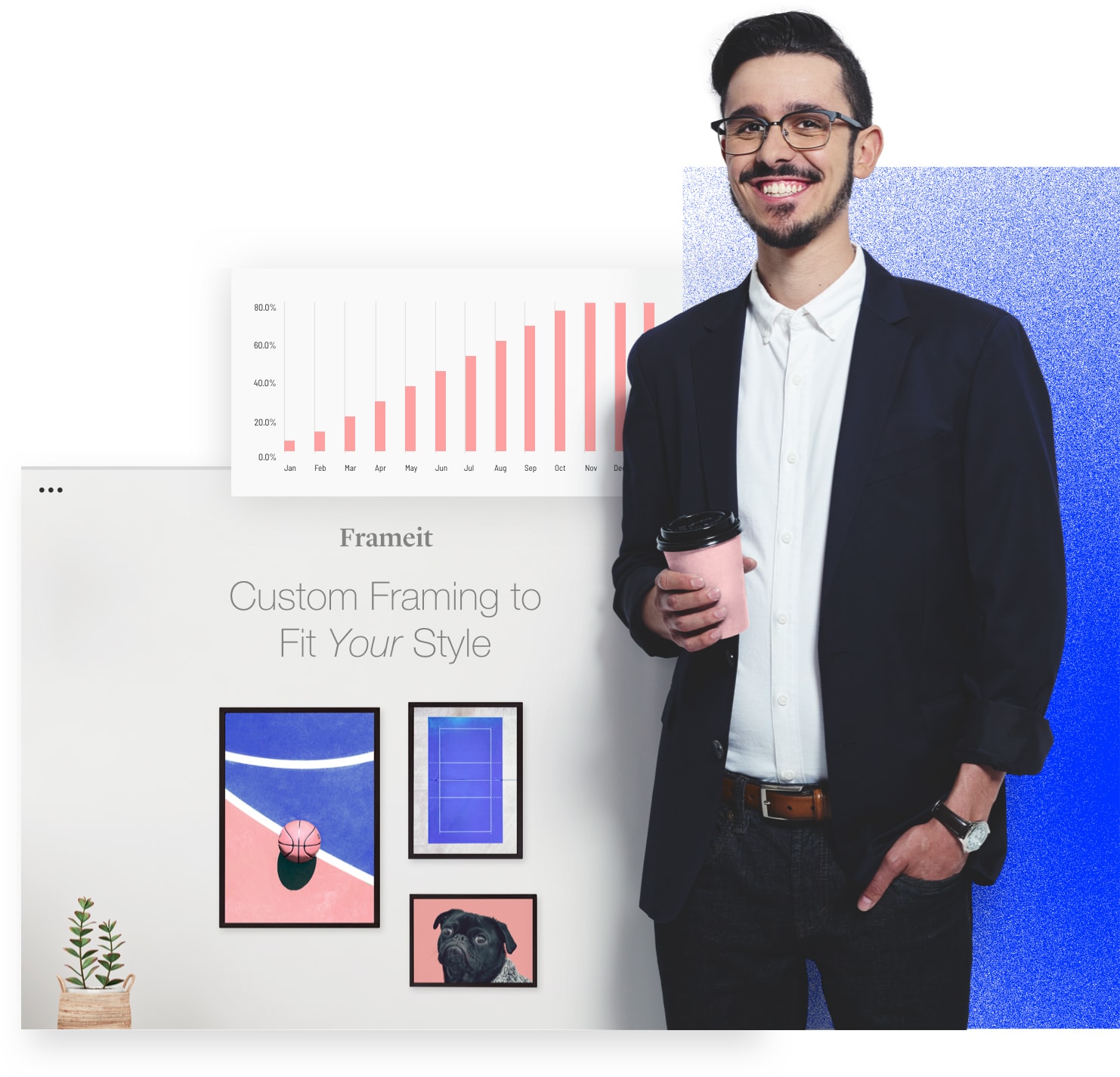 Unbounce vs Leadpages: Pricing Plans
LeadPages Pricing Plans
3 plans are available to get premium access to LeadPages.
Standard Plan ($37/month) (Billed Annually)
1 Site
Landing Pages, Pop-Ups, Alert Bars
Unlimited Traffic & Leads
Free Custom Domain*
Free Hosting
Mobile-Responsive Site Templates
Lead Notifications
Tech Support (Chat, Email)
40+ Standard Integrations
Pro Plan ( $74/month) (Billed Annually)
3 Sites
Landing Pages, Pop-Ups, Alert Bars
Unlimited Traffic & Leads
Free Custom Domain*
Free Hosting
Mobile-Responsive Site Templates
Lead Notifications
Priority Tech Support
(Phone, Chat, Email)
40+ Standard Integrations
Online Sales & Payments
Unlimited A/B Split Testing
Advanced Plan – The Leadpages Advanced Plan helps you stay organized. You can have a master account and 5 client accounts, all with the Pro Plan features and advanced integrations. You will also get a 1-on-1 onboarding call with that plan.
 These 3 plans are available with a 14-day free trial in Leadpages.
Unbounce Pricing Plans
Launch ($90 per month)
Up to 500 Conversions
Up to 20,000 Visitors
1 Domain
Optimize ($135 per month)
Up to 1,000 Conversions
Up to 30,000 Visitors
5 Domains
30% More Conversions with Smart Traffic
Accelerate ( $225 per month)
Up to 2,500 Conversions
Up to 50,000 Visitors
10 Domains
30% More Conversions with Smart Traffic
Best Alternatives: Unbounce vs Leadpages
FAQ On Unbounce vs Leadpages
👉Is Unbounce pages legit?
Yes, Unbounce is legit; this is a free subdomain for usage by Unbounce users to host landing pages. Marketers should create landing pages on their own domains instead of using Unbounce because of security concerns.
👉 Is Unbounce worth it?
To build landing pages with a high conversion rate, Unbounce offers a wide range of options. It is quite user-friendly for beginners and extremely straightforward to use. It is a landing page platform that is definitely worth looking at, especially for SaaS companies, because of the features that are provided, such as sticky bars and popups.
👉What is better than Leadpages?
For membership sites and landing pages, OptimizePress is superior to Leadpages. If you're trying to offer digital goods like eBooks, courses, or anything else, this is the best option for you.
👉What is better than Unbounce?
Landingi is a landing page creator perfect for novices because of its ease of use. Instapage is a superior alternative to Unbounce for groups of people looking for a highly customizable landing page. GetResponse is the most efficient inbound marketing solution for developing sales funnels rapidly.
Quick Links:
Conclusion: Unbounce vs Leadpages 2023
Without a doubt, these marketing tools could improve your lead capture funnel's conversion rate, but before enrolling in either program's corporate plan, you should take advantage of its free trials.
If you're unsure, perhaps these differences will help you decide:
Choose Unbounce. You're Strict With Templates; despite high consumption, you require top-notch uptime. More diversity in price is what you want.
Choose Leadpages. You favor fair, uncomplicated price plans if you'd instead combine your email marketing with well-known CRM systems like Zoho, Salesforce, and HubSpot than any of the other options; top priority is given to practical editing tools.