Wishpond

Learn More

Unbounce

Learn More
$ Pricing
$49 per month
$80 per month
Best for

Wishpond is a best marketing platform for generating, managing and nurturing leads.

Unbounce is providing landing pages to their customers and made a great reputation in the market.

Features
Pros

It's very simple and most likely to use by business owners a
It helps in engaging a good number of people though pop-ups
Anyone can easily get expertise over marketing even if they

It provides AI features.
Simple A/B testing out of landing pages and develop pages.
Its consumer support services are very efficient.

Cons

At times, people find it hard to contact consumer services.

Though it is a little costly it includes numerous features.
In this article, I'm going to feature my comparison article Wishpond Vs Unbounce, And help you find out which is a better tool? Which one will suit your business requirements? Let us find out in my detailed comparison between Wishpond and Unbounce below.
The way people run in the wake of success is analogous to the way people run after marketing. In today's era marketing has become the most crucial aspect in the development of any business regardless of size and nature. With the establishment of startups and companies, most businesses find it hectic and fail to create imaginative and groundbreaking marketing. However, technology has given pace to every business to make its unique presence on the internet. 
Besides, people's futile attempt to put together the new technologies has immensely affected them. However, the development of some tools and software has made work easier, simpler, and handy without compromising efficacy. You know it is easier to market something nowadays as 90% of the people are using different social platforms to spend their unusual time. 
Well, you can engage them through your creativity and innovation. With the due need of growing your business, we'll be telling you two tools that will help you. 
Wishpond vs Unbounce: Overview
Wishpond Overview 
Wishpond is the world's best and most modern marketing platform that makes it easier for businesses to generate, nurture, and manage their leads. This not only generates leads or makes website visitors but also turns them into sales. Wishpond gives viability to every business and brand to grow and market easily by attracting visitors through building eye-catching pages. 
It includes numerous applications like landing pages, pop-up pages, social promotions, advertisements, contests, lead-generation forms, lead scoring, lead management, and email campaigns. Wishpond doesn't require any programming or coding knowledge, it only needs to put the things together. It has a wide variety of options like editing, pictures, and videos, text box, etc. Once you go through the multiplicity of options provided, you will find Wishpond the world's best tool with a manageable and modern look. 
Unbounce Overview
Unbounce is a best Canadian software specially designed for generating leads, creating and designing leads. It helps in advertising, exploration, and valuable information to its users and visitors in every domain. It provides you to build and create your page by optimizing landing pages. Unbounce uses AI features and smart tools to provide you with customizing and optimizing successful landing pages.  

Unbounce is one of the largest platforms that are used by many businesses and brands to generate smart traffic that can be converted into sales. They can design their pages the way they desire to even if they don't know programming and coding. It's advanced features streamline their workflow and foster their business.  
Key Features and functionalities 
Customer services
Wishpond – Customer Service 
Wishpond is always available 24/7 for its users whether through chats, emails, and contact. Continue with this Wishpond has also provided it's consumers live report of everything. Apart from this, it offers you a wide variety of FAQs that any customer can access easily. This will help you to gain more knowledge about the software. 
Unbounce – Customer Service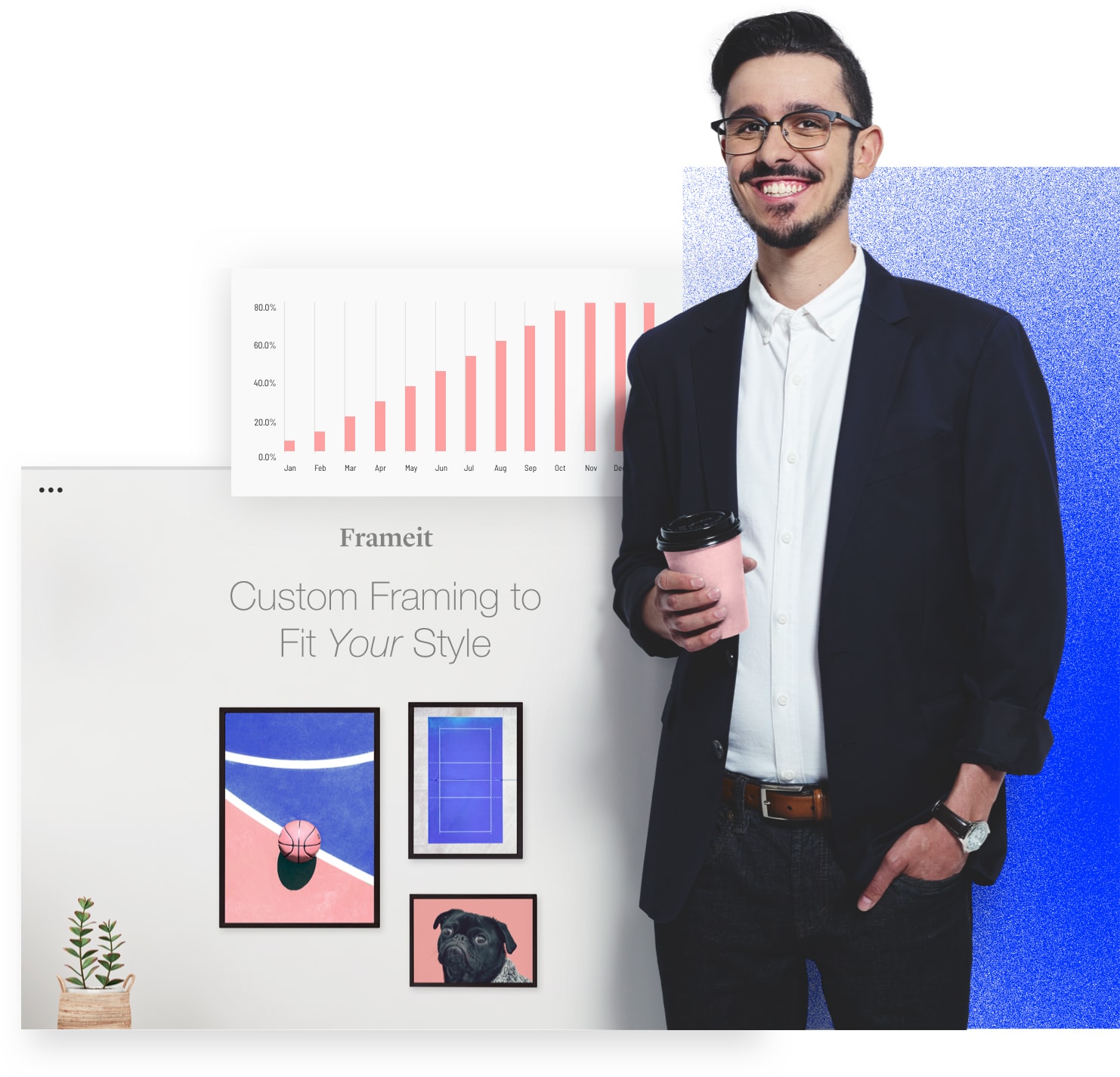 Unbounce provides its friendly-users full consumer support. Unbounce specialists are available 24/7 for solving the queries. It offers you a chance to connect with the real human team and know about their experience. They will guide you on how to use Unbounce effectively to generate good results. 
Verdict: In the terms of consumer services Unbounce is more widespread. Conversely, both provide good consumer support but Unbounce is comprehensive and effective in providing its services. 
Performance-based
Wishpond – Performance
In today's era of technology, what is going on in the competitive world is quite challenging. The business world is using social media apps to capture the market in its way. Facebook and YouTube have become big platforms to achieve their goals. Performance marketers use standard domain ads on Facebook. They traditionally use a variety of placement and ad formats.
Wishpond recommends link page and photo Page post ads, offers, and mobile app install ads. All this helps in engaging customers to create rich experiences. All these ads help advertisers strongly perform. Most of the companies report a remarkable increase. Unique Facebook ads recommend a powerful bidding option to customers with optimized CPM and CPC to maximize the results. Testing and an iterate approach is a boon to its users.
The judgment of campaigns helps its users to execute low-cost campaigns. Using ads to boost their content and contest Marketing Developers help to optimize users' campaigns. This is an effective and creative approach for customers. 
Unbounce – Performance 
Unbounce has its visualization for the ads. It effortlessly connects the ads to the relevant post-click landing pages all in a single place. Users can create custom landing pages in minutes. The simple and powerful design helps to meet users' expectations. Pre-designed Page block templates do a lot to move, modify, save, and reuse them. Simple clicks make it available for its audience.
Verdict: Both the software are best when it comes to performance. Every time you choose to make your landing pages it provides different and creative templates that can assist in boosting up traffic. According to the listed features, both can be effectively and easily manageable with top class performance. 
Safety & Security
Wishpond
The information and data Wishpond collects from its users are safe and protected. Wishpond provides you with security and secures your stored data. Though safe, if you don't feel secure about the data Wishpond collected, it gives you the option to delete your account. People didn't face any security issue while using Wishpond.   
Unbounce
Unbounce provides several types of securities to their customers to deliver them fast and safe results. It maintains uptime and helps customers to connect with the audience. While using Unbounce services customers feel secure and safe to share their data. Over 1,00,000 people are regularly facilitated with the Unbounce services and feel connected and protected. With its advanced technologies, it ensures the data automatically get locked without disrupting the links and servers. 
Verdict: Unbounce is the safest and reliable platform to use as it assures you to keep your information safe and protected. Wishpond also provides you with a safe and secure platform to manage your data. But, as Unbounce facilities with various security methods so it is more comprehensive.
Target customer size
Wishpond
It mainly targets small business owners, small and medium-sized companies, large businesses, and marketing agencies. Well, anyone can use Wishpond, as it doesn't require any developer and programmer. Even the people who are not from a marketing background can expertise over Wishpond. It is very easy and reliable to use. Its features and workings are easily understandable. 
Unbounce
Unbounce is a user-friendly software that is mostly used by agencies, industries, e-commerce, and other companies. This helps in converting leads to sales and increase site visits and reach of the page at very affordable prices. People are very satisfied with the services provided by Unbounce. In today's era marketing has became a huge source of communication to its users and visitors virtually and engaging. Unbounce with its creative means assist in achieving consumers satisfaction. 
Verdict: Both the software provides easy access and targets almost a similar audience. Wishpond targets small companies like startups and encourages them to come up with innovative ideas while Unbounce also facilitates every business to scale up and pivot into a big one. Both are equal here as each provides easy assistance.
Wishpond vs Unbounce – Price Comparison 
Pros & Cons: Unbounce vs Wishpond
Quick Links:
FAQ's On Wishpond vs Unbounce
How will Unbounce and Wishpond help in generating leads?
This is the point where everyone needs to shift his or her attention. This tool uses SEO (search optimizing engine), social media marketing, email campaigns (Mail chimp is the best tool for this), etc. This all will help in getting your business higher reach and visits.
What if I need help immediately and the customer services aren't available?
Well, the customer's services are available 24/7, and even though by chance they failed. Then there is a live chatbox that provides all the solutions for your problems. They will surely help you with, as they are our answer bot and some real human beings that you are being connected with.
What if I need to test my existing pages outside both tools Unbounce and Wishpond since they include testing?
Yes, it does include testing, only if the landing pages and templates and all the things need to be created in the software only. No outside page testing is included in it.
Conclusion: Wishpond vs Unbounce Comparison 2023
In this article, I have tried to explain every possible aspect you need to know before getting started. Both tools are beneficial for businesses and people. Both are almost similar in providing product features and aims in generating the leads and turning them into effective sales. Though similar, they are slightly different in their pricing. The reason behind this is the technology each uses. Unbounce uses the AI features that help in smartly dealing with the leads. 
In the connotation, I can see that both are easy to use without the need for the developer and based on understanding. In essence, each provides 24/7 services but when it comes to consumer support then Unbounce is better than Wishpond. 
Overall, both are very useful tools that help people to develop trust and promote their business through various innovative methods. Some differences that can be seen in this whole article are about the features, readability, security, and pricing. Though Unbounce is costly than Wishpond, it provides the security features and that every business look for. 
In the end, both are equally reliable and easy to use. Both tools are best in their ways of providing the best assistance to you.  Hence, I suggest you to calculate your business potential and opt for the best tool from the above.