Looking for an unbiased Nestify review, we are here to help you today.
Hosting can be a real hassle. You have to worry about uptime, performance, security, and scalability. Not to mention the fact that you need to have some technical expertise in order to make sure everything is set up correctly.
And if your hosting company isn't reliable? Or if your website starts experiencing performance issues? You're in trouble.
Nestify is here to help. They offer managed WordPress hosting, WooCommerce hosting, VPS hosting, and agency hosting that is backed by our competent and efficient technical support team. They also provide free WordPress migration services so that you can switch hosts with ease. Plus, they're so confident in their services that they offer a money-back guarantee on all of their plans.
There are many leading names in managed WordPress hosting. However, Nestify is one name that is one of the fastest web hosting providers for the WordPress websites.
When we tested the Nestify for the array of features available for managed hosting and checked its interface, we were sure that Nestify is another strong contender in the hosting marketplace. Along with its fantastic features, its price is also very comparable.
Get the best discounts on Nestify here.
Any blogger or small website owner can host their site with Nestify. While Nestify offers a lot of features, its prices are very affordable and its loading time is spectacular.
Hence, if you are interested in operating a new WordPress site, then Nestify has more to offer through its 55-second launch process.
Get Exclusive Discount On WPX Hosting
Nestify Review 2022 Top Pros & Cons
Today, we are going to review this managed WordPress Host, Nestify and talk about it in details, so you can also be aware of this new entrant in the managed hosting. We will also test the loading time of any website along with the features like the security of your site.
Nestify's engineers learnt the value of uptime and performance engineering after working for Fortune 500 organizations for more than a decade. Nestify was born out of Nestify's own hosting and scalability needs in 2014.
Managed WordPress hosting, WooCommerce hosting, VPS hosting, and agency hosting are all available through this Texas-based company, which also provides free WordPress migration services. When it comes to hosting services, Nestify has earned the confidence of businesses of all sizes and non-profits alike because to its friendly and knowledgeable technical support staff.
Features of Web Hosting Services Offered by Nestify
Nestify provides a gamut of services rather than just a piece of the server for the website hosting. The kind of features that Nestify offers at such low prices cannot be found anywhere else; even the shared hosting cost you more than this. Below we are mentioning all the important features offered by this web host.
Along with the above features, Nestify also offers a brilliant and unique feature called "On Page Optimization," which allows you make refinements to the Adsense/Google Analytics, CSS and Java scripts for the enhanced performance. Nestify is also compatible with Git and provides SSH and WP-CLI access.
Optimized and Efficient Nestify Servers
Nestify means serious business. For people, in search of a web host for their high-priority website, can contact Nestify and this web host has optimized servers for the significant performance. The professionals working with Nestify are very qualified and have worked hard towards achieving stability and high speeds.
Optimized web server
Because Nestify is for businesses and anyone looking to host their critical Web site, their servers are optimized for high performance. The Nestify team is proud to have built their stack from the ground up for maximum speed and stability.
When testing our new Nestify-hosted WordPress website, we had very impressive load times. The Sucuri loading speed test tools and the Pingdom website speed test posted fast load times for the site. If you want to use your website for commercial purposes, you need Nestify.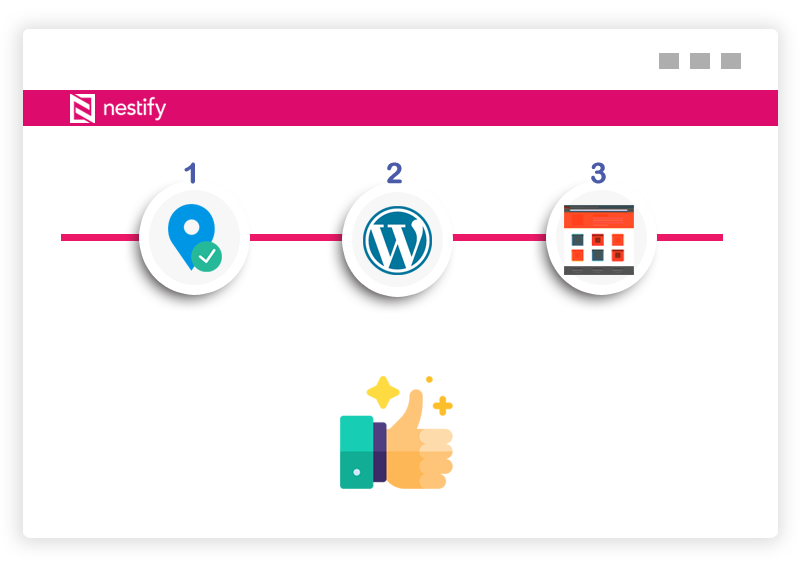 Conversion rates, search engine rankings, and overall user experience have been dramatically improved by a fast-loading website. In any case, it pays to pay a little more for a fast web host while investing the time it takes to migrate your existing website to a new host to increase speed. But because Nestify offers a free migration service, you do not have to worry about it.
SSL Certificates LetsEncrypt
All sites hosted on Nestify have LetsEncrypt SSL certificates enabled by default. Nestify also provides support for correcting mixed content errors caused by certain WordPress themes.
The network of distribution and storage of content.
Nestify's hosting packages use Content Delivery Networks and Cache (CDN) to ensure that your content is uploaded as quickly as possible. Using caching for faster load times gives you many options for implementation.
By specifying URLs that should never be cached, using full caching of pages and selecting an optimization level, you can ensure that your website is properly cached.
With North America, Central Europe, and Asia, you can choose a location near your target audience. While all website traffic is routed through Railgun's enabled 86 Cloudflare CDN data centers, your content is almost always sent from a location near your visitors.
Cache Facility Along With CDN
The various hosting plans by Nestify use CDN (content delivery network) and caching to make sure that the content of your website is uploaded at faster rates. If we talk about caching for quick loading of a web page, there are many alternatives including implementation. Defining URL's that are never cached, selecting an optimization stage as well as employing entire page caching are the facilities that can make sure that your site is being cached aptly.
There are three locations provided to the clients for the selection of the region that is in proximity to the target market and audience. These places are Asia, Central Europe, and North America. Since the traffic of your site is directed via different 86 data centers from the Railgun enabled CloudFlare content distribution networks, the content of your website will be transferred from the region closer to the users of your site.
Complete Site Management
We took a demo website and used it to check the capabilities of services provided by the Nestify web hosting services and loaded this particular site through them. Surprisingly, our site was uploaded very quickly. However, if you add your own web page or introduce your own application, it might not be that fast. Hence, for the quick loading time, Nestify makes sure that their customer support team keeps an eye on your website 24*7.
The technical team of the managed web hosting services company Nestify is always ready to assist their clients with the optimization and improvement of their websites for optimum outcomes. All the complications faced by the website are handled by their dedicated team that guarantees the best uptime and significant response time. Nestify provides a scalable service, and in a case where the content becomes popular and trendy, then their team can easily control the unexpected load on the server.
Useful Guides:
Level Of Security
Nestify managed hosting is developed in such a way that it should be able to serve the various business demands, especially the need for a crucial website with the focus on the safety and security of the site. This is a significant point to consider as no business whether small or large, would like to lose any website content or data at any cost.
Backup Facility
In case, you select Nestify as your web hosting partner, you would not need to worry about the backup of your website content. The Nestify team ensures the automatic backup on regular basis. However, you can also control and see the backup plan through the user interface provided to you. While most of the backup is scheduled automatically, you can make every single change as per your requirement.
When your site is stored by Nestify backup system, you can easily restore your content with just a click. This will let your site to roll back to the earlier stage with previously saved content. These backups are saved for the duration of 30 days and storage place is in an offshore location through Microsoft Azure's 'Geographical Redundancy Storage.'
Guaranteed Delivery Of Transactional Emails
Many businesses utilize their websites for various email transactions with the users of the website. this functionality of the website is also supported by the Nestify and it guarantees the delivery of any business email if it is a service included in your website. With the help of SendGrid service, Nestify has established a system that ascertains the delivery of any transactional email. It also ensures that the email does not get stuck in any spam folder.
Nestify Hosting Benefits
If you're wondering why you should consider Nestify over other web hosting services like HostGator, Bluehost, and the rest, here are five of the most amazing benefits you can do:
1. Incredibly fast speed
Google knows that speed is essential for any website. That's why search engines get better results, so web site loading is faster. Fortunately, with Nestify hosting servers, it is possible to make WordPress sites incredibly faster.
Nestify has an integrated Content Delivery Network (CDN) that speeds up your websites at incredible speed. The highly scalable hosting architecture enables the creation of a robust, reliable and faster site.
Did you know that sites running Nestify work on average four to six times faster than sites hosted on other hosting services? The robust front technology makes it possible.
Nestify also offers an advanced caching feature that dramatically reduces the load on your site's server, creating an extremely fast Web site.
2. Ballistic security
While WordPress is hard to reduce, advanced piracy techniques can easily hack your site if you do not take appropriate action.
Fortunately, you are in good hands with your Nestify sites. It not only blocks millions of hacker attacks every day, it also prevents brute force and hacker attacks.
They implement the PHP configuration to prevent insecure or insecure commands from hackers.
They also perform frequent and proactive vulnerability scans and run numerous tests to make the sites really safe.
If your site gets hacked after all these security features, Nestify repairs it for free. If your site is hacked, it can generally cost hundreds or even thousands of dollars, depending on the needs of your site. With Nestify you can save all the money!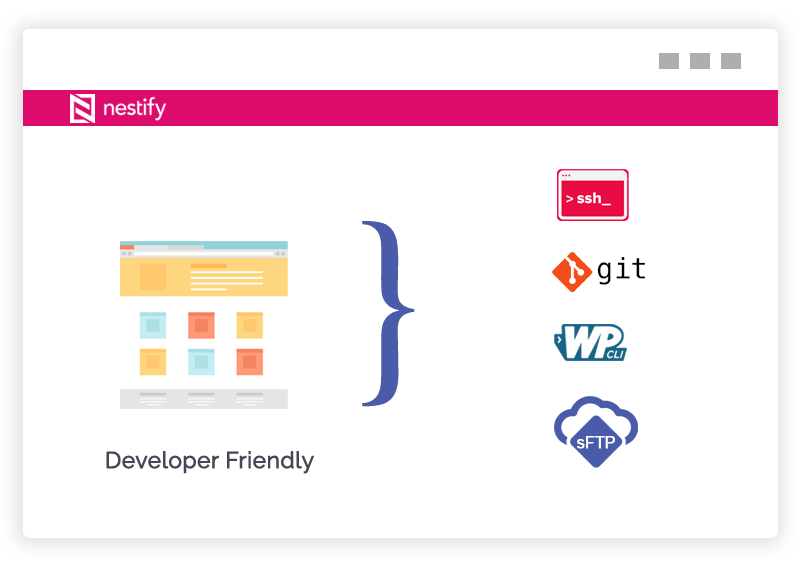 3.Regular backups
Did you know that Nestify creates daily backups of your WordPress sites?
Whether you know it or not, regular backups of your website are extremely important. You never know when your website will be hacked or you lose all the content of your blog. With daily backups created by Nestify, you can easily retrieve all your data using your backup recovery points.
You can also create manual backups by clicking the Save Now button in your Nestify panel. You will receive a notification when you make a manual backup of your site. This feature is especially useful if you are backing up before making any important changes to your WordPress sites.
4. Support around the clock.
Nestify's technical support team is fully supported by WP experts, available 24 hours a day, seven days a week. Even if you have problems with your website, the team will fix it quickly. box support
They help you around the clock, 7 days a week, 365 days a year and by e-mail. You can choose one of them to solve your problems.
Free migration
Nestify experts securely migrate your site from an existing provider with no downtime.
30-day money-back guarantee
Nestify offers you a 30-day money-back guarantee. If you are not satisfied with the price, features or accommodation, you can simply request a refund and receive a full refund without any questions.
Please request a refund within 30 days of purchasing your accommodation.
Important Features For Developers
Nestify tries to offer special benefits and features for your website. it believes in providing scalable solutions for your application so that they can provide you with all the necessary aids for the improvement of your website. keeping all these things in mind, Nestify has developed the staging of the website feature, especially for the developer's point of view. This one-click feature plays an important role for the developers of the site.
However, this facility is offered with only selective plans. This feature assists the developers with a conducive environment to perform any alterations on the site and its content without any security fear. In fact, the changes can also be reversed of not appropriate for the successful results.
After the completion of the work, the website can go live again with just a click.
The one-click staging feature is a blessing for every category of the WordPress users. With all these facilities and securities, the editing of the website content becomes easy and practically useful.
Industry Standard Dashboard
The dashboard provided by Nestify also offers an account area, which has all the information about the website and other related details. Their dashboard is great and gives you the access to the credentials such as account billing, login details, disk usage etc.
Free Site Migration Facility
If you are facing problems with your current web host regarding slow uploading time or outages, then you should consider about migrating to a host that can resolve your outage issues. We think Nestify site migration service would appeal you at this point of time, as they can help you migrate your site for free.
They have the capability to migrate nearly every website with no downtime. So in case you are stuck with your current host and are in trouble, you know where to go.
Nestify Review Pricing
The pricing of the Nestify is its key feature amongst its distinct services. This separates it from the competition. Nestify becomes a clear winner when it comes to affordable prices. Seeing all the features offered by the company, no one can imagine that their prices can be so low that the range of their costs that put them in under the lowest tiers from Flywheel and WP engine.
Considering its features, we assumed that the pricing of Nestify would start from minimum of $20 a month, but to our surprise it was way lower.
Anyone can pay them as low as $5.99 a month for the website hosting. This amount is for the traffic of 25,000 visitors on monthly basis along with 5 GB of SSB storage.
Although, this plan does not offer staging, but at this amount, there is nothing to complain about! However, the pricing for its other monthly plans are $8.99 and $11.99, and both these plans include staging as well as more traffic. You can check the Nestify plans in the table given below:
In addition to the visitors, all these prices include the single domain. For every additional domain, there is an extra monthly cost of $3.99.
All the plans offered by the Nestify include a specific number of visitors. And in case, you get a massive traffic with more visitors than usual, Nestify would not cap you or terminate your services. In fact, initially for the three times, Nestify does not charge anything for the additional traffic or visitors.
However, after the third time, you will have to upgrade your plan to the next available option. And we believe that it is a fair deal. Besides all these, Nestify also provides high-priced VPS plans.
Their hosting plans start at $ 7.99 a month and go back to $ 49.99 a month, depending on the traffic needs of your site.
Nestify basically has three price plans in Nestify. Here are their features and pricing options.
Entry

personally and

professional
We will talk in detail about your price plans and features.
Starter: If you're a beginner and want to give starters a chance, your personal overnight package is the perfect package that costs you $ 7.99 a month.
You can set up a website and have a maximum capacity of 10,000 visits per month. You also get 5GB of storage and can transfer unlimited data.
Personal: With the Personal Package, you can collect up to 75,000 visits per month with 10GB of storage space and easily transfer an unlimited amount of data. This plan costs $ 19.99 a month.
Perfect for professional bloggers, advertisers or those who want to run a WordPress site with constant traffic much faster.
Professional: If your website is very busy and your business is your main concern, Nestify's business plan is the perfect option for you.
With this package, you can make up to 150,000 visits per month. You also get 40GB of storage with unlimited data transfer capability.
This package costs $ 49.99 per month and is ideal for online sellers and bloggers with a high-traffic website.
Pros and Cons of Nestify Hosting
Pros
First-class and experienced customer service team, 24 hours a day, 7 days a week, by chat and e-mail.
There is no bandwidth limit.

Daily backups. It is impressive.

Integrated CDN for faster loading of your websites.

Widely used by industry leaders and the best brands.
Cons
Slightly expensive compared to Bluehost, HostGator, etc.

A limited allocation of monthly visits.
Why Nestify in short?
WordPress hosting is a crowded market, and many hosts seem to offer the same thing. How can you be sure that Nestify is the best host for your needs?
It's true- there are a lot of WordPress hosts out there. But what makes Nestify different is its focus on performance and uptime. their team has spent over a decade setting up the infrastructure for Fortune 500 companies, so they know what it takes to make your website fast and reliable.
Not only do they have expert engineers who are constantly monitoring their servers for issues, but they also offer free migration services to help you switch to us without any hassle. Plus, their hosting plans come with a suite of features that are perfect for businesses of all sizes. Trust us when we say that Nestify is the best host for your WordPress site.
Alternatives of Nestify Hosting 2022
Founded in 2011, Cloudways is an international web hosting company. As a result of the company's primary principle of providing agencies and individuals with simple, fast, and convenient shared hosting, they are able to deliver consistently high-quality services.
Cloudways' cloud-based hosting solutions focus on managed cloud hosting, managed WordPress hosting, and managed PHP app hosting (Drupal, Magento, Laravel, Prestashop, etc). Cloudways does not provide shared web hosting.
Affordable cloud hosting from Cloudways is undoubtedly a plus, in addition to a superb environment. Cloudways competitors like a2 Hosting and WP Engine start at $10 per month, which is less expensive than with Cloudways.
Cloudways is easy to use, even for clients who aren't tech-savvy. At first, I was surprised by how quickly and effortlessly customers could sign up for a subscription or free trial with Cloudways.
With an uptime of 99.9% and load times of 400–600 milliseconds, Cloudways is a leading provider of cloud web hosting. To put it simply, Digital Ocean, Google Cloud, Vultr, Linode, and AWS are some of the best cloud providers in the business that the company works with.
A Content Delivery Network (CDN) is a network of servers and data centres located between the origin server of some web content and the person who requests it. A CDN's purpose is to provide material faster by lowering latency.
Using a dedicated CDN speeds up your website/application and gives your visitors a better user experience. Cloudways' CDN is inexpensive, starting at $1 per 25GB.
Nexcess, a Michigan-based web hosting company, is well-known for its experience. Managed commerce hosting options like WordPress, WooCommerce, Magento, StoreBuilder, and Cloud and Enterprise hosting are available.
Domain names and high-end SSL certificates are also available for purchase through them. Their 20 years of experience in the hosting industry allow them to assist clients in establishing and growing their enterprises with new technologies.
There are numerous data centers and server locations in North America, Europe, and Asia-Pacific from which to choose for your business.
Their premium storage server hosting comes with plenty of resources, but it's limited in terms of disk space and data transfer rates. Starting at $19 a month, you may get a comprehensive website setup.
One hundred percent service level agreement uptime is guaranteed with all hosting services provided by Nexcess. We know this to be true from personal experience. Because this cloud hosting service is scalable, safe, and fast, WordPress and other digital commerce platforms will thrive.
In addition to being pricey, even the most basic entry-level plan does not have enough money to cover all of the essentials. Its rivals lack 2TB bandwidth, 15GB storage, and 10 PHP Workers.
Nexcess Cloud infrastructure which automatically keeps your WordPress website + WooCommerce store updated & secure.
Once you sign up for their Managed WooCommerce hosting, they'll make sure your store is up and running so you can keep taking orders and growing your business.
Support is offered 24/7 via phone, live chat, email, and a ticketing system. Live chat help is only available during business hours, but tickets are open 24 hours a day.
Liquid Web is a web and cloud hosting company focused on professionals. The company, which was formed 22 years ago, now employs over 250 highly skilled administrators, engineers, customer care representatives, and technicians.
Both the managed web hosting services and the technical support staff are highly valued by the organization. In addition to dedicated servers, cloud VPS hosting and cloud sites, they also offer WordPress and WooCommerce hosting as well as custom hosting options.
This web host has received overwhelmingly positive feedback, with many bloggers praising the company's lightning-fast page times and responsive customer service.
You don't have to worry about a thing with Liquid Web's fully-managed web hosting service. To ensure your website is always secure and up-to-date, you'll need to purchase this service.
Additionally, Liquid Web excels at providing website owners with the flexibility to adjust hosting options to meet their evolving needs.
Making WordPress hosting as easy as possible so you can focus on growing your business is Liquid Web's goal with their platform. An all-in-one solution for mission-critical WordPress sites, their fully managed WordPress hosting is an excellent choice.
Check out What are Best Liquid Web Coupons Codes?
Over To You:  Nestify Review 2022 Is It Really Great WordPress Hosting??
All of Nestify hosting plans include daily checks for security flaws, insecure plugins, and other potential entry points for malicious hackers. As a bonus, you'll get WP-CLI, a command line interface for WordPress that lets you configure multisite installations, update plugins, and more without having to open the browser.
A staging environment that is identical to your production environment (with the same settings, software, and hardware) is included in all plans save the Starter one with Nestify, allowing you to test your website's code before launching it live. Creating a staging environment or pushing a change to production may be done with a single click from the terminal.
Nestify's customized software stack includes Git push support, SSH access, and CLI tools so that you can have complete control over every aspect of the code you write. ' Plugins, themes, and other software features should never be blocked when requesting extra software facilities from this organization.
Nestify uses RAID-10 to store all databases and files on SSDs, ensuring fast read/write performance and high scalability. With a premium CDN, your site's loading times will be even faster, and it will also be more safe from outside attackers. You're guaranteed a 99.99% uptime rate with all of these precautions.