Looking for HelloProfit review, you are at the right place.
You're spending a lot of time and money on your Amazon business, but you don't have the data or tools to really understand what's working and what's not.
It can be tough to make decisions about your Amazon business when you don't have all the facts. You're guessing which products are selling well, how much you should be spending on advertising, and where you should focus your efforts.
HelloProfit is the solution. Their Seller Analytics tool will give you all the data you need to understand your business inside and out. They'll show you which products are selling well, how much you should be spending on advertising, and where you should focus your efforts. Plus, their Amazon Ads tool will help you optimize your campaigns for maximum ROI.
Let's check out HelloProfit review in detail with features & pricing.
💥  HelloProfit Coupon Code 2023: Save $200 Now Hurry Up!!
HelloProfit Review 2023 : Top Pros & Cons
Top Features of HelloProfit
Merchant Dashboard
Even if you have different merchant accounts, you can see all the sales and benefits of data in a full control panel. Not only do you see the numbers, but you can also have comprehensive information to understand the impact of increasing and decreasing sales.
All details are displayed based on the name, market and transaction date of the merchant. You can also view item-level data on product tiles like:
Revenue
Amazon withheld tax
Tax
Gift wrap
Shipping
Reimbursement
Refer fees
FBA fees
Product refunds
Promo value
Refund credits

Estimated payout
Amazon FBM postage
Product & Shipping costs
3rd party postage
Return product credits
Total VAT
Sponsored Ads
Margin
Profit
Full Price vs Promo Sales
Product Panel
With the Hello Profit Product Panel, sellers have full control over the growth measurement of their individual products. You have the freedom to classify and customize products in groups. In addition, you can choose which data you consider irrelevant and the domain you want to focus on for growth.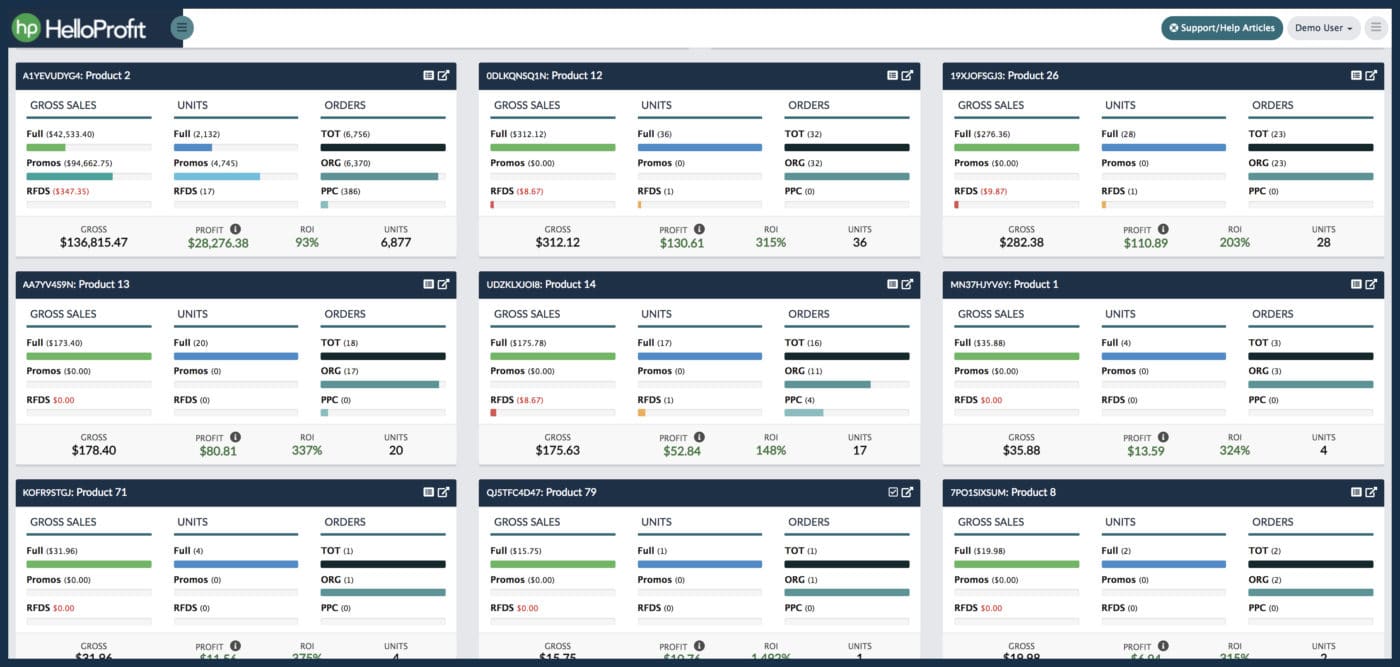 It has a feature that compares the total price and promotional sales to analyze product advertising performance. It contains a detailed breakdown that lets you easily identify the types of transactions.
Sponsored Links Manager
That's real change! Hello Profit PPC Manager surpasses Amazon's ACoS intelligence. Its patented algorithms help you determine the true profitability of your Promoted Product campaign. It includes a handy feature in the app that lets you optimize the campaign with smart filters that recommend measurements and presets.
You now know the cost of advertising sales, which gives you the security of offering profits.
Payment Reports
It is the revelation. Get bi-weekly reports organized and bundled to help analyze and analyze your Amazon business. ASIN provides a detailed breakdown of your SKU by SKU and ASIN. Therefore, you can excel in areas that require more attention.
Instant Notifications
HelloProfit alerts you immediately when sales exceed the parameters you've customized. In some cases, Hello Profit notifies when the maximum number of sales has already been reached by SKU. This distributed information helps you understand effective marketing activities and protect your inventory.
In addition to maximum sales, Hello Profit also informs you about products that have not sold the expected number of units. So you can improve your SEO.
Customers And Orders
There is a quick, intelligent search that lets you check thousands of orders. Find information that will help you decide how to increase revenue for regular shoppers. You can also check the refunds to see if the device has been returned or if it has been refunded.
HelloProfit Pricing Plans
It's a good idea to use your free trial first to determine if Amazon software is right for you. HelloProfit offers a free 21-day trial for free! Once the free trial period is completed, you pay only $ 97 instead of the regular $ 297 a month.
This is the expert package, the most popular subscription to the Hello Profit program. Do not worry! You can cancel your subscription at any time.
The plan includes an unlimited number of orders per month, a merchant account, but allows you to have an unlimited number of additional merchant accounts and 30 keywords for each product. If you want to update your subscription to the plan, you can do so. Start tracking your income now!
Why is Hello Profit Suitable For Your Amazon Business?
Everything that is needed and expected by Amazon Seller is in Hello Profit! It's a complete package from Amazon Seller Analytics that gives you complete control over your business. Imagine that you only have to sign in to an account with several powerful tools.
In addition, Hello Profit is a high-end technology that offers live sales updates. You can see statistics, revenue, and rank of your live sales! The graphics data does not have to be complicated. There is a visualized chart that helps you to understand your data more easily and quickly.
Amazon Sellers Love HelloProfit
Hear from just a few HelloProfit users about why they love our software so much
I can finally see the PROFIT of each variation in REAL time! Having multiple products HP is really powerful as it simplifies my accounting and lets me see what's PROFITABLE and what's not (for ads and products). Great Job Guys!
Like any Amazon seller, I once ran out of stock, losing a lot of money, because the coupon code was spread out… HP is the FIRST TOOL I know that could have saved me from this – it shows you exactly which sales are organic and which are promo! It's GREAT!
It Saved me A LOT of Time, Money AND Effort as it congregates a lot of tools into ONE and gives you way more information than any other tool.
Quick Link
Best HelloProfit Alternatives 2023
1) Helium10
Helium10 is the best option for new product development, keyword research, and listing optimization.
A Brand Gate Checker and an advanced feature set make Helium10 one of the most complete options on the market.
It's not just a single tool, but a suite of over a dozen different ones, making Helium10 an extremely versatile and cost-effective option for any user.
There are a lot of options in Helium10 to see what the competition is up to when it comes to Amazon competition research.
Here is the full list of tools you get access to:
Black Box (product research tool to help you find ideas)
Xray (product research tool to analyse the potential sales volume and competitiveness of your chosen niche)
Review Downloader (product research tool to filter through thousands of reviews and get rapid customer insights)
Inventory Levels (stock alerts)
Trendster (product research tool that let's you analyse seasonality and trends to measure the ongoing popularity of your chosen products)
Profitability Calculator (pretty self explanatory – helps with pricing decisions and measuring costs)
Magnet (keyword research aggregator)\Cerebro (reverse ASIN lookup tool that helps you see competitors keyword strategy)
Scribbles (product listing optimization tool)
Frankenstein (keyword management tool and list-builder)
Index Checker (helps to make sure your keywords are indexed by Amazon)
Keyword Tracker (rank tracker)
Profits (customizable sales trend dashboard to keep track of profits at all times)
Alerts (protection against fraud and listing hijacks)
Inventory Protector (inventory management and stock alerts)
Refund Genie (keeps track of damaged or lost products and helps you automatically submit them to Amazon for refunds)
Follow-Up (automated email and feedback management tool)
2) Feedbackwhiz
FeedbackWhiz is able to automate engagement with Amazon consumers by utilizing either the Request a Review button on Amazon's website or individualized buyer-seller messaging emails.
In order for sellers to maximize the number of reviews that are converted into sales, scheduled campaigns can be based on triggers such as refunds, shipments, deliveries, feedback, and repeat purchasers. They are able to monitor, control, and receive alerts on changes made to product reviews and listings. This enables them to swiftly react to crucial events and negative reviews, such as hijackers, buy-box loss, and listing difficulties.
FeedbackWhiz monitors and analyzes the profitability of all Amazon selling data. It is able to compile financial data into individualized product groups for the purpose of analyzing and contrasting different categories, brands, types, and markets. In order to save time and boost their level of productivity, sellers can generate notes, make their own labels, filter the data, and save it.
Pricing & Trial
Price Range:Free limited plan available. Paid plans cost from $19.99 to $139.99 per month.
Product Monitoring – from $5 per month.
 Trial Length: 30 days
3) Shopkeeper
Profit tracking in Shopkeeper (formerly known as AMZPing) goes well beyond that. It's so good that not including it here and awarding it a high rating seems unfair.
When Shopkeeper rings up a new sale, it creates a satisfying cash register noise that you know you shouldn't enjoy. A little bit of an old-school feel is good. Of course, this isn't critical.
It's a joy to have the dashboard open, because it provides you with a wealth of information on your company's profitability and sales. The dashboard widgets also allow you to dive deeper to see exactly what is coming in from Amazon. Also included is a graph of historical sales data versus current results, which is helpful if you prefer to make little adjustments to maintain high standards and high sales. Additionally, Shopkeeper provides you with vital information about your best-selling items and changing profit margins.
FBA tools and Amazon software tend to ignore the importance of user experience. It's a relief that Shopkeeper isn't like that. You can't help but feel wonderful when you're using it, which is why we loved it so much! To avoid being demoralized when we fail to meet our goals, we looked at the greatest data from the past. There's nothing more motivating than the 'I got this!' sensation to keep you going.
The features and usefulness may be unique to our team, but we'd be astonished if they didn't put a spring in your step.
What's in it for me?
Profit monitoring
A comprehensive company dashboard that includes all of the most relevant data.
There's been a hijacker alarm.
Tools to keep track of inventory, including how many units exist, their worth, and when they are expected to be sold.
This software has a nice user interface.
Pricing
Costs are calculated based on the quantity of orders. There is a $20 monthly fee for the Novice Level (up to 250 monthly orders). For $45, you'll get between 250 and 1,000 orders a month at the Intermediate level. Finally, the Master Level allows for between 1,000 and 5,000 orders each month at a cost of $90 per month.
At 5,000 or more orders each month, you are entitled to join the "Ballin' Outta Control" club, which costs $250 per month for all of your orders.
There's also a risk-free, no-strings-attached 30-day trial to see how everything works.
When it comes to selling on Amazon, it can be laborious at times, but Shopkeeper is a terrific way to make the process a little more fun and exciting. It's possible to transform your Amazon business with the help of Shopkeeper's support staff. All-in-one functionality without the weight of extra complexity is what every Amazon seller should be looking for.
Conclusion: HelloProfit Review 2023 Discount Code Save $200
HelloProfit is the ideal partner for anyone looking for a low-priced Amazon BI tool. Helloprofit takes your merchant data, processes it with your algorithm, and tailors the ideal tips for developing your merchant account and Amazon PPC campaigns.
With HelloProfit, you can save many hours on Excel spreadsheets and see the performance of your account at a glance in easy-to-use charts. Worth the money.
Did you like our HelloProfit review? Let us know in the comments your thought about using HelloProfit.